Exchanging money when you arrive in a foreign country can be tedious, especially if you are not well aware of the places best known for this service. There is also a chance of falling prey to exchange services that charge a lot of fees.
If you are looking to visit Tulum in Mexico any time soon, then there is a possibility that you might be struggling to find the right money exchange service. But don't fret. Many authentic and regulated exchange services operate in the city. The key is conducting the right research and finding one best suited for your needs.
This article will discuss the best places to exchange your currency to Pesos in Tulum so you can kick back and relax.
Also, we have added the exchange rate. This will fluctuate but can give an idea of the difference between the different exchange services.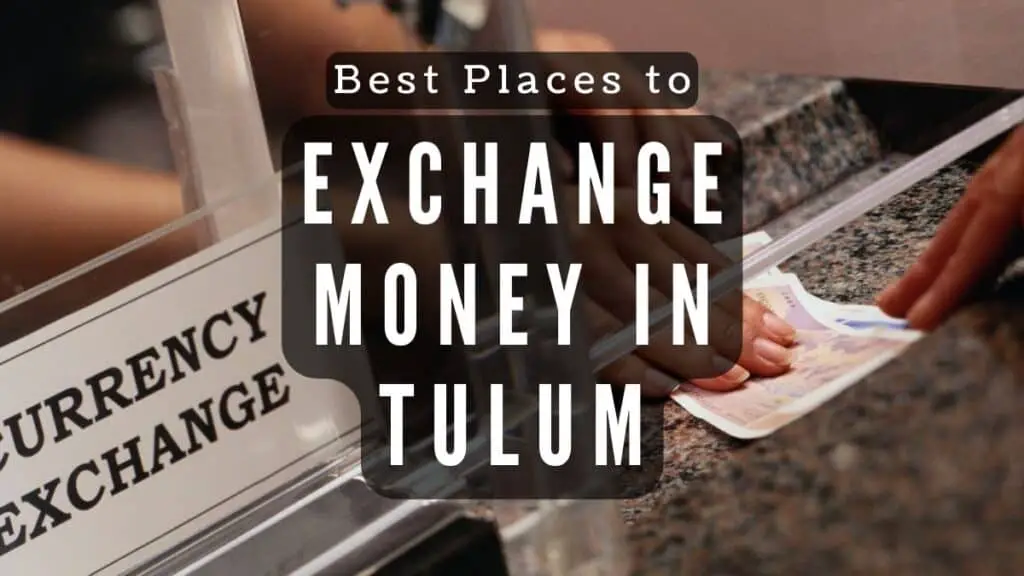 Best Money Exchange Places
In Tulum, you will find a large number of options available to exchange your money. Before you choose from any of these, make sure the exchange office is located in convenient places that are easy to access. Secondly, their staff should be well trained to deal with all sorts of transaction amounts – large or small.
You should also evaluate the prices exchange houses set for your currency. Even though the exchange rates do not vary greatly, there is still a noticeable difference between them. Lastly, you should check for the legitimacy of the exchange houses and make sure they are validated by the relevant monetary body in charge.
Here are some good places for you to exchange money in Tulum.
San Jorge Casa de Cambio
San Jorge exchange house specializes in foreign exchange and has been performing this service for almost 32 years. This place is known for having excellent customer service and offering a wide range of currencies, including but not limited to Dollars, Euros, Yens, and Brazilian Reals, with the best exchange rates.
Their employees are not only well trained but also make use of technology to provide quick service and comply with all national and international regulations. So, you do not have to worry about them being legit. Their exchange rate for $1 is 18.5 Pesos.
The location of their office is Coba 9-Mza 27, Tulum Centro, Col Huracanes, 77760 Tulum, A.R, Mexico. Their contact number is 01 800 SAN JORGE. To email them for information, use the address info@sanjorgecc.com.mx.
G Capital
G Capital is an exchange center that has been operating for 8 years. They specialize in the purchase and sale of foreign currency. With 10 branches, they offer high-quality and secure services to all their clients.
The reason you can trust G Capital not to take advantage of travelers who make transactions in their exchange houses is that they are governed by the standards imposed by the official exchange system, that is, the Bank of Mexico. So, you can be at ease with them knowing they would look out for your best interest.
Their services are available 24 hours a, and they even have the availability of Drive-thru, which means you can directly exchange your currency without leaving your car. The exchange rate here for $1 is 18.8 Pesos.
Their office address is Av. Tulum Manzana 4 Lote 1-Local 6, Tulum Centro, 77760 Tulum, Q.R, Mexico.  You can contact them at 9848596364 or on their email which is contacto@gcapital.com.mx.
Master Exchange Aldea Zama
They are an exchange center that finds expertise in currencies such as the Dollar, Euro, and Swiss Franc. They provide services to an array of companies as well as end users. Apart from exchanging currencies for travelers, their services offer specialized corporate attention for companies that need to purchase and sell foreign currency. They offer the best exchange rate according to the company's needs.
Master Exchange has 18 different branches. Their operating hours are 9:00 am to 6:00 pm. However, some branches are open till 2:00 am. Their customer service number is +529981559922, and their email address is info@masterexchange.com.mx.
One thing that makes them stand out is that they provide home service as well, which saves travelers from the hassle of having to go to their office. Their office is located at Lote número 102, Manzana 026, SUBCONDOMINIO B, Aldea Zama, 77780 Tulum, Q.R.
Sterling Casa De Cambio
Sterling House of exchange has been operating since 1989 and specializes in exchanging U.S. dollars, Canadian dollars, Euros, and the British Pound.
Sterling stands out for providing its clients with personalized advice according to their needs. Their executives with extensive experience in foreign exchange markets give their customers special attention and comprehensive advice. Their exchange rate for $1 is 19.84 Pesos.
They have an efficient transaction process that is secure and ensures their clients are well informed with all relevant information timely. To get in contact with them, you can email them at contacto@sterlingcc.com.mx or call them at (33)3669-5600. The location of their office is Sterling Casa de Cambio Tulum, Av. Tulum 83, Tulum Centro, Centro, 77760 Tulum, Q.R., Mexico.
Conclusion
If you plan to go to a bank to exchange money in Tulum, make sure you call your bank beforehand and check that your ATM card has not been blocked. Also, try not to use standalone ATMs. Not only is their fee higher than other money exchange services, but the waiting time is also more than other options available.
Make sure you understand the cost of any exchange that you do. When changing a large amount of your home currency into Mexican Pesos, the difference between the exchange rates offered can really start to add up. If you get an unfavorable exchange rate, you might end up having fewer pesos for your holidays.
Also, do not exchange money at the airport unless it is completely necessary. This is because airports mostly have the worst exchange rates possible. You are more likely to find better rates from different money exchange services in the city like the ones listed above.
Traveling to Tulum can be expensive. However, a good money exchange service can help you find the perfect exchange rate, resulting in lower costs. Every service listed above specializes in different areas, so it is up to you to try to find the one which suits you best and is most convenient for you to visit.