Mexico and the US are connected by land, but if you're visiting Cancun, that will take days to reach. While flying is the most common mode of travel, you may wonder if sea travel is possible. Thus, if you want to save money from flights and time from driving, you may wonder if you can take a boat from Florida to Cancun.
You can always ride a boat (ferry) from Florida to Cancun if you don't want to drive or book a flight. There's a regular schedule of ferries going back and forth from Florida to the Yucatan ports of Progreso or Puerto Morelos. From there, you can travel to Cancun by land or by sea.
The regular ferry schedule makes it a viable option for travelers from the US who want to enjoy the lovely beaches and spots of Cancun and the rest of the Yucatan. It's not as expensive as flying and not as long as driving. Now, if you're planning to travel by sea, this article is for you.
Here, we'll cover everything you need to know about taking a ferry from Florida to Cancun. This way, you can save some time by avoiding a long drive and some money by avoiding a flight. 
Without further ado, let's get into it!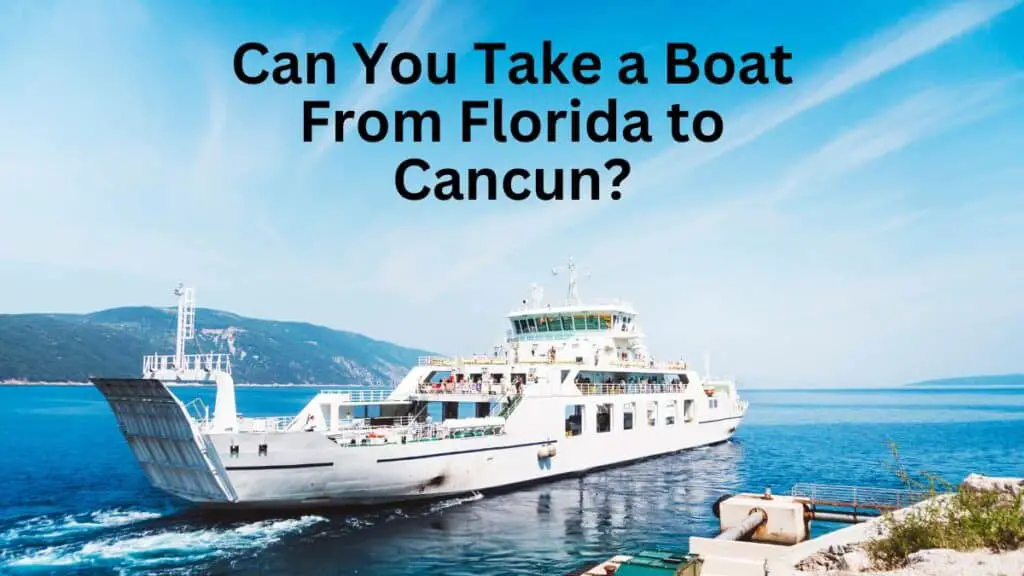 About The Ferry
The ferry that sails across the gulf of Mexico from Puerto Morelos or Progresso to Tampa in Florida and back and forth is known as The Scotia Prince. 
The Scotia Prince is a ferry that's 485 feet in length and comes with eight decks. It can carry up to 1130 passengers and 220 vehicles. This ferry has 322 cabins as well. 
The numerous features include a casino, a beauty salon for both sexes, a hot tub, live entertainment, shopping, and a good restaurant.
This ferry service is called The Yucatan Express, and it offers service between Tampa in Florida and the Yucatan ports of Puerto Morelos and Progreso in Mexico. From Puerto Morelos, you can travel by land for 33 kilometers to reach Cancun. 
Schedule 
The Scotia Prince or the Yucatan Express departs from Tampa Port's Terminal 7 on Tuesday and Friday and Puerto Morelos on Wednesday and Sunday. 
When going back from Progresso, Mexico, to Tampa, Florida, the ferry stops over in Morelos and journeys to Tampa onwards. 
The Scotia Prince (or MS Scotia Prince) is a ship that sails during the summer months from Portland in Maine to Yarmouth in Nova Scotia.
When traveling from Tampa to Progreso, the ship takes automobiles, buses, trucks, and other vehicles. It can also take thousands of passengers.
Time
In general, the sailing time of The Scotia Prince or The Yucatan Express is 36 hours for a single trip. 
It takes 36 hours from Tampa to Progreso and another 36 hours from Puerto Morelos to Tampa. 
Another thing to note is that the ferry's stay in port ranges from around 4-11 hours. Thus, if you're deciding between driving a car or riding a ferry, the latter is more viable. 
To know more about driving to Cancun, read our article Can You Drive to Cancún From the United States?
Distance
The ferry travels from Tampa to Puerto Morelos at about 777 nautical miles or around 894 or 1439 kilometers. As such, the travel time takes around 36 hours. 
If you travel by land to Cancun from Progreso, the distance will be around 212.9 miles or 342.7 kilometers, which takes roughly five hours of driving. 
Cost
The cost of ferry rides from Florida to Progreso in the Yucatan starts at 65 USD. However, you can pay as much as 405 USD if you opt for luxurious suites during the 36-hour journey.
If you book roundtrip tickets, expect around 120 USD per person, which can go up to as much as 750 USD if you want the luxury suites.
Of course, you need to pay for food, so it's best to add it to the budget. Some people try to save money by sneaking food for the entire trip. It's economical and the best way to go if you're traveling on a budget.
You also need to expect higher fees if you plan on bringing a car with you. When bringing a car, the starting rates are around 300 USD for a roundtrip ticket. 
Conclusion
Overall, it's possible to take a boat from Florida to Cancun, but not directly. You can generally depart from Tampa in Florida and sail through the gulf of Mexico to reach Progreso or Puerto Morelos. Then, from the ports, you can travel by land to reach Cancun.
The travel time is generally shorter than driving from the US to Cancun. Further, the cost is more affordable compared to booking a flight. It's also ideal if you want to bring your car with you. If you are considering driving, you may want to know more by reading our article Is It Safe to Drive in Cancun?