La Condesa is a trendy neighborhood in Mexico City that boasts beautiful avenues lined with trees and chic hangouts, making it a favorite of locals and tourists alike. There are picturesque parks, luxury boutiques, gastronomical delights, and vibrant nightlife in this cosmopolitan area. A Mexican itinerary would only be complete with a stop here, which is why it's so popular with travelers.
If you also plan to discover this neighborhood, this article is for you. Here, we'll cover everything you need to know about La Condesa. This way, you'll learn more about Mexico City's trendy neighborhood and get to know your way around it.
Without further ado, let's get started!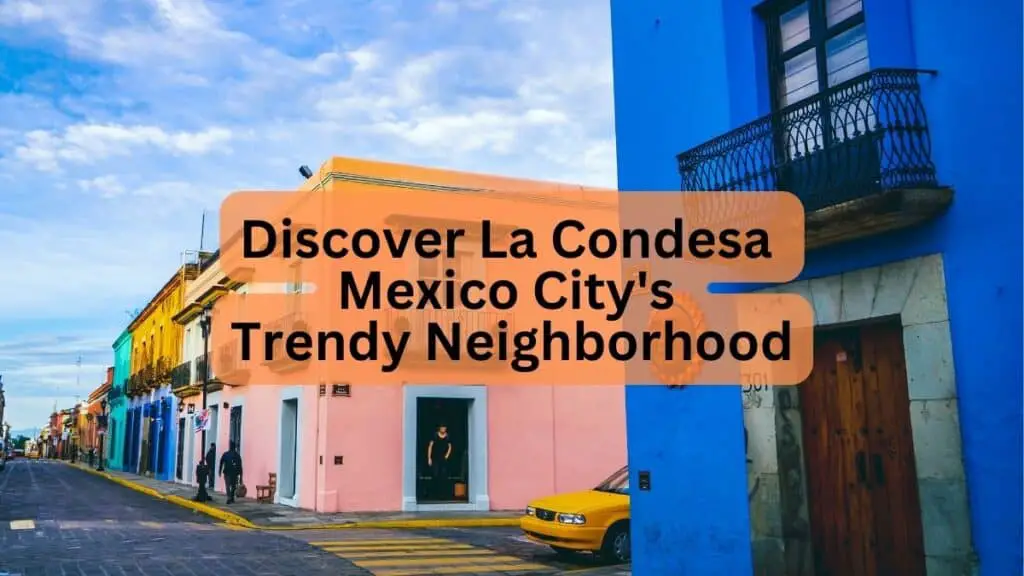 La Condesa in Mexico City – What's it like?
The chic La Condesa district has wide, tree-lined streets, towering art nouveau homes, and well-kept art deco apartments. 
While young professionals browse cutting-edge boutiques, hipsters stroll their dogs in the shade of Parque España. 
In this district of Mexico City, you'll find many hip international bistros, laid-back taquerias, and stylish sidewalk cafes. At night, upscale bars and clubs attract a younger crowd.
In 1902, wealthy Porfirio Diaz supporters populated the Mexico City neighborhood. Due to several sales since the colonies were founded, there are now three colonies in the territory. As such, the neighborhood is known as a "bohemian" community of wealthy young people.
Is La Condesa a Good Area to Stay in Mexico City?
La Condesa has some of the city's best restaurants and boutique hotels. It's a beautiful place to stay in Mexico City since it's trendy and secure while still convenient to other areas. 
There is only one disadvantage to staying in Condesa in Mexico City: it is trendy. As such, you can always expect this area to be crowded and well-visited by tourists and locals.
Where to Stay in La Condesa?
If you plan to stay within La Condesa, you can enjoy an array of cozy and elegant-looking hotels. In general, you'll always have options in this district when it comes to hotels. Here are some of the hotels you might like to consider:
Maria Condesa
Address: C. Atlixco 132, Colonia Condesa, Cuauhtémoc, 06170 Ciudad de México, CDMX, Mexico
Phone Number: +52 559 299 0966
Website: Maria Condesa
Condesa Suites
Address: Juan de la Barrera 66, Colonia Condesa, Cuauhtémoc, 06140 Ciudad de México, CDMX, Mexico
Phone Number: +52 855 458 6179
Website: Condesa Suites
Casa Nuevo León Hotel
Address: Av Nuevo León 120, Colonia Condesa, Cuauhtémoc, 06100 Ciudad de México, CDMX, Mexico
Phone Number: +52 551 857 5318
Website: Casa Nuevo León Hotel
Activities to Do at La Condesa
As a famous district in Mexico City, La Condesa offers plenty of activities to do and enjoy. Here are some of the things you'll enjoy while staying in the area:
Stroll at the Parks
La Condesa is considered one of the greenest neighborhoods in Mexico City. Due to the lush greenery in the area, this area houses many parks to choose from. As such, you can spend some time wandering around the parks. We'll cover these parks later in this article.
Check out the Foro Shakespeare
Foro Shakespeare, formerly a bookstore, now hosts several excellent productions worth seeing. In addition to five theater halls, the facility has a multi-purpose room.
Among the shows are timeless productions with talented casts and new productions featuring emerging artists. Another critical element of the theater is its diversity of genres. You can watch heartbreaking tragedies or hilarious comedies.
After the performance, explore the exhibitions available. As you learn about the plays' talent and labor, you'll be able to appreciate it more.
See the Enigma Rooms
By putting your analytical hat on, you can conquer Enigma Rooms, a hotel between La Condesa and Roma. 
This activity is among the oddest things you can do in Mexico City's Condesa neighborhood. Whether you're traveling alone or with friends, these spaces are a great way to pass the time.
In Enigma Rooms, you can find escape rooms inspired by popular art. 
Enjoy a tour at the Bosque de Chapultepec
Located only 2.8 kilometers from La Condesa's center, this fortress on Chapultepec Hill has witnessed many historical events. Once, it served as a royal residence, a military command center, and a place for foreign guests.
Chapultepec Castle is one of Mexico's most recognizable sites, with a beautiful view of the city's towering structures and beautifully landscaped gardens. Explore the murals and historical artifacts in the colorful hallways. 
Experience the Vibrant Nightlife
As young people frequent this spot, the Condesa neighborhood in the city is known for its classy and lively nightlife. You'll find plenty of spots to visit, such as karaoke bars and nightclubs, and you're guaranteed fun.
To know more about parties and nightlife in the city, read our article: Party in Mexico City. 
Museums and Parks to Explore at La Condesa
La Condesa district offers several parks and museums to explore as one of the famous districts in Mexico City. Below are some of them:
Parque Mexico
This spot in La Condesa is an urban park with many trees and pergolas covering walkways. Besides unwinding here, you can participate in various activities. You can sometimes find live music, theatrical performances, yoga courses, and cute dogs in the park.
Visitors can wander in a park-like setting along Avenida Amsterdam, a route lined with trees that were once a horse racetrack.
Parque España
Although Parque España is smaller than Parque Mexico, it has a more significant amount of vegetation. As such, there is no better place to escape the heat than here. Additionally, the park is home to breathtaking fountains, sculptures, and street art murals that would be ideal for an Instagram post.
Avenida Amsterdam
Avenida Amsterdam offers a tree-lined path that was once a horse racetrack so you can stroll along it.
Parque Chapultepec
Parque Chapultepec is technically not in La Condesa, but leaving it out seems rude since the neighborhood begins at its beginning. Experiencing this large yet stunning park, Latin America's second-largest would take days. 
House of Gaga
House of Gaga is a modest gallery with sparse decor that compensates for its tiny size with bold contemporary art. Artists worldwide exhibit their works there, including renowned and up-and-coming artists.
Proyecto Paralelo
Proyecto Paralelo, the larger of the two galleries, is home to several artists, including Javier Hinojosa and Lake Verea. Besides the sculptures and paintings on display, foreign artists also have worked.
Luis Barragán Studio House
The Casa Luis Barragán Museum is a former UNESCO World Heritage List residence. The property has been owned by the same family since 1948. 
Due to its expert combination of traditional and modern elements, it was chosen as a masterwork. Compared to the nearby homes, the house is enormous, and its walls are colorful. 
The museum is a favorite among architecture and fine art lovers. In that case, you'll be delighted to learn that the museum is home to Luis Barragán's residence and studio.
Best Restaurants at La Condesa
As mentioned earlier, Condesa is known for its incredible gastronomy. Restaurants serve Mexican and international cuisine and tasty drinks, but choosing which one to visit is the biggest challenge. If you want some recommendations, below are some of the best ones around:
La Clandestina
Address: Av. Álvaro Obregón 298, Colonia Condesa, Cuauhtémoc, 06140 Ciudad de México, CDMX, Mexico
Phone Number: +52 555 212 1871
Opening Hours: 6:30 PM – 1:00 AM
Website: La Clandestina
El Ocho
Address: Av México 111, Hipódromo, Cuauhtémoc, 06100 Ciudad de México, CDMX, Mexico
Phone Number: +52 555 584 0032
Opening Hours: 8:00 AM – 12:00 AM
Website: El Ocho
La Xampa
Address: ​​Av Nuevo León 66, Hipódromo, Cuauhtémoc, 06100 Ciudad de México, CDMX, Mexico
Phone Number: +52 554 432 4073
Opening Hours: 1:00 PM – 2:00 AM
Website: La Xampa
Conclusion
With this guide, you can enjoy the best things about La Condesa. This district in Mexico City boasts some of the best experiences for tourists and locals. As such, you'll surely enjoy the time you'll spend around. If you're searching for other areas to explore in the city, check out Polanco.