To travel to Mexico City, you must prepare a budget. After all, traveling is filled with expenses, and a significant part of the entire expenses goes on food and drinks. So, if you're budgeting for your Mexico City trip, you'll want to know the food and drink prices in the city.
In this article, we'll cover the estimated prices of food and drinks in Mexico City. This way, you'll know how much to spend when you're around for food. It will also give you an estimate of your entire cost when you visit the city.
Without further ado, let's get into it!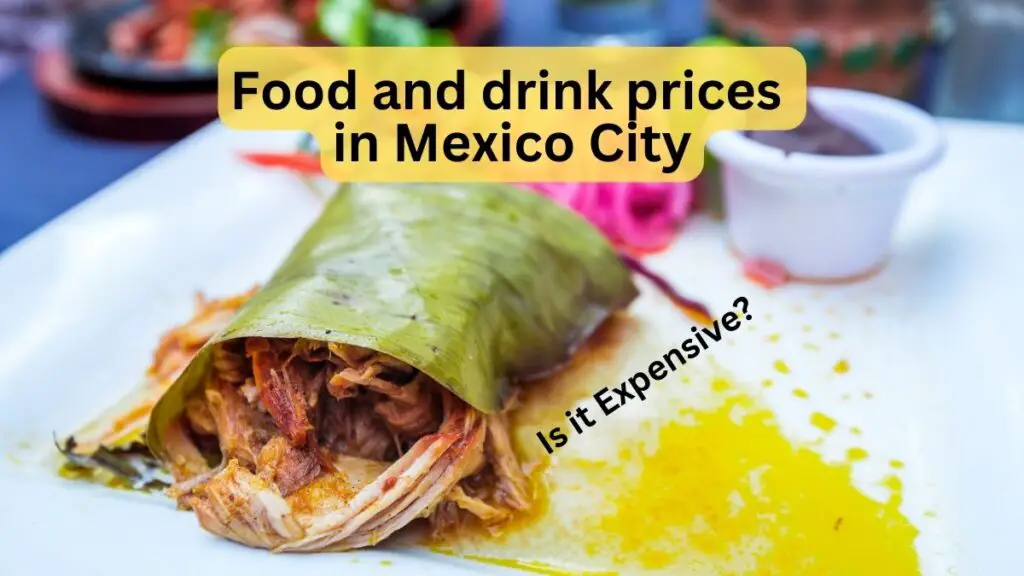 Are Food and Drinks Expensive in Mexico City?
Like all other destinations, food and drink prices in Mexico City varies. You can find food and drinks suited for a low, mid, and high budget.
Nonetheless, the cost of food in Mexico City is inexpensive, especially compared to other cities in other countries. As such, it's a place to visit, even for those on a budget.
Of course, the city also has enough options if you want something fancy to splurge if you have more than enough.
If you remain going for affordable options, you can always stay in Mexico City without hurting your budget. 
If you stick to the city's affordable options, it can be extremely budget-friendly. Hundreds of activities, restaurants, and neighborhoods are available for a reasonable price in the city. You only need to do a bit of researching and planning. 
Another thing to note if you want to get the worth of your money is to pay in local currency, the Mexican pesos, instead of US dollars. To know more, read: Mexico City – Cash (Pesos or USD) Or Card?
How Much Does a Taco Cost in Mexico City?
You can't go to Mexico City and not try a taco. In general, tacos are one of the most popular Mexican food, and there's no better place to try one than in the country's capital, Mexico City.
Now, how much a taco costs around here, the average price is around 10 to 15 MXN which is around 0.54 to 0.81 USD.
However, the price of a taco will vary depending on what type it is and where it is ordered. For example, tacos from a sit-down restaurant typically cost more than street tacos.
How Much Does a Meal Cost in Mexico City?
As mentioned earlier, the cost of a meal in the city varies since you can find options for low, mid, and high budgets. 
Yet, a typical fast food meal costs about 7 USD or 130 MXN. This meal already includes drinks. If you're only about food, the prices are around 50 to 100 MXN or 2.71 to 5.43 USD.
Traveling can be costly, but Mexico City can be experienced on a budget. Although Mexico City is a large metropolis, it is very affordable. A few money-saving tips and some planning can help you enjoy Mexico City without spending a lot. 
Average Prices in Mexico City
To have an estimated budget, you'll want to know the everyday expenses on food and drinks you'll likely have when you're in the city. Here are some of the prices you can find for food and drinks in the city:
Food prices in supermarkets are lower than in the United States. For example, in Mexico City, you have to pay for the following:
Meals
The meals can cost around 50 MXN (Around 3 USD) to 250 MXN (Around 13 USD), depending on whether you're eating on the streets or in a sit-down restaurant. It can be higher if you're eating at high-end and luxury restaurants.
Beer
Beers from known brands can cost around 50 MXN (Around 3 USD). However, such prices are only in groceries and local stores. Beer can be more expensive if you buy from a high-end restaurant, resort, hotel, or bar.
Drink
The prices of drinks differ since every drink is different. For instance, one liter of milk can cost around 26 MXN, around a dollar or two. 
On the other hand, wines of renowned brands (but not high-end ones) can cost around 220 MXN, which is around 12 dollars. 
Bottled water can cost around 12 MXN, less than a dollar. As such, it's affordable if you want bottled water for your drinks.
If you're concerned with the safety of drinking water in the city, read our article about Drinking Water in Mexico City.
List of Meals in Mexico City (with Estimated Prices)
To help you make a budget for your food and drink expenses, here's a list of the typical food and drinks you'll likely get when you're visiting the city:
| | | |
| --- | --- | --- |
| Type of Food | Expenses in Local Currency | Expenses in US Dollars |
| Meal from Streetfood to a Sit-down Restaurant | 50 MXN to 150 MXN | 3 USD to 6 USD |
| Meal from a Fastfood Chain | 100 MXN to 175 MXN | 6 USD to 10 USD |
| Meal from a Mid-Range Restaurant | 500 MXN to 1000 MXN | 30 USD to 50 USD |
| Meal from a High-End Restaurant | 1000 MXN to 2000 MXN | 50 USD to 100 USD |
Conclusion
With this guide, you can prepare your budget in Mexico City for food and drinks. As always, this city offers a wide array of food and drink options, and you can find excellent choices whether you're on a budget or have some money to splurge. 
We hope you can prepare for your Mexico City trip using these estimated prices. If you want to try the best food and drinks in the city, you'll do well if you book a food tour. These tours take you to the city's best food and drink spots. As such, you'll only pay for the tour, and you can try the best dishes and drinks the city offers.
Please read our article about the Food Tour in Mexico City for the best options.