Mexico City is one of the largest cities in the world, and exploring it can be overwhelming, especially for a first-time visitor. For this reason, one of the main concerns of people visiting the city is the mode of transportation. 
As a large city, Mexico City has an array of transport options for both tourists and locals. In general, you can find a handful of public and private transportation to get you from one destination in the city to another. 
In this article, we'll cover the best mode of transportation and the rest of the options. This way, you can choose and pick one depending on your preference, budget, and other factors.
Without further ado, let's get into it!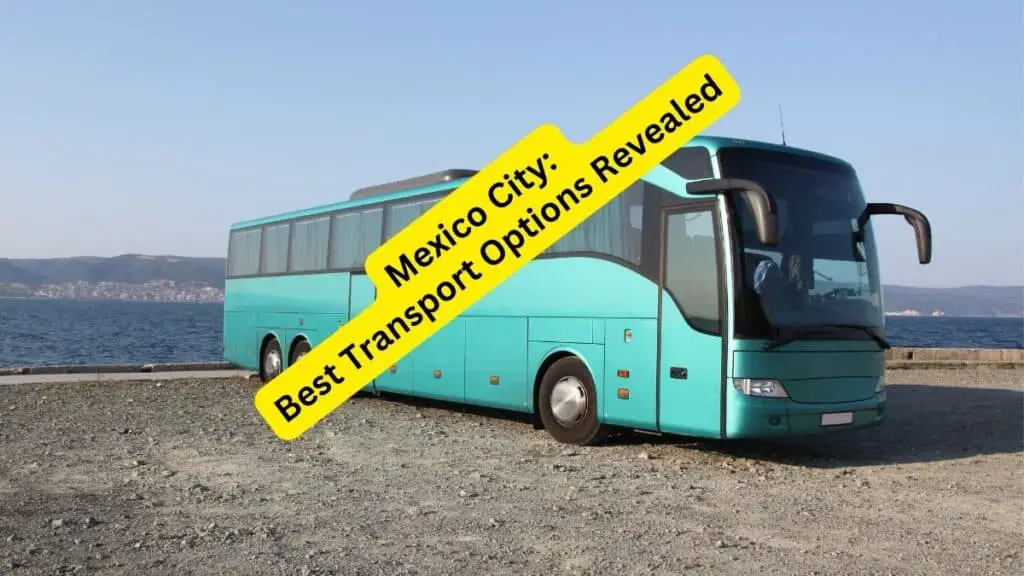 What Is the Best Way to Travel in Mexico City?
Mexico City's two best transportation options are taxis and Ubers. Alternatively, you can take the metro. The service is quick, tidy, and reasonably priced. In addition, trains provide easy access to the most popular tourist destinations. Finally, many buses travel throughout Zócalo and its main streets; these are relatively inexpensive transportation options.
You can take a taxi from the city's airport, roughly six miles east of the Centro Histórico, without much hassle, but it is significantly more expensive. With Uber, you can get around town conveniently and at a lower cost. It is not recommended if you plan to drive to and from the airport on your own or within the city.
Six Best Transport Options in Mexico City
Below are the six best transport options when exploring Mexico City. You can read further to see which one suits your preferences the best.
Metrobus
Like the subway, the Metrobus is an affordable, efficient, and incredibly crowded way to get around the city. During the day, the metro comes in white and red buses that travel through the Avenida de Los Insurgentes in designated lanes (fast). 
You must purchase a smart card at a kiosk in each station to ride. The card costs 16 MXN, approximately 0.84 USD, and one-way fares cost 6 MXN, or roughly 0.31 USD. 
As of today, there are also women-only buses available. To board one of these, wait at the designated platforms. It is perfect because there have been many allegations over the past few years about illicit conduct and groping toward women on the metro.  
Turibus
The Turibus is a red-colored two-decker bus that offers commentary (in eight languages) on several well-known locations and routes across the city. 
With roughly twenty stops along the route, tours typically run three hours. However, it's a reasonable choice since it costs roughly $8 for adults. 
As such, it's an excellent option for people who want to do a lot of touring in one day. It leaves every day from 9:00 in the morning to 9:00 in the evening. The tour is also one of the best one provided in Mexico City.
Colectivos
Colectivos, privately operated green and grayish-white buses traveling along busy thoroughfares, are frequently called Minibuses or Peseros. 
The Colectivo makes many of the same stops as the Metrobus, and riding it is only slightly more expensive. 
You may find route information on cards in the windshield, and when stopping, drivers typically hold out their fingers to show how many unoccupied seats are inside.
Uber or Taxi
Uber or Taxis are two of the most accessible and flexible modes of transportation in the city. Thousands of taxis are scattered around, and you'll always find an Uber or DiDi through their apps. 
Call for a cab de Sitio in advance to ensure you have official and secure transportation around the city. You can either wait at the Sitio signs and stands scattered throughout the city or ask most restaurants and hotels to reach out to one of the official vehicles for you. 
Furthermore, Uber runs in the city and is an inexpensive and secure method to travel the city. Flagging one across the sidewalk could leave you in the risky situation of climbing in the rear of an unauthorized green VW cab with an operator with questionable motives.
Metro
The metro is an excellent transport option in the city because it's inexpensive, hygienic, and effective. However, it would be best if you remembered a few things before taking your first ride. 
For instance, remember that the first two carriages of these trains are exclusive for women and children. It's handy if you're a group or a solo female traveler. However, it's something to remember if you're a couple or a family.
The next thing to note is only to carry small bags when riding the metro. Huge bags identify you as a visitor, and luggage is prohibited. As such, there are better options than this if you're going to the city center from the airport.
Finally, beware of pickpockets in metro stations, especially during rush hours. Pickpockets are more likely to strike during the early morning and late afternoon rush hours when the subway is particularly packed. 
If you plan on getting on the metro to explore different areas around the city, the ticket price is 5 pesos, or around $0.25.
Rental Car
While driving on your own makes everything flexible and convenient, it doesn't apply in Mexico City. In the city, there is a lot of traffic, the routes could be more precise, and you have difficulty finding parking because it is so expensive. 
Further, with traffic laws being so complicated and people seldom adhering to them, it's hard to understand what they mean. Another thing to note is that some areas are vulnerable to auto theft. 
Of course, if you decide to drive around, your American driver's license will still work if you choose to do so. You do not have to obtain an international driver's license if you drive in this city. 
If you think driving is the best way to explore the city, you can find many car rental companies at the airport. You can rent upon arrival or book in advance, whichever works for you.
Conclusion
With these options, you now know about the city's transport options. As always, your transportation choice depends on which suits you, for budget, convenience, flexibility, and other factors. Now that you know how to get around Mexico City, it's time to know where to go. Please read our article about the 10 Things to See and Do in Mexico City to learn more.