Breakfast is the most important meal for everyone, and it goes the same for locals in Mexico City. With this in mind, the city boasts plenty of breakfast options for locals and tourists. As such, if you're visiting the city and wondering what to have for breakfast, this article is for you.
If you're a tourist exploring Mexico City, eating a Mexican breakfast will be a great way to start your day there. If so, then you're entirely correct, and you're up for a treat! This article will walk you through Mexico City's most popular breakfast foods. This way, you'll know what to get if you sit at a restaurant or explore the city in the morning. 
Without further ado, let's get into it!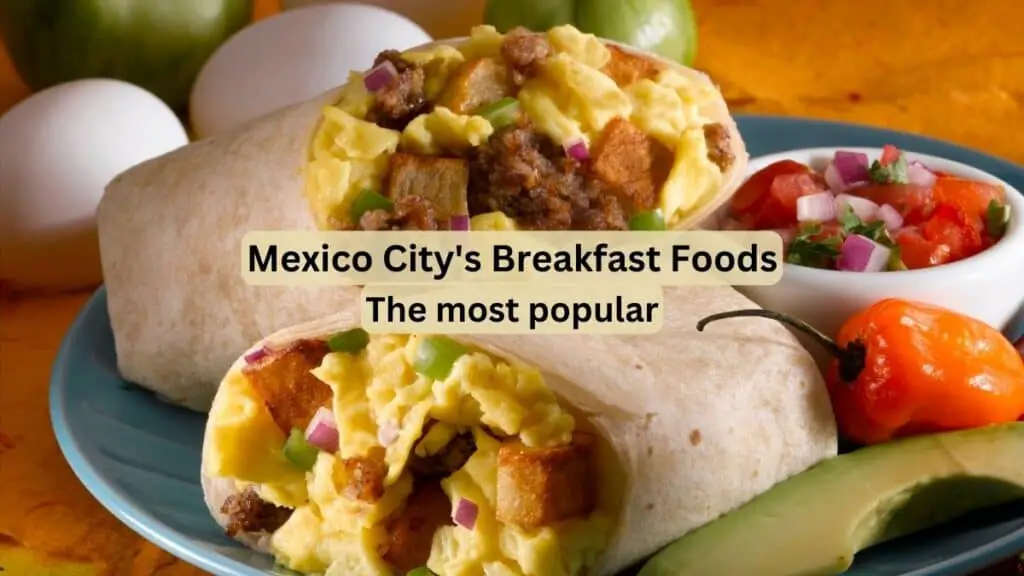 What Is a Typical Breakfast in Mexico City?
Mexican breakfast, also called Desayuno, is hefty and consistently one of the favorite meals of locals and tourists. Whether it consists of a street tamale or a hearty chilaquiles platter at a downtown restaurant, you'll always find it delightful to enjoy.
In general, a typical breakfast in Mexico City includes doughy tamales and atole, fluffy conchas, and refreshing Licuados. Sweet or savory, tamales are filled with sweet or savory fillings and steamed in banana leaves or corn leaves.
Street Food Breakfast in Mexico City
Among the best breakfast options in Mexico City can be found on street stalls. While it may sound unhealthy, it's a staple for many to enjoy their first meal with food from the streets. 
For a Mexican street food breakfast, you can enjoy doughy tamales with atole, soft shells, and delicious Licuados.
Tamales consist of a corn dough with sweet or savory fillings (usually with pork, chicken, tangy salsa, mole, or some combination) served in steamed bananas or corn leaves. 
Traditionally, they are served with a cup of atole, a stew. It is a thick rice beverage that is usually sweet, sometimes flavored with strawberry, vanilla, or chocolate, but it can also be plain.
After an hour or two, locals grab a snack called Concha, a fluffy and sugar-coated white bread.
Regarding Licuados (or drinks), you can mix any ingredient with milkshakes or make superfood smoothies. Among the popular components are fresh fruits, nuts, seeds, milk, juice, yogurt, and grains.
Once you pick all your preferred components, the vendors will blend everything. In most cases, it only costs 30 MXN, less than 2 USD.
If you want to know more about street food in the city, read our article about Mexico City's Street Food.
Big Breakfasts in Mexico City
If you eat hefty servings to start the day, you'll have plenty of options in Mexico City. One fun fact is that this country consumes more eggs than any other country globally, and its breakfasts reflect that. 
Here, you can find plenty of hearty dishes. However, the best combinations of a hearty breakfast in the city include the following components:
Eggs (scrambled or fried)
Tomatoes
Totopos or Chips
Salsas
Moles
Shredded Meat
If that's not enough for you, you can enjoy more sides like Frijoles, which can be pinto beans, black beans, or whole or pureed beans.
List of Popular Breakfast Foods in Mexico City
As mentioned earlier, Mexico City boasts plenty of breakfast options for you to try. As such, it can be overwhelming to pick someone visiting the city for the first time. To help you out, here is a list of the popular breakfast foods in Mexico City:
Guajalota or Torta de Tamal
Guajalotas, or tortas de tamales, are a staple of Mexican cuisine, primarily in the capital. It's one of the best on-the-go breakfast options because it's incredibly filling, authentic, and delicious. 
Even though the tamal is mainly corn masa bread stuffed with proteins, cheeses, or vegetables, it is surprisingly tasty and a Mexico City classic. The tamale can also be enjoyed without a tortilla if you are unsure!
Chilaquiles
Mexico City's traditional breakfast dish is chilaquiles or tortilla chips topped with salsa and served with chicken or eggs, cream, onions, and cheese. 
There may even be street vendors selling them in takeout boxes in households, fondas, and breakfast establishments. 
Mexico's custom is to serve them in tortillas, but no matter how you want to consume them, all methods are delicious.
Quesadillas Fritas
Quesadillas in Mexico City always consist of a folded tortilla topped with a hearty amount of cheese and whatever other ingredients you request, including chicken or pumpkin blossoms. 
For a more substantial breakfast, however, look for a place that serves fried quesadillas. Their dough is made of maize and filled with the same stuff. They're deep-fried and served with sauce and creme.
Huevos Motuleños
Huevos Motuleños is a Yucatán treat and a favorite of locals, but they're available everywhere because of their popularity. There's no denying that eggs are a big deal in Mexican breakfast food. 
Two crunchy tortillas are topped with frijoles, fried eggs, lentils, salami, cheese, and a tomato-based salsa. Side dishes often include fried plantains. With the perfect balance of sweet and savory, your day will start right.
Enchiladas
Enchiladas, at least the authentic Mexican variety, make a great breakfast to get you going. The classic enchiladas (usually with chicken) use four lightly rolled maize tortillas marinated in the sauce before being stuffed with the filling. After that, they get some more sauce, lettuce, and cream. 
The dish can be adapted to suit your tastes with enchiladas suizas, which have a green tomatillo salsa and more cheese and cream. Compared to salsa-covered enchiladas, enchiladas are just enchiladas with a mole on top.
Huevos Divorciados
Huevos divorciados is a traditional breakfast dish at any diner or Fonda. In this meal, two fried eggs are topped with green and red salsa, named "divorced." 
Usually, they're served with beans, avocado slices, and corn tortillas, which are a mainstay of Mexican food. A version of huevos divorcios, huevos rancheros have two crunchy tortillas, a fried egg topping, and a spicy salsa.
Licuados, Jugos and Biónicos
You might prefer some biónicos, freshly squeezed juices, or a denser, more substantial licuado if you don't like chunkier breakfast options. Mexican food is notorious for being high in carbs and grease. So it's just juice, unlike licuados, which are more like smoothies. A biónico is yogurt and granola sprinkled on top of fruit or legumes.
Huevos a la Mexicana
Eggs a la Mexicana are another variation of the consistently popular egg-based breakfast. It's scrambled eggs with onions, tomatoes, and chili added for extra flavor and patriotism. You can get this delectable option anywhere. Like the eggs, it'll usually come with beans and corn tortillas.
Pan Dulce and Café de Olla
Locals like pan dulce (sweet bread) and café de olla (sweet coffee with raw cinnamon and sugar) before breakfast. Maybe it's a way to tide you over until the big show. Hence, you'll see a lot of street vendors in Mexico carrying big platters of pan dulce with steaming cups of coffee de olla to wash it all down.
Molletes
Although open-faced sandwiches have become popular, Mexico has made them for years. The muffin is just a bread roll (bolillo) cut and toasted in half. After that, you can add beans, cheese, or anything else. You can get ham and eggs on the menu, but many other options exist. You can think of it as Mexican-style breakfast pizza.
Conclusion
With so many things to offer for breakfast, you'll always find mornings in Mexico City extraordinary and lively. If you try any of these dishes or drinks, you'll have the energy for an entire day of exploration in the city.
If you want to try these dishes, you can do so at any Mexican restaurant in the city. Please read our article about the top Restaurants in Mexico City for the best options.