Cabo San Lucas comes to mind for many tourists, golfers included, due to its stunning beaches and vibrant nightlife. While both are abundant, you can also find several excellent golf courses, most of which receive high marks.
In the past ten years, more than ten new private and public golf courses have sprung up to offer unique adventures to travelers who love golfing. However, one of the greatest, even the best, golf courses can be found in Cabo San Lucas.
For this reason, if you're interested in visiting this city to play some golf, this article is for you. Here, we'll cover everything you need to know about golfing in the city. This way, you can know the best places and the estimated prices to help you prepare for your trip.
Without further ado, let's get into it!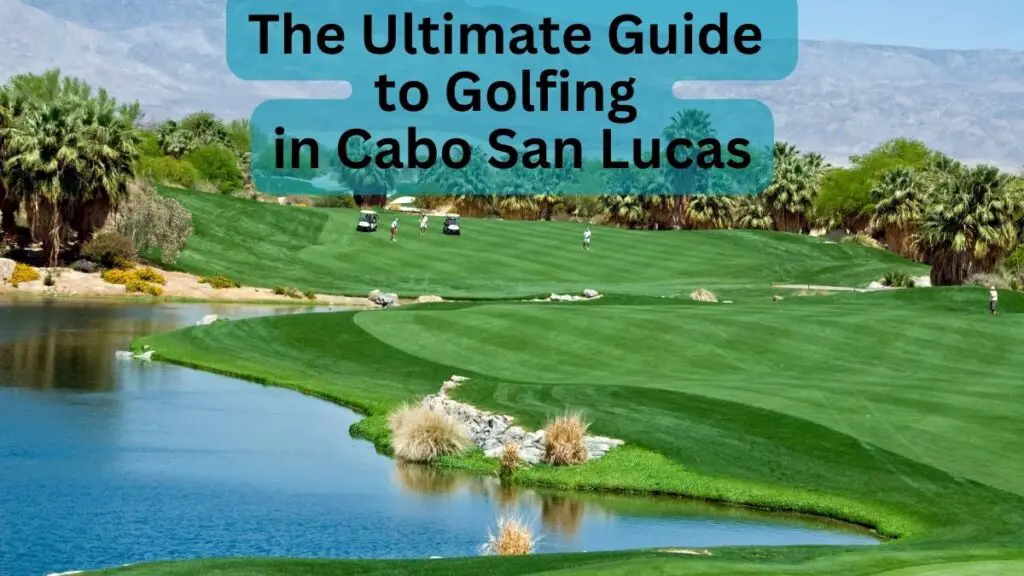 What Makes Playing Golf in Cabo San Lucas Special?
The golf landscape in Mexico's southernmost region of the Baja California Peninsula is unique to any other on the continent. Over the past twenty-five years, some of the best golfers have constructed eighteen golf clubs in the region.
But golf isn't the only thing going on. Guests will be overwhelmed when they feast their eyes on the views from each golf course. 
Here, they can enjoy the crystal clear blue waters of the Sea of Cortez and the Pacific Ocean, the striking rock formations, and the stunning views of the beaches. 
A desert environment characterized by cacti rises immediately above that beach; mountains with a maximum elevation of more than five thousand feet may be seen.
In short, elegance can be found anywhere. However, it's not just about that attractiveness. Cabo has a mood that invites people to unwind and have fun, combining its golf, seaside, mountains, and vistas to create a whole that is even better than the entirety of its components.
How Much Does It Cost to Play Golf in Cabo San Lucas?
During peak season, golf courses and other charges range from 200 USD to 400 USD. Nonetheless, you can find some excellent deals and discounts during twilight hours. During such time, you can enjoy around 100 USD fees even during peak season. 
When arranging your budget, always account for meals and beverages and the 40 USD it costs to rent golf clubs and other equipment. Also, the tips and taxes come at a reasonable cost.
Where to Golf in Cabo San Lucas?
This city is home to plenty of famous golf courses. Public golf courses are ideal for walk-ins, and private golf courses with membership benefits. Here are some of the best:
Public Golf Clubs
This city offers its guests seven world-class public golf courses, all of which offer a wide range of golfing activities.
Cove Club Golf Course 
This golf course is an 18-hole golf course designed by Jack Nicklaus, which includes four holes on the course and is ranked as the first course in Mexico by Golf Digest.
Cabo Real
Cabo Real is one of the many multi-themed courses in the city. This course is situated in the foothills of the desert, offering breathtaking views of the surrounding area surrounding each hole. With its elevation and fairways perched on ridge tops, this golf course has elevated landscapes and bunkers with freeform shapes.
Palmilla Golf Club
This golf club is home to a 27-hole course of three different nine-hole courses. You'll appreciate the Sea of Cortez's breathtaking view as you play some golf. 
Cabo Del Sol Desert 
This golf course is attractive, with excellent ocean views on every hole. Overall, this course is a perfect combination of desert and ocean beauty. 
Cabo Country Club 
Cabo Country Club boasts among the most challenging golf courses around the city, making it one of the best to play for experienced golfers. In addition, there are blooming flowers and cacti around the monument in the desert landscape.
Campestre
Campestre is a popular public golf course you'll want to consider. This 18-hole course features panoramic views, elevation changes, and championship grasses that can be seen from every turn.
Puerto Los Cabos Golf
This golf club is home to the famous 27-hole golf course nestled among soaring desert hills over the Sea of Cortez, carved into the rugged terrain. 
Private Golf Clubs 
There are private golf clubs in Cabo San Lucas, meaning you must either be a club member or stay in the area to play there. Here are some of them:
Chileno Bay Golf Course 
This course is designed by Tom Fazio and offers stunning views of this Bay. It is exclusively available to the resort's guests who wish to play golf on this course. 
El Dorado Golf Club 
The superb course designed by Jack Nicklaus offers a tranquil environment made up of arroyos and canyons that offer breathtaking ocean vistas in numerous locations. This top-notch course is exclusively available to members and visitors.
Querencia Golf Club 
The Querencia Golf Club is an exclusive golf club for members only. It is located along the tourist corridor separating the two main Los Cabos areas.
What Is the Best Golf Course in Cabo San Lucas?
You can find several excellent options for the best golf courses in the city. Of course, the best will only depend on your golfing preferences.
Palmilla Golf Club
The Palmilla Golf Course is well-known for its 9-hole courses with stunning ocean views throughout the area. In addition, you can enjoy complimentary or discounted golf prices if you've checked in at one of their sister resorts.
Estimated Price: Around 140 USD for the off-season and 220 USD for the peak season
Cabo Del Sol Desert Course 
Another highly-rated golf course is the Cabo Del Sol Desert Course, and it's an excellent option if you're staying near or within the Tourist Corridor. But, again, the rates can be lower or higher depending on the time of your visit.
Estimated Price: Around 150 USD during the off-season and 255 USD during the peak season
Cabo Real Golf Club 
The Cabo Real Golf Club is where most of the famous tournaments happen. As such, it's one of the most challenging courses designed for expert and experienced golf players.
Estimated Price: Around 140 USD for the off-season and 280 USD for the peak season
The Dunes Course at Diamante
If you head north of the city, you'll find The Dunes Course at Diamante, an excellent option for golfing. Here, you can enjoy a new lineup of golf courses used by several championship tournaments.
Estimated Price: Around 200 USD for the off-season and 275 USD for the peak season
Cabo Del Sol Ocean Course 
If you know Jack Nicklaus, you should check out the Cabo Del Sol Ocean Course. This golf course is a popular one designed by Nicklaus. As such, it can be expensive, especially during peak season.
Estimated Price: Around 180 USD for the off-season and 355 USD for the peak season
Conclusion
As home to numerous excellent golf courses, the resort city in Los Cabos is undoubtedly one of the worlds that golf enthusiasts would dream of visiting. After all, the golfing experience in the city is always breathtaking and memorable. With this guide, we hope you understand this sport and how it will work out for you when you try it in this city.
Now, if you want to maximize your vacation for golfing, you'll want to book accommodation at a golf resort. If so, read our article about the best Cabo San Lucas Golf Resorts.