One of Tulum's most prized possessions is its spectacular turquoise waters and fine white sands. As such, it's not surprising to know that many people prioritize beachfront access as a feature. However, other people hold back from this option since they are often pricier than other options. So, if you're deciding, you may ask: Why should you book at a beachfront hotel in Tulum?
A beachfront hotel in Tulum provides you with some of the things you're looking for when visiting this town. These hotels give a spectacular beachfront view and access, chic design, beach amenities, and great value. Such features aren't something you'll get by booking typical hotels. 
This article is a must-read if you're still deciding whether it's worth booking a beachfront hotel in Tulum. Here, we'll cover every feature of beachfront hotels in Tulum that will help you know their value. After reading, you can understand what you'll get by choosing a beachfront hotel, and it will also help you plan your Tulum vacation.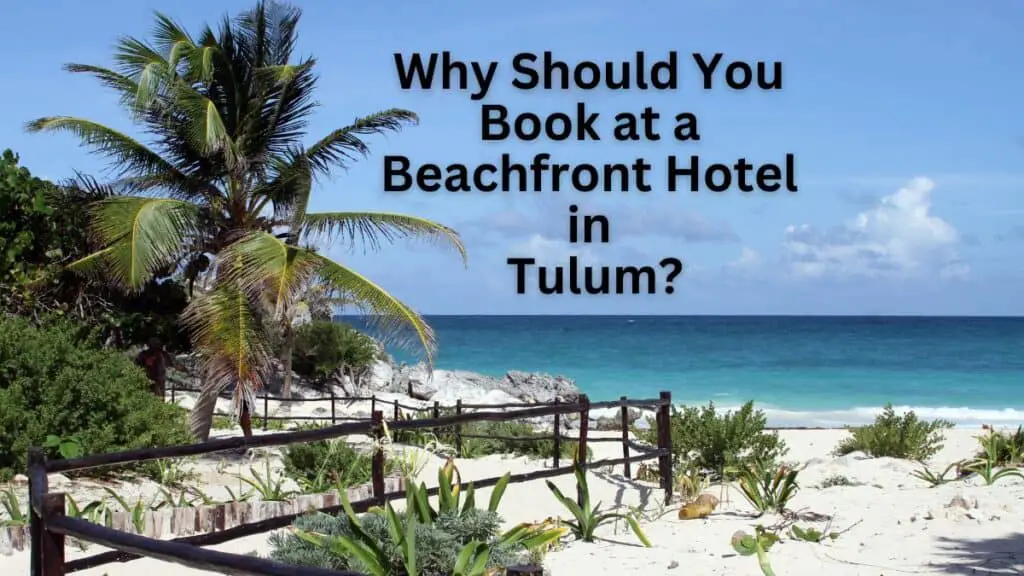 5 Reasons Why You Should Book at a Beachfront Hotel in Tulum
Here are five main reasons to help you understand why booking a beachfront hotel in Tulum is a great option. If you're still adamant about booking a beachfront hotel, these reasons can help you consider such.
1. Spectacular views
One of the best things about a beachfront hotel is the view, and it's what guests pay for in a beachfront hotel. As such, it's also why you should book at a beachfront hotel in Tulum.
In general, you'll find a handful of friendly chic hotels in Tulum, but not all of them have beachfront access and views. 
Unlike other places, Tulum has no towering hotels offering a panoramic ocean view. However, some beachfront hotels offer a secluded part of the beach, giving you the best views.
Of course, you can always book a hotel without beach views and walk to the beach to sightsee. However, it's a different thing when you head to your room, but you're still offered a view of the beautiful beach of Tulum.
In short, if you're mainly in Tulum to enjoy its pristine blue waters and fine white sands, allotting an extra budget to book a beachfront hotel will always be worth it.
2. Ease of access to the beach
While it's true that Tulum's beaches are all open to the public, you may find some beach spots challenging to access. 
For instance, some hotels try to have a secluded area that you can access either for an entrance fee or a minimum spend at their restaurant or bar.
When you book a beachfront hotel in Tulum, you'll have free access to the hotel's beach club, enjoy the furniture by the beach, and even have complimentary snacks (if included in your package).
Further, you may find the beach spot a private space only hotel guests can access. As such, it can be peaceful and enjoyable with fewer crowds around.
3. Chic design
Since beachfront properties are limited, almost every hotel that offers beachfront access offers a chic and aesthetically-pleasing design of the establishment.
In most cases, you'll find your rooms receiving plenty of light from the sun while providing the best views. You'll also notice some minimalist yet stylish designs that blend well with Tulum's lifestyle.
Although beachfront hotels may be pricier than regular hotels, you'll surely marvel at the design, and it will always be a pleasant thing to witness with your eyes. But, of course, you should not forget that every corner of your room and hotel makes a perfect place for taking pictures.
4. Free beach amenities
As I mentioned earlier, Tulum's beaches are enjoyable on their own. However, it can be pretty hot and unpleasant without some beach amenities.
For instance, you'll find it challenging to stay at the beach for long hours without any shade during the day.
For this reason, some beach amenities are available in beach areas. These are umbrellas, sunbeds, chairs, tables, and even hammocks.
When you book a beachfront hotel, you're entitled to free beach amenities like the ones I mentioned above. 
Of course, you can always rent these amenities as resort owners offer them for a whole-day rental. However, they can be limited, and you may find it hard to find an available one during peak season.
When you've checked in to a beachfront hotel, you'll likely have specific beach amenities reserved only for your use. Usually, these amenities are located in a lovely spot at the beach.
Thus, if you're planning to spend most of your time in Tulum beside the beach, you may book a beachfront hotel. This way, you don't have to rent amenities, and you don't have to worry about running out of tables and sunbeds even during peak season.
5. Great value
When you look at the rates of beachfront hotels, the first thing you'll notice is that it's expensive. However, once you consider all the inclusions, the best views, the quality of the establishment, and the amenities, you'll notice they are great value for your money.
For instance, some affordable hotels may seem like a better option. However, When you look at the inclusions, you'll likely see nothing more than a complimentary breakfast (usually not much) or simple amenities (usually low quality).
Sometimes, the beds and pillows may even feel uncomfortable, making your sleep unpleasant.
When you book at a beachfront hotel, your complimentary breakfast is usually buffet style, you have high-quality amenities, and the overall stay is comfortable thanks to all the high-quality furniture and inclusions.
Some beachfront hotels offer free drinks, complimentary spa treatments, and many more. But, of course, enjoying a fantastic beach view and access throughout your stay is best.
In short, you'll always find a great value worth the money you're paying when you book a beachfront hotel. 
Conclusion
Beachfront hotels, even the ones in Tulum, are mostly pricier than the rest. However, if you're on vacation and want to enjoy the best of Tulum's picturesque beach, you should book a beachfront hotel. 

If you've already decided to book a beachfront hotel, you might as well book one of the best Tulum offers. See the five Best Beachfront Hotels in Tulum that we recommend.