Cabo San Lucas is one of Mexico's most popular tourist destinations, and it's not surprising to see why. This tiny city sitting on the southern tip of Baja California offers many things. It will surely be an excellent option for everyone who plans to experience staying here.
Now, if you're also interested in visiting Cabo San Lucas, you're up for a treat with this guide. Here, we'll cover all the essential tips and tricks you need to know when visiting Cabo San Lucas. This way, you can have a general knowledge of the place, and you'll know what to expect from when you arrive to when you leave.
Without further ado, let's get into it!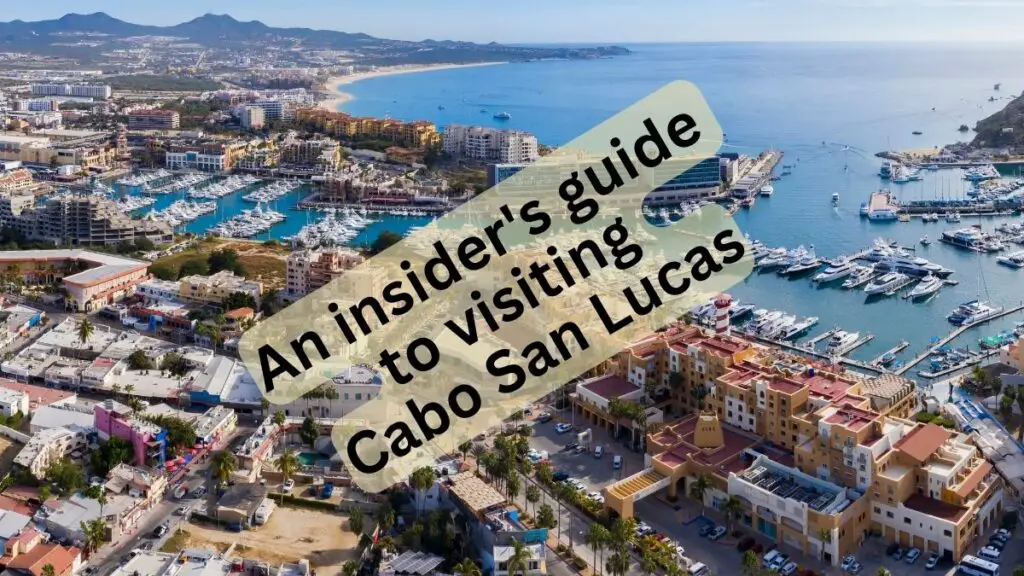 About Cabo San Lucas
Cabo San Lucas is one of the three main areas that make up the destination, commonly known as Los Cabos. The other two are San Jose del Cabo and the coastal highway that separates the two, which we call the Tourist Corridor.
Cabo San Lucas is easily accessible by plane, directing to San Jose del Cabo International Airport. From there, it's only a few minutes of travel to Cabo San Lucas.
Cabo San Lucas, with San Jose del Cabo and the Tourist Corridor, is a stunning destination filled with deserts, beaches, and mountain ranges.
It welcomes the waters of the Pacific Ocean from the western side and the Gulf of California from the eastern side.
From Cabo San Lucas and up to an area north of the airport called the East Cape, the former fishing village has become home to hundreds of resorts, hotels, and vacation homes.
In this destination, you can enjoy plenty of water sports, feast your eyes on breathtaking views, and enjoy the accommodation, establishments, restaurants, and entertainment downtown.
To know the exact location and additional information about this city, read our article: Discover the Magic of Cabo San Lucas: Where to Find It.
4 Things You Should Know When Visiting Cabo San Lucas
To help you plan your trip and know what to expect from Cabo San Lucas, you need to understand the basics about the city before visiting.
Time Zone
The time zone in Cabo San Lucas is Mountain Standard Time. However, it changes from season to season to Daylight Time.
Language
The primary language in Cabo San Lucas is Spanish, which locals use when speaking. However, since this city is a popular tourist destination, you'll find that most people know how to speak English. If not, they understand it, at least when you speak English. As such, you don't have to worry about learning Spanish, and you can enjoy Cabo San Lucas even if you don't know the local language.
Currency and Payment Methods
Cabo San Lucas accepts Mexican Pesos as its local currency, and you'll need it if you pay small fees. Some restaurants and hotels may accept US dollars, but you may find them more expensive. To avoid high exchange rates in town, exchange your money for Mexican Pesos and use such when making transactions. 
Climate
Cabo San Lucas has a tropical desert climate, with pleasant winters from December to March, hot summers from May to September, and rainy periods between July and September. 
Getting Around in Cabo San Lucas
Upon reaching Cabo San Lucas, you'll find plenty of ways to get around. Below are some of them.
On foot
Most establishments, such as restaurants, bars, and hotels, are packed downtown. However, you can do so on foot if you're bar-hopping, exploring shops, or searching for cafes and restaurants.
Taxis
Hotels and airports offer taxi services. San José del Cabo taxis are red and yellow, while Cabo San Lucas taxis are blue and green and operate 24 hours a day. In addition, a taxi company in Los Cabos provides transportation from the airport. Traveling between the two cities costs about 60 USD to 70 USD.
Buses
Subur Cabos buses run daily between San Jose del Cabo and Cabo San Lucas. It starts at 5:00 a.m. in San José del Cabo and about 5:20 a.m. in Cabo San Lucas. Then, every 20 minutes, they run until about 9:30 p.m.
Airport Transportation
Several transportation options are available from the airport, including car rentals, private companies, shuttles, and taxis. Unfortunately, there are no Ubers allowed at the airport, and they are illegal in Cabo, although they may be available.
Where to Stay in Cabo San Lucas
A key consideration when planning your trip to Cabo San Lucas is accommodation. Most luxury hotels are scattered throughout the entire coast of the city. However, you'll also find some hotels near downtown.
If you want the best accommodation options, check out our article: Escape to Paradise: The Best Places to Stay in Cabo San Lucas. Here, we have provided links to accommodations we recommend so you can decide where to stay.  
Where to Eat in Cabo San Lucas
Another primary concern when visiting a particular destination is the food, and the same thing applies if you're going to Cabo San Lucas.
Luckily, you'll find plenty of options since the city is a popular tourist destination. But, of course, the availability of options can be overwhelming. For this reason, we made an article that includes a list of the best restaurants in Cabo San Lucas.
Also, we included the best bars and nightclubs if you want to enjoy some places to get some excellent drinks and enjoy parties in the city.
To know more, read our article about The Best Restaurants, Bars, and Nightlife in Cabo San Lucas to help you choose the best options in the city.
What to Do in Cabo San Lucas
Cabo San Lucas is known for its stunning beaches, breathtaking views, deserts, mountains, and oceans. As such, most of the activities in the area center at sea, beaches, and mountains.
For this reason, many people from all parts of the world come to Cabo San Lucas to enjoy its magic and beauty.
If you're curious about what Cabo San Lucas offers and where to go, read our article: Experience the Magic of Cabo San Lucas: Top 10 Things to Do.
Conclusion
Cabo San Lucas falls nothing short of activities, sceneries, and entertainment for every traveler who visits it. So if you've already decided to visit this city, you're in for a treat. But, as always, it's your responsibility as a traveler to abide by rules when visiting a foreign place. 
As long as you know what to expect and what to do upon visiting Cabo San Lucas, you can ensure that you'll have a memorable stay in the city. If you need an itinerary to accompany your plan, read our article: Plan the Perfect Trip to Cabo San Lucas: A Guide to the Best Itineraries.