Transportation is one of your common concerns if you're planning to visit Cancun. Now, when you're in the city, you'll find many taxis roaming and waiting around. If you're concerned with safety, you may wonder if taxis are a safe transportation method to use when you're getting around.
If we talk about safety, taxis are generally safe in Cancun. However, it's not the best option around. Taxi drivers in Cancun can be dishonest and charge you expensive fares since they are not regulated. Further, they can be pretty rude, so it's not worth hailing one when you're in the city.
This article is for you if you're searching for safe transportation methods and considering hailing taxis in the city. Here, we'll cover why you should avoid hailing taxis in the city and give you better alternatives to make your vacation easier. 
Without further ado, let's get started!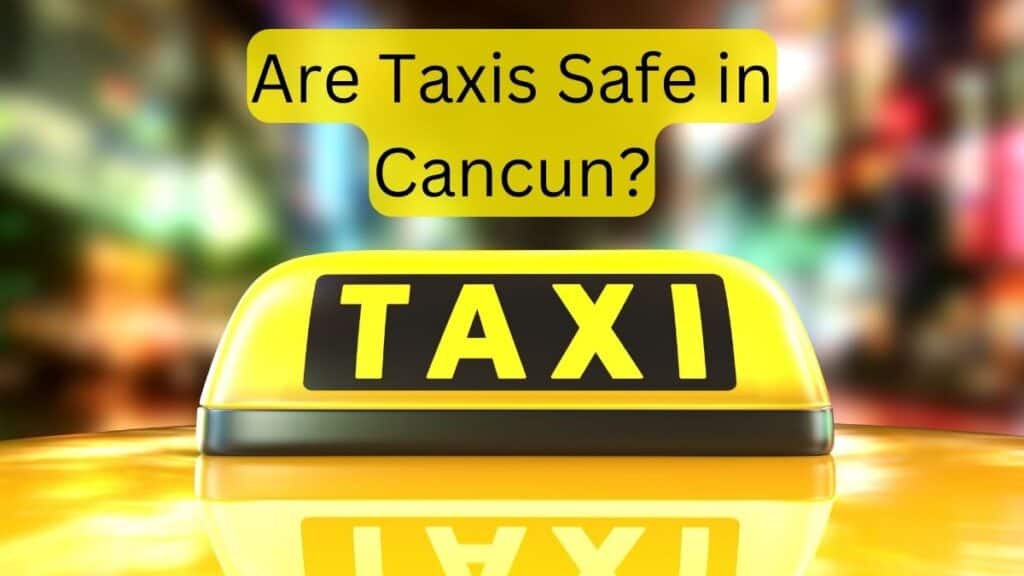 Is It Safe to Use Taxis In Cancun Airport?
If you arrive at Cancun Airport, you'll find plenty of taxis waiting for passengers. In general, these taxis are safe to use. 
However, it's something we recommend you avoid. These taxis are not the best transportation method to use. It's something you should only book if it's essential.
Reasons Why Taxis in Cancun are Unsafe
Here are some reasons you should avoid riding a taxi while in Cancun.
The taxis are  not regulated 
One of the main things that make taxis in Cancun unsafe is that they are unregulated. These taxis have no meters, which means they can charge you whatever price they want. 
Further, they have no record of your trip, receipt, or anything you can use to complain or file a dispute. As such, your travel with taxis is not that safe. 
In general, taxi drivers look at you and charge you accordingly. However, if they see you're a tourist unfamiliar with Cancun, they'll charge unreasonable fares.
For this reason, it's best to haggle or negotiate before getting in a taxi. Knowing the standard rates and fares is also best to avoid overpricing.
Taxi drivers are rude
Taxi drivers in Cancun are usually rude and would be more like such if you consider other transportation options. These drivers would try to get as much money as they can from you, and they aren't friendly enough to give you recommendations or suggestions about Cancun.
For instance, the setting can be a bit chaotic when you depart from Cancun Airport. However, these drivers take it as an opportunity to appear safe and charming to lure you into booking their ride. 
If you're in, they'll become rude, and they would likely overcharge you for it, which makes the following reason.
The fares are pretty expensive
Taxis are pretty expensive in Cancun, and it's because of the drivers and the taxis without regulation. Without meters and distance records, the drivers can charge you with whatever they want. 
Thus, if they see you as a tourist, chances are they will try to overcharge you. Thus, it's always necessary to negotiate and learn the actual price to avoid such problems. 
Another thing is that taxis at Cancun Airport charge more since they pay the airport for being there. For this reason, it's best to arrange private transfers unless you want to pay excessive amounts to ride a taxi.
Safer Alternatives than Taxis in Cancun
Although taxis are safe, it's not the best transportation method in Cancun. As such, you may find these alternatives better than taking a taxi one way or another.
Bus
Most travelers who visit Cancun say that bus is the best way to roam around the city. Cancun has a pleasant bus system with routes connecting popular destinations. As such, it's something to consider other than taxis.
Buses operate daily, and you can find one at bus stops every five minutes. Thus, you don't have to worry about running out of buses. Also, it's cheaper than hailing a taxi whenever you want to go elsewhere.
Shuttle Service
Some private shuttle companies offer shuttle services that are way better than taxis. These shuttles offer online booking with confirmation and reservation. As such, it's best when you're planning your Cancun trip.
You can also take advantage of the offers of these companies if you're planning a day trip outside Cancun. If we are to recommend, the Happy Shuttle Cancun is an excellent choice for a shuttle service.
Car Rental
If you want a safer transportation method than taxis and public transport, renting a car is your best bet. However, most Cancun visitors only rent a car if they plan a day trip outside Cancun.
Now, if you're staying in Cancun, you'll find plenty of transportation to move around the city. As such, you can save tons of fees by simply going for public transport rather than renting a car.
Another downside of driving a car is the traffic. Since Cancun is a city, you'll find the streets filled with tons of vehicles. 
Further, it would be best to deal with parking once you're done with traffic. Due to the high number of tourists in Cancun, you'll find parking very limited. 
Thus, unless you're visiting distant areas away from Cancun, we suggest you skip renting a car despite its safety. If you want to know more, read Is It Safe to Drive in Cancun?
Uber
Uber is available in Cancun. However, it's not an easy thing to book since it's hardly available. One of the main reasons why there's not much Uber in the city is because the taxi drivers are protesting about them. 
Now, if you can book an uber, it's a better way to reach your desired destination than hailing a cab.
Walking
If you have already reached popular spots such as the Hotel Zone or Kukulcan Boulevard, you can enjoy exploring the city on foot. Within this area, you can find several attractions, restaurants, stores, and hotels.
All these streets also have access to the beach, so you can walk without any problem. It's easy, safe, and quick since you can avoid traffic. Also, you can avoid the horrors of booking a taxi.
Conclusion
In a nutshell, taxis in Cancun are safe to ride, but they can be unpleasant, expensive, and not worth your money. On the other hand, as an urban zone, you can enjoy plenty of transportation options in Cancun, so you don't have to choose a taxi all the time.
We recommend taking the bus if you want to save money or arrange private transfers to ensure your safety. It applies to all travelers but primarily to solo travelers. If you're traveling to Cancun, you may want to read about Is Cancun Safe for a Solo Female Traveler?