Backpacking and solo traveling have been growing in popularity in recent years, and it's a convenient, flexible, and affordable way to enjoy a vacation if you want to do something on your own. Thus, if you're also loving the vibe of solo traveling but are interested in visiting Cancun, you may wonder if the city is a safe place to do so.
Cancun is generally a safe city for solo travelers, even solo female travelers. Here, you can meet friendly locals and other solo travelers. Cancun is a highly commercialized city, and you'll have a secure stay and vacation here. As always, it will depend on how you manage your stay.
If you're a solo female traveler, you'll need some safety tips in getting around Cancun. These tips apply to your vacation, and they may help you avoid unwanted incidents from happening while you're enjoying your stay in the city.
Without further ado, let's get started!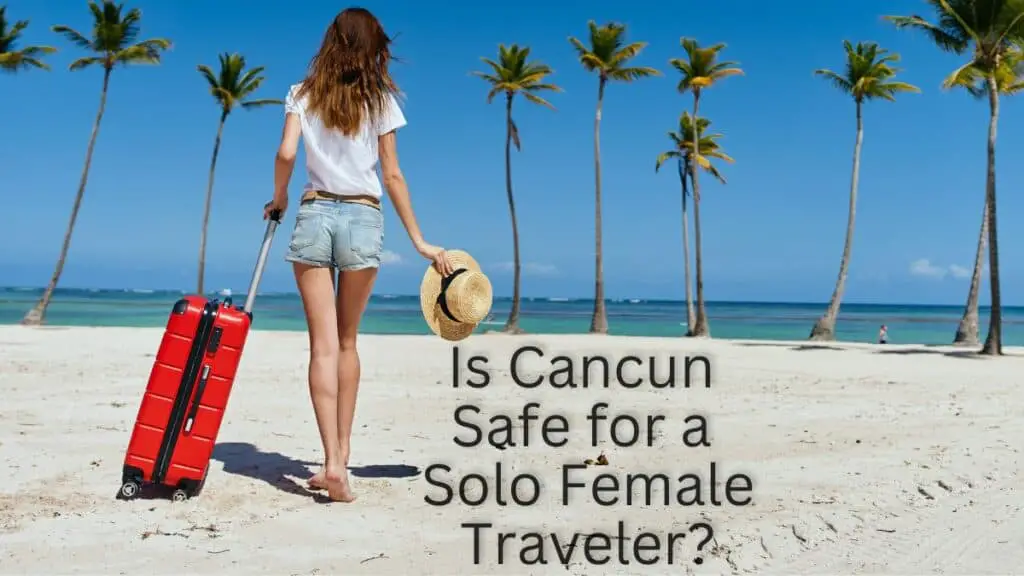 Is It Safe for a Woman to Travel Alone to Mexico?
Contrary to popular belief, Mexico is safe for women to travel alone. Most people see Mexican cities and towns with incidents related to murders and drug cartels. However, when you look at the statistics, the crime rate and the dangers are almost the same as in other countries.
Since Cancun is a major tourist destination, the city's government plays its part in making the place a safe destination for tourists, especially for solo female travelers.
Of course, it doesn't mean you can roam around without worrying about anything. As a responsible traveler, you must take care of yourself since you're traveling solo, and no one will watch out for you.
Is It Safe to Walk Alone in Cancun?
Most solo female travelers would find it risky to walk alone in unfamiliar streets. However, the streets of Cancun are filled with tourists and locals, so you have nothing to fear.
However,  when walking at night, make sure you only roam around well-lit and crowded areas to make sure you stay away from the dangers of petty crimes around the city.
Also, it's best to constantly update someone regarding your whereabouts so someone has information on where to find you if something unwanted happens.
Is It Safe to Wear Jewelry in Cancun?
It's generally safe to wear jewelry in Cancun. However, the general rule is to avoid showcasing jewelry since it attracts petty crimes. 
If you're traveling solo, staying simple and blending with the crowds is best. This way, you can enjoy Cancun without attracting unwanted incidents from happening.  
It's also best to secure your gadgets, wallets, cards, and other valuables. If you're visiting Cancun alone, the last thing you'll want is for your valuables to get stolen. While Cancun is a safe place for tourists, it's not reason enough to be lax and pay less attention to your things.
Safety Tips for Solo Female Travelers
If you're a solo female traveler, it's essential for you always to stay safe and secure. Thus, we included these tips to help you stay safe during your entire vacation in Cancun.
Plan Your Mode of Transportation
If it's your first time in Cancun, the place can seem overwhelming with everything you need to plan. However, the first thing to consider is transportation. 
While there are not many reports about unauthorized transportation in Cancun, it's still best to take public transport as it's cheaper, safer, and more convenient.
When in Cancun, the bus is your best way to reach the city proper, and the city has a bus system with routes that will let you go back and forth to downtown and the hotel zone.
As a solo female traveler, you'll have a safer mode of transport, and a cheaper one at the same time, if you take the bus. 
Also, you'll want to avoid taxis in Cancun, as they are known to charge high fares and are unregulated. If you wish to know more, read: Are Taxis Safe in Cancun?
Now, if you're from the airport, the best option is to arrange a shuttle or a transfer service with your hotel so you can have someone waiting for you at the airport.
As a solo traveler, chances are you won't rent a car while in Cancun. However, it also offers a safe alternative since you can roam around without getting scammed with fares, and you can enjoy Cancun on your own. If you want to know more, read Is It Safe to Drive in Cancun?
Another crucial thing to remember is to confirm that you know your hotel's name and have quick access to the location. You can avoid getting lost by following these steps. Mexicans are generally kind and will be happy to assist you, so don't hesitate to ask for help if you need it.
Book a secure hotel
As a solo traveler, your chosen place will be the place to rely upon. Thus, it would be best to be careful when choosing. Cancun's hotels are more commercialized, so security is always an included feature.
Still, it's best to be careful and book your accommodation once you're confident it's a safe place and its location is easily accessible.
Avoid risky things
If you're visiting Cancun as a solo traveler, you'll always need to protect yourself from harm, and one way to do so is to avoid risky things. 
For instance, Cancun is an excellent place to visit and enjoy its fantastic nightlife. However, it's not ideal for you to get drunk as no one will take care of you.
Also, it's always best to stay sober and stay somewhere safe and familiar to you. Before visiting a new place, you should already know how to return to your hotel.
As a solo traveler, you must be responsible enough to care for yourself. If not, you can end up in some dangerous situations, even though Cancun is a safe city for solo travelers.
Book a group tour
Many local travel companies in Cancun offer group tours to backpackers and solo travelers. If you want a convenient and safe city exploration, your best bet is to join such types of tours.
It's also the best way to meet and interact with other solo travelers. We know it can be overwhelming when going solo, and having another solo traveler who explores the same way you do makes a lot of difference.
Further, these tours include transportation, food, and other fees you may encounter along the way. Thus, you don't have to worry about other concerns; you only need to enjoy Cancun with other solo travelers.
Meet with other solo travelers
This one's an optional thing, but it can answer a lot of safety concerns. When traveling to Cancun, you may find most travelers as couples or families. However, you'll also find others who are traveling alone like you.
If you want, you can search Facebook travel groups to connect with other solo travelers visiting Cancun. Or, you may find someone going in the same direction as you. Just be careful and always be on your guard against scammers.
This way, you're with a group and have someone to look after you. You may be able to discover new things, too, because your new friends may want to explore parts of Cancun you haven't seen before.
Conclusion
Cancun ensures a fun and safe vacation for every solo female traveler and other backpackers. However, when it comes to safety, it always boils down to how you manage your vacation as a responsible traveler.
The city is filled with destinations to explore and activities to experience. While it would be fun, it's pointless if you are at risk because you're being carefree. As always, the best vacation is the one that will end without you getting hurt in any way. As such, with this article, we hope to help you stay safe during your stay in Cancun as a solo female traveler.
To further ensure your safety and peace of mind, consider equipping yourself with some essential solo traveler safety equipment. Browse this curated selection of "Solo Traveler Safety Equipment" to find the right tools and accessories that will help you feel secure and confident during your adventures in Cancun. By investing in these safety items, you can fully enjoy your trip while minimizing potential risks.