The most common crime problem for tourists in Barcelona is pickpocketing. It is common for tourists to be robbed of luxury watches valued between 20,000 and 100,000 USD, although these crimes are rare.
While Barcelona is generally considered safe for tourists, there is a high amount of pickpocketing and bag thievery in all tourist-oriented areas. For example, it is widespread to find pickpockets on Las Ramblas pedestrian street, near Sagrada Familia, and in the metro and train stations in the center of Barcelona.
With these things in mind, we made this article to guide travelers planning a trip to Barcelona. This information will come in handy if you want to ensure you prevent these problems from happening to you and know your way if it does.
Without further ado, let's get into it!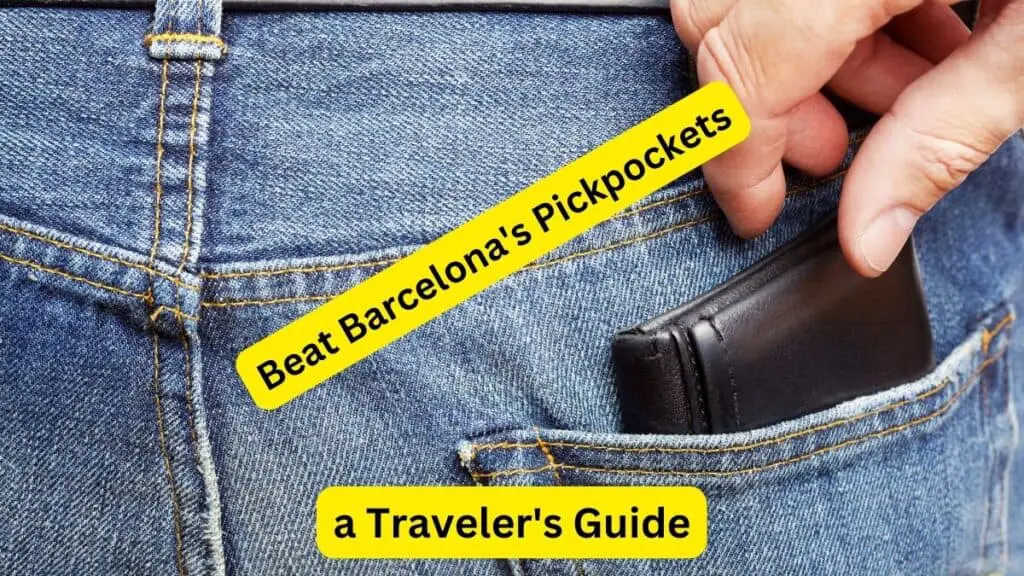 What to Expect from Pickpocketing Risks in Barcelona?
In Barcelona, pickpockets are notorious for their activities. There are many reasons why internationals doubt that this city is a safe place to travel because of the record of pickpocketing there.
With 600 pickpockets being reported daily in 2009, the city has fast become a stronghold for pickpockets, which are common everywhere.
According to a study conducted by TripAdvisor, Barcelona is the world's most pickpocket-friendly city, ahead of Rome.
Nothing is shocking about this matter since pickpockets are merely punished with a fine if the stolen goods do not exceed the value of €400, which is not surprising.
The zips on your bags should always be kept closed at all times. It is especially true in crowded places or on trains with many people.
It is also essential that you do not be afraid to speak up if someone invades your privacy without your permission.
With these things in mind, understanding how they work and what to do will help you enjoy your trip to this city while staying safe from pickpockets.
Common Pickpocketing Techniques
As I mentioned, Barcelona is a target for pickpockets, and they usually go for tourists. As such, understanding their techniques can help you know how to be cautious and always prepare whenever you're in the city. 
Going for Easy Victims
The pickpocket prefers easy victims, and they usually go for tourists if they seem unfamiliar with the place. As such, it's best to seem attentive and not display valuables. This way, it's less likely you'll be picked up.
Working in Groups
Often groups of pickpockets and scam merchants work together to commit these crimes. Unfortunately, people may get confused if one causes a distraction while another steals your valuables while the first is causing a distraction. 
You should walk away promptly from a group of people that is trying to get your attention if you are confronted with them.
Stalling
The 'stall' is a classic trick used by pickpockets everywhere. In the first instance, a blocker walks in front of a victim and stops suddenly, so they bump into each other. Then, in a staged argument, the blocker and the other gang member bump into each other.
Stealing Out of Haversacks
In the metro, pickpockets steal from the haversacks carried on people's backs by those riding. As such, whenever you bring a haversack, put the bag in front of you so it faces you the other way. Also, keep your haversack off your back when using the metro – especially during rush hour. 
Stealing Cameras and Phones
Pickpockets will always go for cameras and phones, especially since most tourists hold or hang them. Therefore, you should only take your cameras or phones out sometimes. Only do so when you feel it's safe and needs such.
High-Risk Areas in Barcelona
As a tourist city, Barcelona is filled with pickpockets everywhere. However, you'll find some areas riskier for pickpockets than others. If you want to stay out of these spots, avoid Ciutat Vella. This area includes El Born, Barceloneta, El Raval, and Barri Gotic.
Because of the tourists, this area contains poor-quality housing and is expensive. As a result, pickpockets and burglars frequent this area. Therefore, the following places should be avoided:
Raval
The Raval area of the old town is one place to avoid if you want to stay safe. The eastern part of the area, close to the harbor, is generally safe, but you'll find many prostitutes and homeless people there.
Many prostitutes and drug dealers gather on Carrer d'En Robador and Park Ronda Sant Antoni. In Raval, you will likely encounter drug dealers, so it's best to avoid this place, especially at night.
Sant Adria de Besos and La Mina
La Mina's streets are probably littered with trash when you walk through them. Further, neither residents nor tourists will likely come to this area at night, so you'll walk through empty streets alone.
Many homeless people live in La Mina, as well as alcoholics and addicts. Even though La Mina tends to get a bit smoggy at night, it is still a safe city. As for violence, you won't encounter any significant incidents here.
El Born and La Rambla
At night, La Rambla becomes a place where prostitutes and johns congregate. Therefore, you should look for accommodation outside these areas rather than staying in La Rambla or El Born.
Walking through lit streets with more people than small alleyways at night in El Born, near La Rambla, is better.
Public Transportation Precautions
Stations are hotspots for pickpockets and thieves. Therefore, it's best to be well-prepared, especially when using public transportation.
Avoid Dressing Up Like a Tourist
While Barcelona is a beautiful city and you'd like to tour it with a glamorous dress or outfit, we recommend avoiding such. If you dress up like a tourist, you'll likely be eyed as a target for the pickpockets. 
Know Where You're Headed
As a tourist, you'll likely feel overwhelmed due to unfamiliarity with the place. As such, it's a familiar scene for pickpockets to target. For this reason, understanding the city before going out will make you feel knowledgeable and avoid being the target of petty crimes.
Stay on Guard with Crowded Transportation
If you're getting on or off a train or metro, someone may press up next to you because it's crowded. During such instances, it's best to keep your belongings on your front and avoid putting anything in your pockets.
Place Your Money Somewhere Safe
Since you'll be putting out money to pay for transportation, someone is likely watching you know where you put it. As such, storing your money somewhere and having the exact cash to pay for your transportation is best.
Use a Private Transport When Heading to Your Hotel from the Airport
If you've just arrived in the city, all your belongings are likely packed up by now. Avoid crowded transportation and don't mind spending more since you carry all your items and luggage.
Anti-Theft Accessories & Packing
Among the things you can do to avoid pickpockets is to use anti-theft accessories and do some proper packing.
For instance, putting all your valuables in a tight, inaccessible space in your bag is best. Using an anti-theft bag is also best so no pickpockets can access them.
Also, it's best to pack correctly and put every essential document far from your cash, phones, and cameras. You'll still have your travel documents if your gadgets and money get stolen. 
When packing for a night out or a simple stroll through Barcelona, it's best to bring only your necessities and leave important documents at your hotel. This way, you prevent them from getting lost. If you have a copy, then leave the copy and bring your documents with you.
Check out these Pickpocket Anti-Theft Accessories.
What to Do If Pickpocketed in Barcelona?
If ever you get pickpocketed in Barcelona, here are a few things to do:
Keep Calm
Keeping calm may be more complicated than it seems. Initially, being upset is normal when your item or items get taken. However, even though you become angry and frustrated, it won't help you regain your possessions. For this reason, it's best to keep your cool. You'll have to take action to get back on track, and it's best to do so when you're calm.
Report the crime to the police.
Reporting the crime to the police is crucial. But, unfortunately, filing the report won't get your stuff back. The police rarely recover stolen stuff. However, the report itself is needed for pretty much everything else. 
Theft of high-value items, like a camera or a police report, is needed to get temporary travel documents, make money transfers, and file an insurance claim.
There's usually an English speaker at the police station in Barcelona, which is helpful since many Spanish cops can't speak English.
Filing a report will take little time; you must fill out a few forms and answer some questions. Be sure to get a stamped copy since it will be necessary for insurance and other claims you may have.
Talk to Your Bank (for Stolen Cards)
It's best to have small cash in your pockets since it is handy when you get pickpocketed. This way, you won't starve and can do something when you become a victim.
The next thing to do is to inform your bank if ever your card was stolen. Then, they can block the card and stop someone from using them. You can also request a new card and have them delivered to your hotel in a few days. 
Ask your family or friends to wire you money if you have any back home. If you want money wired to you, you need ID. 
Money can be transferred through Western Union if you have an ID. It is possible to find them all over Barcelona. If all your IDs and money were taken, you would have a copy of them. Western Union will not accept photocopies of your ID. 
It is good to know that RIA Money Transfer also has locations all over Barcelona so that you can find an alternative. Furthermore, wire transfers from home are accepted with a photocopy of your ID and police report.
Settle your Travel Documents
You should begin the retrieval process as soon as possible if your travel documents have been stolen. 
Embassies and consulates are only open at certain times of the day. Therefore, it is typically necessary to make an appointment with them. 
You can, however, walk-in within the appropriate times if you are traveling soon and this is an emergency.
You should have passport-style photos when you travel in case they require them. Getting the necessary travel documents will take only a few hours once you enter the doors.
Conclusion
While Barcelona is a risky city for pickpockets, it's generally safe and enjoyable as long as you prepare well. By avoiding the risky spots and packing well, you can enjoy the city and all it offers without being a victim of these pickpockets. 
When something is stolen, especially your wallet, it can cause stress and trauma. However, it would be best not to worry, even though it may seem that way. Always remember that you can replace your possessions. As such, after you've sorted out everything, enjoy Barcelona, a beautiful and unique city!