Many people prefer to stay at an Airbnb property because of several things, and it goes the same everywhere. As such, if you're staying in Tulum, you'll find excellent choices for your accommodation through this platform. With this in mind, we want to make your search more convenient by giving you the best options you'll find on Airbnb.
Below are the top 5 choices we recommend for you to book through Airbnb. These options are only rounded up by super hosts, meaning you'll be sure to have the best accommodation. Further, they are within Tulum, so you can access every destination on foot or a short drive.
Let's get started!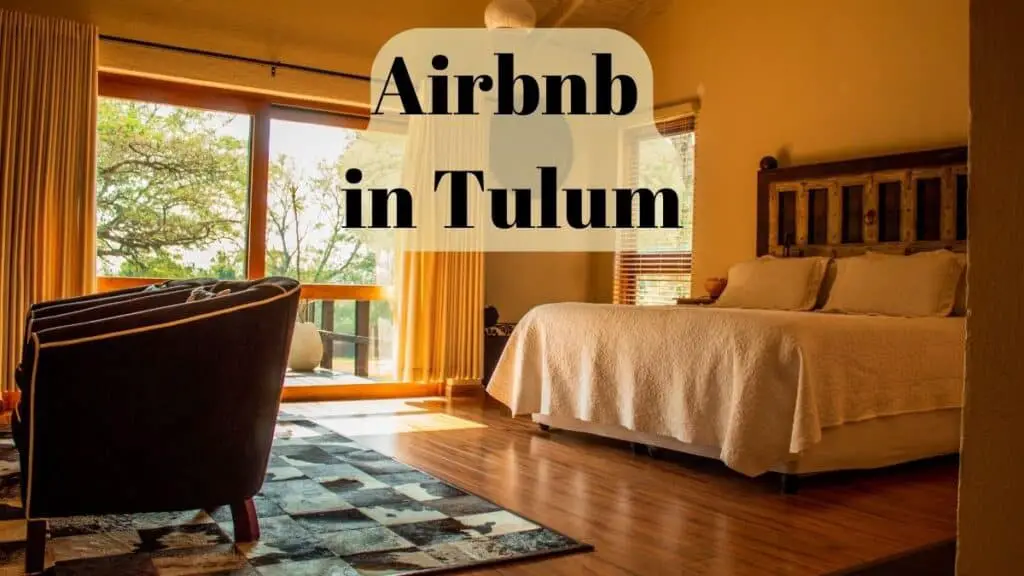 Sanah Villa With Private Pool for Wellness Experience
This property is a private villa with a private pool surrounded by a jungle, giving you a pleasant vibe during your stay in Tulum.
The property includes ten exclusive private villas, which can accommodate several guests without disturbing other guests. 
Further, the rooms provide a homey vibe with comfort and privacy. As such, you'll be able to rest like you're at home after a tiring day in Tulum.
Its location is within Tulum Pueblo, and it will only take you five minutes by car to reach the center and another 15 minutes to reach Tulum Beach. If you want to stay in beachfront hotels, you can read about the Best Beachfront Hotels in Tulum.
Each villa has private spaces such as a night area, terrace, bathroom, gardens, and a private pool.
The beds are king-size with memory foam mattresses to ensure a pleasant sleep. You'll also get a minibar in your villa so you can snack whenever you're hungry.
The staff can also provide massage therapists if you need one to relax a bit further.
The property also has a space called Solarium, which has a unique solar-powered steam bath heated with volcanic stones.
Another thing worth noting is that you can reach two beautiful cenotes nearby through a five-minute walk.
Jun's New Penthouse With Private Rooftop & Plunge Pool
This Airbnb property is a penthouse with a boho-chic theme and design. It is located near Tulum Pueblo, where you can find restaurants and shops.
It's also only 15 minutes drive away from Tulum Beach, from various cenotes, and hotel bars and restaurants.
In this property, you can enjoy a private rooftop space with a plunge pool surrounded by a jungle view. 
The rooms include king-sized beds, a 50-inch Smart TV, high-speed internet, and a fully equipped kitchen. Further, the place has security guards for your security.
Local artisans make all the furniture on this property. You will also find every basic need, like a coffee maker, beach towels, a hair dryer, and a private safe lockbox.
You can always call for a cleaning service during the day if you want cleaning. 
The place also has a pool on the ground floor open for all guests. In addition, it includes a lounge with seating areas for relaxation.
Ikal Ha Luxury Eco Bungalow With Concierge
This Airbnb property is a two-story bungalow themed on the Tulum lifestyle mixed with Mayan culture. As such, it makes an ideal place to stay while you're in Tulum.
The property rental includes an experience of a Mayan palapa style that overlooks the blue pool and lush jungle gardens.
The living areas have a modern minimalist design that welcomes the scenery of the beautiful outdoors while maintaining a comfortable space inside.
The property also offers a fully-equipped kitchen, a luxurious bathroom, and a private outdoor garden tub.
You can enjoy your morning coffee on the private patio and wrap-around terraces. Each piece of interior decor made locally by Mayan artisans gives IKAL its authentic Tulum vibe.
Each bungalow on the property has a private access path to its private swimming pool, Yoga Shala, and garden area, accessed by a stylish hardwood staircase.
It is located in the jungle of the newest part of Tulum. Getting to the beach by car or bike is just 12 minutes away via the newly opened beach road, Kukulcan. You can rent bikes from the place itself for 9 USD per day.
Jungle Vibe Apartment Surrounded by Palms
This Airbnb property is a ground-floor apartment with a private plunge pool. The place is surrounded by palms, which makes for a nature-immersed experience.
Here, you can enjoy nature within a few steps of your bed. Further, you can enjoy some time resting in hammocks.
Everything you need to feel at home is in this bohemian-style apartment. A building of only eight units, Xintok has located just steps from local shops and restaurants in La Veleta.
The place offers 24-hour security, air-conditioning, internet connection, smart TV, coffee makers, etc. Moreover, your stay includes two free bikes for you without extra fees.
The place also has a main pool for all guests with lounge chairs for relaxing. They also provide free and secure parking.
Design Casa Sandalo With Private Pool and Lounge
This Airbnb property is an apartment with a delightful interior design that makes your stay in Tulum relaxing and comforting. 
It comes with several Mexican antique pieces, high-quality textiles, a well-equipped kitchen, and other things that will improve your stay in Tulum. Here, you can enjoy things like a lush garden and landscaping, giving a nature-inspired vibe.
The place is situated in La Veleta, which is a popular area in Tulum. You'll only need 8 minutes of driving from here to Tulum Beach. The place also offers an internet connection for those who are up for some remote work.
Several amenities are available for arrangements if you need them. Among these are shuttle service, a private chef, massages, and even tours. Just let them know so they can arrange these things for you.
The pool is private and only accessible from the apartments. It is a Saltwater Pool, which reduces environmental stress and promotes optimal skin condition. 
On the inside, there is a stylish L-shaped sofa, a comfortable King-size bed, and a beautiful dining table. The refrigerator is large and comes with a separate freezer.
In the Kitchen, you can prepare meals and experience Mexican cuisine. There is a coffee machine, French press, blender, toaster oven, bread toaster, knives, handmade cutting boards, artisan plates, and a wide selection of dishes. 
Upon arrival, the place offers a selection of tropical fruits and a bottle of wine as a gesture of hospitality.
When you book, they will send you our insider guide for the specific area and Tulum in general, making your vacation a truly unique experience.
It has plenty of parking options on the property and nearby; parking is safe, and their security staff will take care of your vehicle.
The property is also suitable for guests who bring their families. Through an advance request, an extra bed and baby chair are available. If you want to know more family-friendly options for your stay, read about: Best Resorts in Tulum for Families.  
It is possible to rent a motorbike, a bicycle, or any other type of transportation in the area. Just ask the staff if you want to know how to get around.
---
Tulum has a comprehensive option when it comes to property rentals and accommodation. You'll find many options even if you search on the Airbnb platform. With this list, you'll enjoy the best properties we recommend.
As you choose, we recommend you lay down your personal preferences, necessities, and other additional things you might request from a place. We're sure that most of these properties would be glad to arrange things for you to make your stay in Tulum comfortable and relaxing.
If you want to know more options besides Airbnb, you may want to check our recommended boutique hotels. If so, you can read about the Best Boutique Hotels in Tulum.