Although Tijuana is a walk away from San Diego, a country border separates the two. As such, if you want to cross the border to reach this Mexican city, you may wonder if you can do so without a passport.
Generally, it would be best to have a passport to cross Tijuana since it's in another country. Some cases would allow you to cross without a passport, and it usually involves giving secondary documentation. However, it's always best to have a passport or a passport card whenever you're crossing into Tijuana. 
The border crossing between Tijuana and San Diego is one of the busiest in the world, accommodating hundreds of thousands of people and vehicles daily. As such, it may seem unsafe to pass, but your crossing will go smoothly and quickly as long as you have the necessary documents.
In this article, we'll walk you through every concern related to the border crossing and the need for a passport. This way, you can know the options and understand why it's best to have a passport with you when you cross.
Without further ado, let's get into it!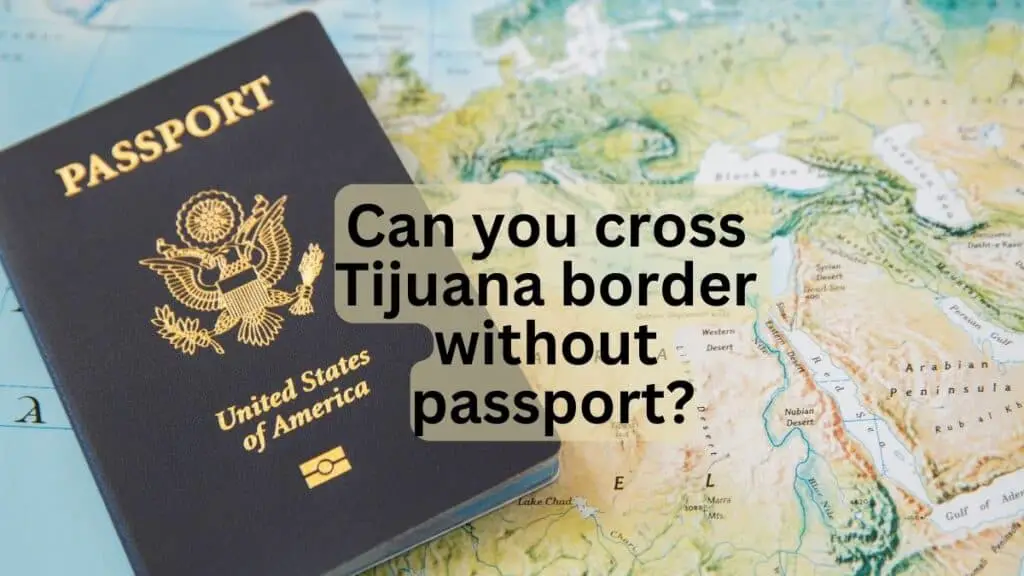 How to Cross Tijuana Border Without a Passport?
As mentioned earlier, a passport is essential to present when crossing the border into Tijuana. However, some instances will allow you to cross without a passport. Here are some of them:
With a Passport Card
A passport card is intended for people who regularly cross the border by land. The passport card is the same as your passport, but it's more of an I.D. than a book. 
This card is only intended for use when crossing borders by land or sea. If you're traveling by air, you need the passport book.
With a Trusted Traveler Program
A trusted traveler program is also intended for frequent travelers crossing borders. With this program, you can move through the ports of entry more quicker.
Modified screenings are provided for pre-approved members, enhancing security by making the screening process more efficient and facilitating legal trade and travel. 
Some of the trusted traveler programs are SENTRI, NEXUS, Global Entry, and FAST, and each one has a card you can use at the ready lanes at the border crossing.
Such programs are available to permanent residents and citizens of the USA and Mexico. The program is, however, intended for low-risk travelers. For example, a person with a criminal conviction, penalty, or violation is unlikely to be approved.
With a Birth Certificate or Certificate of Citizenship (for Minors only)
This case only applies to U.S. Citizen minors (under age 16), and it's only for those entering the U.S. from Mexico or Canada. In this case, the minors can enter without a passport so long as they present any of the following documents:
Birth Certificate
Consular Report of Birth Abroad
Certificate of Citizenship
The passport-free travel rule only applies to land and sea entries into the U.S. Therefore, those under 16 years of age do not need a passport if they cross the border by driving.
Now, if you want to know the entire process of crossing through a border into Tijuana, read Can You Walk Across the Border to Tijuana?
How to Use Ready Lanes Without a Passport?
The Ready Lanes cater to passengers traveling in vehicles and pedestrians using a travel card eligible for the Ready Lanes. 
Travelers with valid travel cards can make border crossing faster by using Ready Lanes, displaying their cards to dedicated RFID readers before presenting them to CBP.
Here are the steps for using the Ready Lanes:
Head to any of the Ready Lanes.
Get your travel cards ready.
Display cards to the reader in the lane.
Follow the direction of the CBP officer.
As mentioned, you can use the ready lanes without a passport. However, according to the CBP, you need the following documents to be eligible:
U.S. Passport Cards
Enhanced Driver's Licenses
Enhanced Tribal Cards
Enhanced Border Crossing Cards
Enhanced Permanent Resident Cards
Trusted Traveler Program cards
To qualify for Ready Lane, vehicles and a group of people must be at least 16 years old and possess a Ready Lane card.
Returning to the U.S. Without a Passport
When returning to the U.S. through the border, you can do so without a passport if you're a U.S. Citizen. To do so, you can use the ready lanes, as mentioned earlier.
However, having a passport with you is still best to avoid any problems or hassle. This way, you can cross quickly and smoothly and be on your way in no time.
If you want to know more about the essential documents you'll need when crossing, read What Do You Need to Cross Tijuana Border?
How to Apply for a Passport Card
The passport card is a handy document to cross the border without a passport. As mentioned earlier, passport cards are intended for people who frequently cross borders by land. As such, if you're also planning to cross the border, you can apply for a passport card for a quicker pass.
Residents living near the U.S.-Mexico border may apply for a U.S. passport in either country. The nearest U.S. consulate in Mexico is where U.S. citizens can apply for passports. 
There are over seven thousand locations where U.S. citizens can apply for citizenship in the United States. These areas include post offices, libraries, and courtrooms.
Conclusion
In a nutshell, there are several cases when you can cross the Tijuana border without a passport. However, a passport is an essential document since crossing means entering one country and leaving another.
If you're traveling across more often than not, it's best to apply for a passport card, as it's a handy tool when you're crossing. In addition, the process is easy and will make your passage smooth, quick, and without hassle.