One thing that makes Tijuana famous is that it sits beside a US City, San Diego. As such, you'll find a border that separates the two cities from one another. If you're also interested in visiting Tijuana, you may wonder if you can walk across the border to Tijuana.
In general, you can walk across the border to Tijuana, and you can do so through any of the four different crossing areas to pass through. However, you'll need to present some documents and go through security checks since you'll be entering one country (Mexico) and exiting another (the US).
The border crossing between Tijuana and San Diego can seem exciting but, at the same time, stressful with so many people around. However, walking the border is relatively straightforward, and you can do it with this guide.
Here, we'll walk you through the different crossings you can use to cross the border to Tijuana. This way, you can understand the process and how to go through it to visit this famous Mexican city.
Without further ado, let's get into it!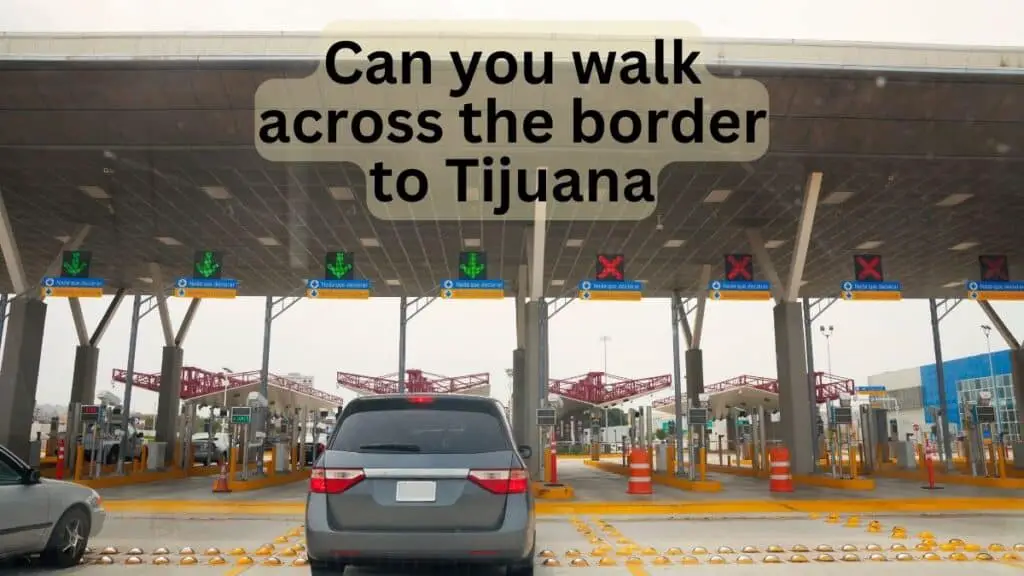 About the Border Between San Diego and Tijuana
From downtown San Diego, it takes 16 miles to reach the border between the US and Mexico. Ysidro, California, is the final American city before the border. Tijuana lies across the border. Within a mile of the crossing, you will be downtown. 
Tijuana is the most populous city in Mexico's Baja California state. Almost 2 million people live there, making it Mexico's sixth-largest city.
This border crossing is called the San Ysidro Port of Entry, and many know it as El Chaparral. The border crossing here is among the most active worldwide. The San Diego-Tijuana border receives more than fifty million travelers each year. 
Every day, over a hundred thousand people pass through, including around seventy thousand cars and twenty thousand pedestrians.
There are several reasons why people travel to Tijuana from San Diego. First, thousands of people cross the border daily to do their jobs or study. 
Residents often travel to get their cars fixed, see their doctor, or go shopping. Visiting Tijuana is excellent for day trips or visiting one of its many bars, restaurants, or nightclubs.
4 Crossings You Can Use to Walk Across the Border to Tijuana
If you're planning to travel across the border, you'll need to decide where you'll go. Pedestrians can cross San Diego County's border to Tijuana in four places. The border crossings are:
PedEast
The PedEast serves as the primary border crossing for pedestrians. You can find the entrance near the trolley station in San Ysidro. The crossing is open daily, so it's the best option for most visitors.
PedWest
The PedWest is a small crossing near Outlets. Walking between PedEast and this crossing takes about 15 minutes. However, unlike PedEast, this crossing opens at 4 AM and closes at 10 PM.
Otay Mesa
Otay Mesa connects San Diego's Otay Mesa suburb with Tijuana's Otay Centenario district to the east. You can use this crossing anytime since it's open 24/7.
Cross Border Xpress (CBX)
Finally, the Cross Border Xpress spans the border between Tijuana airport and the US. It is only possible to cross the border here if you are departing from the airport in Tijuana.
To know more about this crossing, read What is Tijuana Cross Border Xpress?
How to Walk Across the Border to Tijuana
The area's large size and high security can be overwhelming, but you'll manage with this guide. Here's a step-by-step guide to crossing the border to Tijuana. 
Get to the Border
The first thing to do if you want to walk across the border to Tijuana is to reach the border itself. You can do so by riding different modes of transportation. 
For instance, trolleys, public buses, and Greyhound buses stop at San Ysidro Trolley Station. Then, in a few blocks, you'll reach PedEast, the main crossing you can use. 
However, the PedWest is a block away if you want to pass through it. Therefore, the buses also stop at this crossing.
You can also ride your car through the crossing, but if it's too much work, you can park it in one of the border parking spaces and walk through. If you want to know more about it, read Can You Park and Walk into Tijuana?
It may take a few blocks to walk through the parking lots. However, most companies offer complimentary shuttle services between their parking lots and the border. You can be dropped off at PedWest or PedEast crossings if you prefer.
Buses drop off near pedestrian crossings at Otay Mesa if you prefer to cross through this area. You can also find parking lots nearby if you bring your car to the border.
Find the Mexican Immigration
As soon as you arrive, you can find the Mexican immigration buildings by following the signs. The path everyone follows is the same as the route everyone takes. The crowd will be able to direct you as a result.
An immigration office and a massive turnstile are located on the other side of the pathway. There is no exit procedure in the US. In that case, you can walk directly to Mexico's immigration office.
When you enter immigration, you will see two lines. People who are Mexican citizens or residents wait in one line first. Then, in the following line, everyone else goes. 
Those who wish to speak with immigration officials should wait in line two. There will likely be a wait of between 10 and 20 minutes.
For more information about crossing the border, check out What Do You Need to Cross Tijuana Border?
Pass through the Mexican Immigration
A Mexican immigration official checks your passport and gives you immigration forms to fill out. You can also ask them questions about your trip, and they can fill out the form on your behalf. In this case, the form is called a Multiple Migratory Form (FMM).
If you stay less than seven days in Mexico, your passports and completed FMM forms will be stamped. 
You can pay for your FMM permit at a payment counter if you stay in this country for seven to 180 days. After that, it costs about 30 dollars. 
Your receipt must be presented to the office once the fee has been paid. You are then sent through customs after the FMM is stamped. To ensure you keep your receipts and FMM forms, keep a copy.
Pass through the Customs and Security
You can proceed to the customs line if you have nothing to declare. However, as soon as you arrive at the queue start, you will have to place your luggage on the belt. After that, it will undergo an x-ray, like at the airport. 
You'll pass metal detectors during the walk. Most of the time, it takes up to five minutes to get through the line.
You'll need to make a statement and pay taxes at the customs window when you declare something. You will then be on your way after passing through customs.
Leave the Immigration and Enter Tijuana
You can take your luggage out of immigration once you have cleared customs. You should follow the crowd since they are moving in the same direction. 
Then you're officially in Tijuana after walking several blocks into the city from the border area. Next, you can walk, take a taxi, bus, or Uber.
Conclusion
The border between Tijuana and San Diego is one of the busiest borders in the world. As such, it can be intimidating to pass through it. 
However, with proper documents, you'll be crossing in no time. The process is also simple and fast; many people pass all the time, so you will stay aware of the journey. 
With the help of this guide, you'll be visiting Tijuana and entering another country by simply walking through. Now, if you don't know about Tijuana, one of your concerns is likely safety. If so, check out Is Tijuana Dangerous?