Rather than booking expensive flights, driving can offer a relatively more affordable way of reaching your preferred destinations. As such, if you're among the many tourists who want to travel but are on a budget, you may wonder if you can drive to Cabo San Lucas. 
You can drive to Cabo San Lucas, and many tourists always take this trip. The entire trip can take at least two days, and most travelers divide it into four to five days. It will be a long drive, but every moment is worth it since you can explore Baja California.
When driving to Cabo San Lucas, the journey can be long and tedious. As such, you'll want to know more about what to expect on the entire trip. This way, you can prepare for whatever you might need to enjoy a safe trip to Cabo San Lucas.
Without further ado, let's get into it!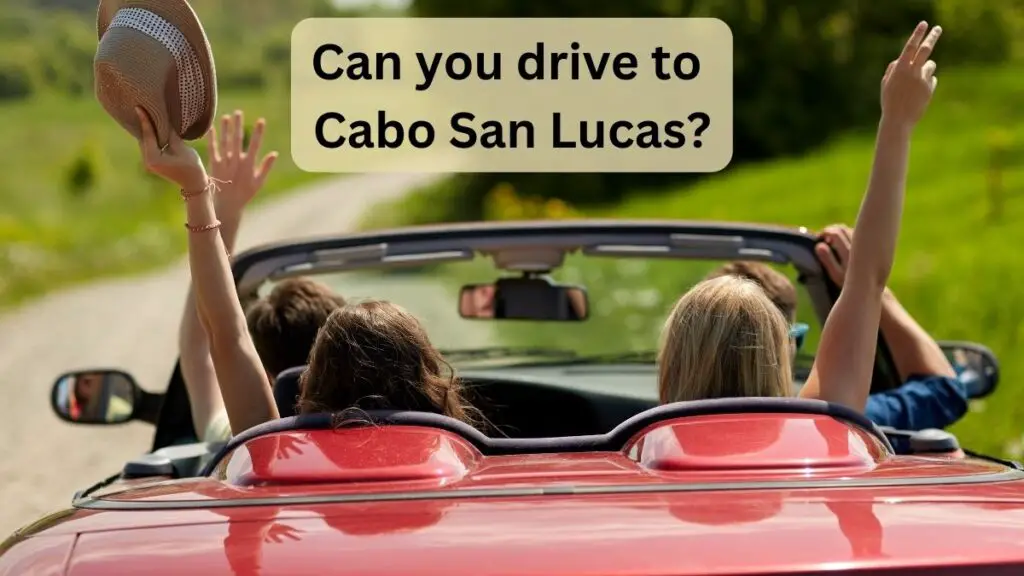 About the Road Trip to Cabo San Lucas
If it's your first time planning road travel to the southernmost point of Baja, California, Cabo San Lucas, don't worry. Many travelers take this road trip as a popular route as a bucket list.
The Baja California Road Trip usually starts in San Diego since most travelers are US Citizens bringing their car across the international border. 
From there, they travel down and drive throughout Baja, California, to reach the southernmost point, Cabo San Lucas.
Of course, as a tourist taking this route for the first time, the trip can be daunting. However, as long as you know what to expect and are prepared for the trip, you can do it and reach Cabo San Lucas without any problems.
How Long Does It Take to Drive to Cabo San Lucas?
The typical route to Cabo San Lucas starts from San Diego since most travelers are from this US City. 
The distance of this route is around 1081 miles or 1739 kilometers. Therefore, the estimated travel time is around 22 to 24 hours, which most travelers divide into 2 to 3 days since they need to rest or stop by other towns they pass by during the trip.
Of course, driving straight to Cabo San Lucas is the cheapest option. However, most people enjoy the journey by visiting Valle de Guadalupe for wine tasting, Guerrero Negro for relaxation, or Loreto for golf. This way, you'll learn more about the region's culture and get a broader perspective on Mexico.
Now, if you don't have the luxury of traveling to Cabo San Lucas for days, you'll want to book a flight to the nearest airport from the city. To know more, read: Cabo San Lucas – Nearest Airport.
Requirements to Bring When Driving to Cabo San Lucas
If you're coming from San Diego or any point in the US and you plan to drive to Cabo San Lucas, you're crossing the international border. As such, you'll have to bring some requirements to cross the border.
Passing immigration and customs is a requirement when crossing international borders. In addition, road trips require a few essentials when crossing borders by car. 
Ensure your car's paperwork, driver's license, and passport are in order. In addition, you should purchase a Mexican car insurance policy for tourists and proof of registration in advance. 
After receiving your TVIP and FMM from immigration, you can enter the country. If you have all these documents, you can drive to Cabo San Lucas and stay in Mexico for as long as 180 days.
Is Driving to Cabo San Lucas Safe?
Another concern you may have when driving to Cabo San Lucas is safety. After all, you're taking a long route, and you are unfamiliar with all of it.
It's safe to drive to Cabo, but there are a few rules you need to follow to stay safe. The Transpeninsular Highway, which passes through Baja, is an important guideline. 
Roads on this route are safe and monitored, and it even provides bilingual support, called Green Angels, for vehicles that break down or require assistance. 
Whenever possible, avoid driving at night to keep yourselves away from dangerous situations. It's also best to prepare an itinerary to know where to stop and stay overnight.
Tips When Driving to Cabo San Lucas
If you plan on driving to Cabo San Lucas, here are some helpful tips to guide you throughout your entire trip:
A nighttime or dusktime drive is unsafe, so avoid it as much as possible. Cows, goats, horses, and other animals and things can appear out of nowhere on the roads, and they can damage your car when you hit them. There are also potential safety hazards at night on Mexican streets. 
A roadside stand is not a good place to eat; you should stay away from it. On the way down, you should bring food in the car to eat during the ride.
You shouldn't drink tap water because it's not safe. For consumption, it's best to bring your water or buy bottled water. If you want to know more about the safety of the water supply in Cabo San Lucas, read: Is It Ok to Drink the Water in Cabo San Lucas?
Remember to take pictures of the enormous boulders you'll pass along during your long drive. Taking this trip once in a lifetime is a great chance to enjoy the scenery.
Despite the desert's allure for exploring and taking pictures, it's best to stay on the highway. The last thing you'll want is to deal with scorpions and other creatures.
The road can turn and twist in an instant, so be careful. Take care on the windy road along the edge of the cliffs in the mountains. 
Sleepy or inexperienced drivers should refrain from driving. It is also not a good idea to drink alcohol. It may be dangerous and carries potential risks due to its paved and precise nature.
Make sure you fill up at all the gas stations along the way down. Then, despite having plenty of gas in your tank, take advantage of one of the stops. You can then be sure you'll always have gas, even when the next gas station is far away.
Traveling with a cell phone from the US or Mexico will rarely work, so never rely on it.
Make the most of your journey by taking at least three full days. If you avoid the scenic parts, you will need two full days without night driving.
It is essential to be respectful of the officers. Along the road down, checkpoints are equipped with machine guns and ready to fire. As a result, expect your car to be inspected. They take their work seriously since their jobs are dangerous. Standing in the desert for hours each day requires serious dedication.
In several places, you may find women or men spraying your car. It's best not to worry about it. The government of Mexico sprays for bugs and prevents the importation of fruits and plants.
The trip can be wonderful, unique, and long all at once. As such, driving an open-roof vehicle is a bad idea. In addition, to stay calm, you will need air conditioning in the hot, humid weather.
Finally, you should trade experience for something other than money. During some stops, you may question whether you should continue. Yet, it is so breathtaking that you will want to settle down. You'll know these places when you see them. Please consider this, and realize there is plenty to see while you're there, so make the most of it. It is essential to prioritize safety, but it is only worth it if you enjoy yourself.
Conclusion
This information lets you know what to expect when driving to Cabo San Lucas. Plan your stops and stay safe as you plan how to get to the city. If you remain cautious and prepared, you can enjoy this wholesome trip and return home without any problems.
Once you're ready to head out to the city by driving, you'll want to book accommodation in advance. This way, you can navigate to its address and ensure the place to stay is settled upon arrival. To know the best options, read: Escape to Paradise: The Best Places to Stay in Cabo San Lucas.