Jetting off to Cancun is always a great family vacation, especially when you plan ahead. When traveling with children, there are always plenty of things that need to be prepared beforehand. As a family begins to begin to plan a trip to Cancun, one common question for parents is, do you need a car seat in Cancun?
As of 2022, there are no mandatory laws forcing any vehicle to use car seats for children in Cancun. However, if you're planning on taking your child who's five or under, you should certainly use a car seat.
So Keep reading! We have everything you need to know about using car seats on your vacation to Cancun. So let's find out if you need to bring one, the laws, rent a car and taking a taxi with a child.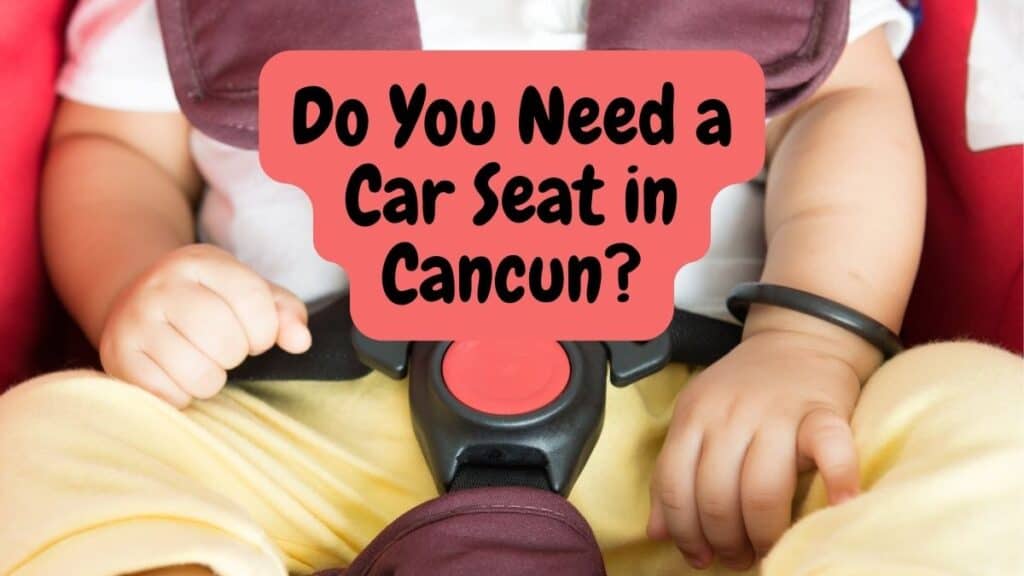 Do I need to Bring a Car Seat to Cancun?
If you're traveling to Cancun, you may wonder, do I need to bring a car seat? While it is possible to buy or rent a car seat in Cancun, some people prefer to bring their own due to convenience. If you're one of these people, there are a few things to first bear in mind.
American and Canadian car seats have two modes of installation available. Lower anchors are often considered the safest method, but you can also use a locked seatbelt to secure your rear-facing car seat. Using a forward-facing car seat, this should also be attached via a top tether anchor, often found on the floor or underneath the seat.
With these factors in mind, it is possible to bring your car seat from America and use it while you are on vacation in Cancun, but it may not be as straightforward as you're used to.
The majority of vehicles in Mexico do not have lower anchors. Thus, it's highly likely that you will be using the seat belt method to secure your child's car seat. However, you should be aware that seat belts in Mexico sometimes don't lock in the same way as in the U.S, so this causes further problems.
It's strongly recommended that if you want to secure your car seat well inside a Mexican vehicle using the seat belt, you should bring a locking clip with you. This will ensure that the seat belt stays clicked during your car journey.
Many tourist taxis and travel vehicles in Mexico have at least two top tethers, and while three are usually required in America, it's still possible to use these for a forward-facing car seat. If you still feel a little skeptical, opting for a car seat held in place via the seat belt is probably best.
Thinking about bringing your own car to Cancun? Read this article first: Can You Drive to Cancún From the United States?
Are There Car Seat Laws In Cancun?
While Cancun, Mexico, is a tourist hotspot, it's still considered a developing country and doesn't necessarily have the same standards as the U.S when it comes to vehicle laws.
No mandatory laws in Mexico state that a child must be in a car seat until a certain age or height. With this in mind, there are still specific safety standards that you, as a parent, can follow to have a safe family journey.
Here are some tips on how to stick to minimum safety standards:
A child under two should be placed in a rear-facing car seat.
If your child is five and over, they can be placed in a forward-facing car seat.
You can use a booster seat on a child aged ten to twelve if necessary.
Be sure to check each vehicle for a seatbelt that clicks in correctly (if not, use a locking clip)
As some vehicles are American imports, check for three top tethers (two will also work) alongside the lower anchor as an alternative to the seatbelt method.
A portion of car seats in Mexico are cheap imports that don't pass any testing, so it's probably best to bring your own.
Can I Rent A Car Seat In Cancun?
If you're a family with two or three children, you may feel like it's just too much hassle to bring that many car seats on a plane and decide to rent a few car seats when you get to Cancun; you may be wondering if it's a safe choice.
It's certainly possible to rent a car seat in Mexico; however, as we've mentioned before, it's hard to tell what standard car seat you will receive. In some cases, you aren't even guaranteed that there will be a seat available for you at the shuttle or taxi service pickup when you arrive in Cancun.
Like most things, it's probably best to plan this ahead of time. So a few weeks before you get on your flight, organize your transport from the Cancun airport and inquire about the car seats. This will guarantee they will be there alongside your driver.
Private shuttles typically only offer forward-facing car seats and sometimes booster seats. So, if your child is under five, it's probably best to bring your child's car seat from home and save yourself from all the worry.
Do Taxis Provide Car Seats in Cancun?
Most regular taxis in Cancun will not have readily available car seats. You can pre-book a cab from one of the many companies offering child-friendly travel services, and be sure to receive a car seat. An excellent website for booking taxis in Cancun is the Taxi Bambino website.
Here you follow a few simple steps, input your address and destination, select whether or not you need a car seat, and a safe ride will be on its way. Depending on your child's size, you can choose various car seats and boosters. This helps traveling parents find some solace in knowing they can arrange a car seat from the comfort of their hotel room.
You also might want to check this article: Does Cancun have Uber?
Final Thoughts
In conclusion, while you won't be breaking any laws in Cancun if you travel around in taxis and shuttles without placing your children in booster seats, it's certainly not the safest idea.
You should plan to travel in a car, just as you would in the U.S, by using a car seat for your child. This can be accomplished by pre-booking a private taxi or shuttle that can supply you with as many car seats as you need or by bringing your own from home.