Cancun has now become a popular tourist destination, and it has become an attraction for its white sand beaches, clear turquoise waters, affordable vacation packages, and eclectic nightlife. However, there are also some downsides to visiting a famous city like Cancun. So, if you want to consider Cancun as a vacation place, you'll want to know if it's worth it.
Cancun is worth visiting if you're a traveler who wants to enjoy the beach but in a highly urbanized vibe. It's worth visiting if you prefer the eclectic nightlife, high-end shops, and all-inclusive accommodation. It's also ideal for families who want an excellent place with a limited budget. 
You'll find contradicting opinions and recommendations if you read some reviews about this city. As such, we've written this article including the pros and cons of visiting Cancun. This information will let you decide if Cancun is worth visiting, depending on your preferences.
Without further ado, let's get started!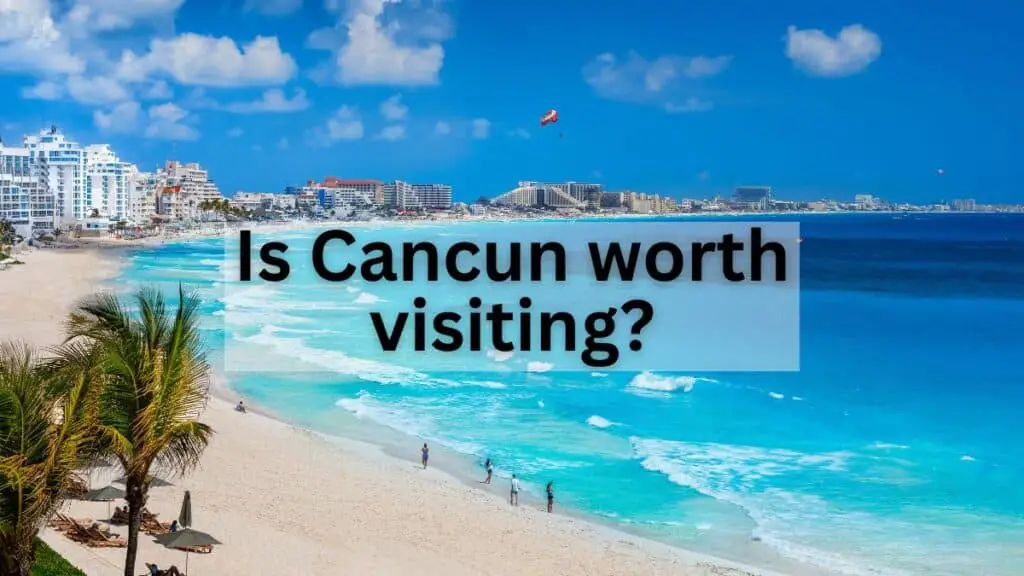 Reasons Why Cancun Is Worth Visiting
Here are some of the perks you'll enjoy if you visit Cancun. These perks make this city worth visiting, and you need to know if you're unfamiliar with Cancun.
1. Affordable All-inclusive Hotels
If you visit Cancun, you can enjoy affordable options for all-inclusive accommodation. In general, these options are the things that made this city famous.
Here in Cancun, you'll enjoy top-class hotels that offer all-inclusive packages. What makes them better is that these packages are affordable, attracting families, budget travelers, backpackers, and other types of tourists.
Because it's all-inclusive, you only have to pay once, and the rest is meant for enjoyment and relaxation. Your flights, lodging, food, amenities, and activities are all settled with such packages.
Such packages cost around a thousand dollars to three thousand dollars. So if you have around two thousand dollars, you'll already enjoy something decent for your entire family.
2. Stunning White Sand Beaches
Cancun's establishment wouldn't be enjoyable if not for its stunning beaches. Like other nearby towns, Cancun also boasts of its fine white sand that welcomes the clear blue waters of the Caribbean. 
As such, when paired with high-end beach clubs, resorts, and hotels, Cancun is that beach place where you can feel fancy amidst a stunning beach.
3. Year-round Sunny Weather
Another thing that makes Cancun worth visiting is that you can ensure good weather all year round. Cancun's weather averages around 71.6 to 89.6 degrees Fahrenheit, and it usually has sunny days. 
Of course, Cancun also has some dry and rainy seasons, but the peak season is from December to March. 
In this city, you'll constantly enjoy low humidity and a bright and sunny sky. As such, you can ensure having a lovely time by the beach. It also means you can enjoy some activities, excursions, and day trips without worrying about the weather. 
Of course, the peak season comes with higher prices and larger crowds. Thus, you can always visit from May to November if you're on a budget or don't like crowds. Since it's the city's off-season, you can enjoy cheaper flights, more affordable packages, and fewer crowds.
4. Diverse Range of Activities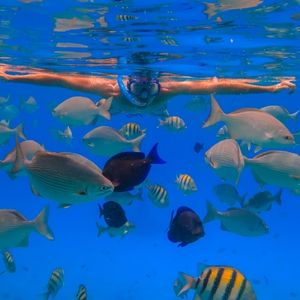 Cancun doesn't fall short when it comes to activities. Here, you'll never run out of options, water activities, land excursions, tours, shopping, and more. 
Snorkeling and swimming with whales are the most popular water activities in Cancun. On the other hand, land tours and day trips are also typical.
Since the airport is within the city, most people stay here and book day trip packages to popular destinations nearby. Among the famous day trips are Coba, Chichen Itza, Playa del Carmen, Cozumel, Tulum, Akumal, and many more.
Cancun offers several entertainment options, from shopping to movie theatres, restaurants, malls, and even an aquarium.
Finally, Cancun has a lot to offer if you're someone who loves wildlife. If you want to know more, read about Cancun Animals. In short, you can stay in the city for weeks, and you'll still have a lot to try.
5. Eclectic Nightlife
Cancun is well-known for its eclectic nightlife. Some tourists visit Cancun solely for the nightlife. However, the city becomes a center of lively nightclubs when the sun sets.
If you want to try this experience, Punta Cancun is the center of it all. This area houses all the nightclubs and pubs, and you can spend your night partying and drinking. 
You can acquire a Cancun party pass, which is the best part of the city's nightlife. You will get free drinks with this party pass, and you won't have to wait in line to get into numerous Cancun nightclubs. 
Overall, the Cancun party pass is an easy and economical choice if you want to party all night.
6. Affordable Food Options
Food isn't something to worry about if you avail of an all-inclusive package. However, if you want to try local Mexican food, you'll find the street food in the city affordable.
You can find an array of street food on the city's streets, and you'll be satisfied while spending only around five dollars.
Cancun's downtown is a great place to try street food. You will find delicious, authentic, and affordable Mexican street food in this area.
7. Flights are Simple, Easy, and Cheap 
Cancun has its airport, which means you can find direct flights to this city even if you're from another country. As such, it's one of the reasons why Cancun is worth visiting. Moreover, you won't have to worry about land transportation and arrangements with a direct flight.
Besides having direct flights, you'll find plane tickets cheaper. Comparing it with other destinations, you'll find the airfare more economical and budget-friendly. Most flights are only around two hundred to four hundred dollars per person. In addition, you can find deals and discounts during the off-season.
Finally, the flight time to Cancun takes only around three to five hours. Some flights can even be as quick as an hour and a half, but it won't take more than six hours from the farthest state in the US.
Reasons Why Cancun Is Not Worth Visiting
Here are some downsides you'll have to bear if you visit Cancun. These cons might be reasons for you to avoid visiting this city, and it's something you need to know if you're unfamiliar with Cancun.
1. Too Lively and Busy
Cancun is not worth visiting if you enjoy peaceful vacations and intimate moments. Unfortunately, you'll generally find this city pretty commercialized, and the eclectic nightlife doesn't make for a quiet and peaceful evening.
As such, it's also not worth visiting if you're a couple who want to spend some time together, with privacy and quiet time. If so, it's best to choose the neighboring areas such as Akumal, Playa del Carmen, or Tulum.
2. Tons of Trash Everywhere
The popularity of Cancun also has its effects on the environment. For instance, you may find it surprising that Cancun's beaches are not as beautiful or clean as they are in pictures.
Since this city accommodates millions of tourists annually, it ends up with piles of trash and rubble from spot to spot.
Most of the hotels maintain the cleanliness of the beach nearby. However, the other parts are uncleaned. As such, if you explore the beach areas, you may spot trash from time to time, and it's unpleasant.
3. Highly Commercialized
Due to the highly commercialized vibe of Cancun, it's not worth visiting for travelers who want to experience the tropical vibe. Here, you won't enjoy nature, like if you want a line of palm trees, untouched beaches, and other natural settings.
Now, if you're a fan of urban living, then the beaches of Cancun will suit you well. However, visiting the neighboring towns and beach communities is best if you're looking for a more natural setting.
4. Seaweed Season
Although Cancun's beaches are top-class, it's not something you'll enjoy during the seaweed season when the entire stretch of beach ends up with piles of seaweed. Seaweed is a significant issue that happens in Cancun and other nearby beaches. 
Seaweed occurs from the waters of the Caribbean, and it quickly grows and reaches the shores due to high temperatures. So you'll find seaweeds piled up on Cancun's beaches from May to August. 
Cancun's beaches are nearly unsuitable for swimming because brown, sticky seaweed forms a layer over the water. For this reason, before planning a Cancun vacation, it's essential to check the seaweed situation there.
5. Safety
Cancun is generally a safe place for a vacation. However, it's also prone to some safety problems as a popular tourist spot. 
As a responsible traveler, it's your duty always to keep your valuables secure and yourself. The last thing you'll want on vacation is to suffer from pickpockets, scams, and other problems.
It's also best to watch for your health. As always, it will only be a worthwhile vacation if you stay healthy while you enjoy your time in Cancun. If you want to know more about safety, read Is Cancun Safe?
Conclusion
So, if you're still wondering whether Cancun is worth visiting, it depends on your preference and what you can tolerate. 
Cancun is worth visiting if you're up for fantastic nightlife, urban vibes, and high-end yet affordable amenities and accommodations. However, Cancun isn't the ideal option if you're looking for a more peaceful vibe, cleaner areas, unspoiled beaches, and natural settings. 
Of course, staying in a nearby town is another option, and it doesn't mean you shouldn't visit Cancun. For example, if you book accommodation nearby, you can always visit Cancun on a day trip. Or, if your flight is at Cancun International Airport, you can always visit upon arrival and before departure.