If you're planning on visiting Tijuana, one of your primary concerns is a transportation and ways of getting around. Now, if you're from the US, you may enjoy Uber services and wonder if there's also Uber in this Mexican city.
You'll generally find Uber in Tijuana, and you can book one during your stay. It's a cheaper option and a more secure one than taxis. However, you'll want to be discreet when using this service since Uber services are always subject to other cab drivers. 
Uber is a cheaper alternative to taxis and is much more convenient with fixed rates. As such, when in Tijuana, it's your best bet when moving around. However, you'll need to take some precautions and learn how to use it properly to stay safe and avoid problems.
In this article, we'll walk you through everything you need about taking an Uber in Tijuana. This information includes other typical concerns related to this service and other things you may want to know about Uber in this Mexican city.
Without further ado, let's get into it!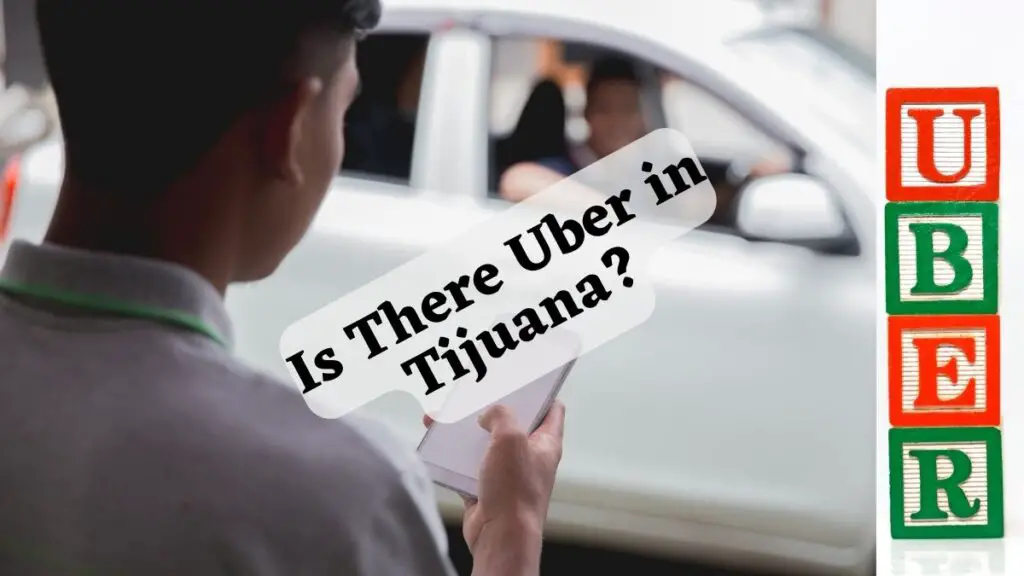 Does My Uber App Work in Tijuana?
The Uber App works in Tijuana, the same one you use in the US. As such, you don't have to worry about learning how to book since you can do the same process as the one in the US.
Paying with Cash is Convenient and Accepted
In Tijuana, Uber lets you use your credit card or cash to pay for your ride. The service offers cash payments if someone does not possess a credit or debit card. Paying with cash is as simple as checking' pay with cash in the app's payment options.
If you're taking Uber in this city, it's best to make a cash payment. And it's for two main reasons.
First, you'll have an easier time finding a ride. Some drivers generally refuse to pick up customers who pay by credit card, mainly because they wait for payday to get their income from Uber.
Additionally, they can earn a little more since they have no credit card fees or bank charges. You will still receive a ride if you pay with a credit card. Perhaps you'll need to wait a little longer.
Another reason is that you'll save yourself from foreign transaction charges from your bank. Using cash instead of a credit card can save you money when your credit card charges fees. With travel cards, there are usually no international transaction fees. 
Now, if you're paying with cash, it's best to do so with Mexican Pesos and be sure to bring the exact amount. 
This way, you can avoid extra charges and save yourself from the hassle of finding change. It will also help you only tip what you want.
Can You Uber from San Diego to Tijuana?
Currently, Uber drivers cannot take you across the US-Mexico border. Also, it can be a hassle for the driver if you want to do so. So the best way to go is by booking an Uber to reach the border, crossing on foot, and booking another Uber once you're on the other side.
If you need assistance with the border crossing process, you can read: Can You Walk Across the Border to Tijuana?
It was possible to travel between the US and Mexico using Uber with UberPassport. As of 2016, this service has been discontinued. 
Alternatively, if the Uber driver can take you to the other side, you can ask them to do so. However, you will need to contact them directly to negotiate a rate.
If you use public transportation, you can catch the blue trolley line just a few feet from PedEast in San Ysidro. The Greyhound Bus runs from San Diego to Tijuana if you're traveling outside the area. 
If you plan on crossing the border but need to know the necessary documents, read: What Do You Need to Cross Tijuana Border?
Is Uber in Tijuana Safe?
Some people did not warmly welcome Uber in Tijuana as it was in many other cities worldwide. Taxi drivers were not happy about the new competition and reacted violently. 
As a result, Uber drivers were targeted by these individuals. Numerous beatings and robberies took place. Moreover, an Uber-related murder even occurred. Now, if you're considering reconsidering your Uber service use, you don't have to.
As of the moment, these incidents have subsided, and it's now safe to use Uber in Tijuana. Most people prefer an Uber in this city to a taxi. 
For instance, you'll get the driver's information and have a fixed fare, unlike the unmetered taxis in the city. Also, with the information, you can track and report the driver should you have a problem.
At the same time, Uber promotes its services in Tijuana, and many people are considering this service more than ever.
How to Stay Safe When Using Uber in Tijuana?
Although the Uber services in Tijuana are safer these days, unlike before, it's still best to use caution when riding an Uber. For extra caution, here are some tips when using this service in Tijuana:
Avoid Mentioning Uber to a Cab Driver
Whenever you're waiting for an Uber, don't tell a taxi driver that you're waiting for one. You're better off saying no thanks. Uber may still be causing some bitter cab drivers to react even though there has been a decline in anger. Nothing is inevitable, so keeping a low profile is the best action.
Avoid Standing in Streets While Waiting
You can wait indoors for your ride. By doing this, you're not standing around waiting. Pickpockets and muggers can target you when you stand around.
Confirm the Driver's Details
Make sure the driver's picture matches the driver picking you up. If somebody else drives, don't get in the car. Someone could be using a stolen phone to use the app.
Confirm the Vehicle
Don't get in a car that's not registered with Uber. Make sure the model and license plate match what's in the app. Only take the ride if the cars are the same.
Confirm Details
Your name appears on the app, so ask the driver to confirm it. It's the only way to ensure you get in the right car. Be bold and ask who they're supposed to pick up. It's also a good idea to confirm the name of the driver.
Take a Common Sense Approach
Please only accept the ride if anything seems off or you feel comfortable. You'll likely be charged a few dollars if you cancel your ride. However, even if the driver does nothing, they'll still earn a few bucks.
Don't Feel Too Conscious
There is no need to be excessively cautious. Most people in Tijuana use Uber and don't experience any issues. Uber drivers are also careful in Tijuana, and you can enjoy casual conversations with them. 
Also, if you're too conscious, you might get spotted as a target by other scammers. The best way to avoid such is to act normal like you're used to being in Tijuana.
For general Tijuana safety info, check out my guide: Is Tijuana Dangerous?
Conclusion
Uber is becoming a more convenient transportation option, unlike taxis. With fixed rates, secure bookings, and detailed information, you'll find Uber services the best and safest way of moving around Tijuana. 
Despite the safety, it's not reason enough to let your guard down. As a reliable commuter, you must always be cautious and learn safety tips for safer travel during your stay in Tijuana.