Uber is one of the most popular modes of transportation in many countries. But, if you're used to riding Uber, you may wonder if it's also available in Mexico City. After all, this ridesharing app offers a convenient way to travel from one point to another with simply an app, and you won't need to understand public transport routes.
Uber is generally available in Mexico City, and you can use it whenever possible. Besides Uber, DiDi is also a similar ridesharing platform that you can use. As such, when it comes to transportation, and you're more comfortable booking such apps, you'll always find them available.
Of course, Uber isn't the primary transportation option, but many people stick to it due to its cheaper fare and convenience, unlike hailing a taxi. For this reason, we made this article to inform you more about Uber in the city.
Here, we'll cover everything you need to know about Uber and how to use it during your stay in Mexico City. This way, you can have an option whenever you need a ride and understand the fares, benefits, and downsides to know what to expect once you're in the city.
Without further ado, let's get into it!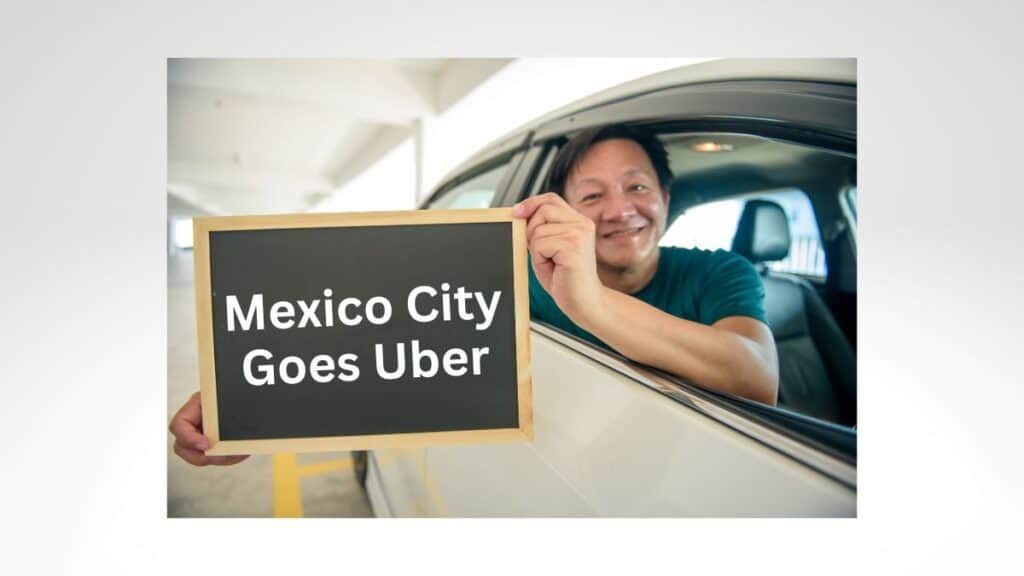 Does Mexico City have an Uber?
As mentioned earlier, Mexico City has an Uber, which you can use whenever you need. If you're unfamiliar with Uber, it's a ridesharing app you can use through your phone. 
You'll book an available car through an app, set your destination, and ride until you reach your destination. 
One good thing about Uber is that you can reserve a ride in advance, which means you'll always have the flexibility to adjust according to your schedule.
Further, it's cheaper than taxis, especially since you'll get the fixed rate before you hop inside the vehicle. As such, locals and tourists book Uber, which we recommend if you want flexible transportation but don't want to spend too much on a cab.
How Much Is an Uber in Mexico City?
If you're used to riding Uber in the US or the UK, you might be surprised that Uber fares in Mexico City are way cheaper.
For instance, reaching the Roma neighborhood from La Condesa will only cost you around 40 pesos (around 2 USD). Or, it will only cost around 80 pesos (around 4 USD) to reach the Centro Historico from Polanco. 
With such a cheap fare, you'll find it better to book an Uber whenever you need a ride rather than a taxi.
This way, you'll have a regulated and fixed fare depending on your destination, and you can avoid common scams like overpricing in taxis.
If you want to know more about taxi fares in the city, read the article: Taxis in Mexico City.
Benefits of Using Uber
Uber is well-used and well-loved by locals and tourists in Mexico City because of its several benefits. Here are some of the things you'll enjoy with an Uber:
Convenient Booking and Use
One of the reasons why people continue to use and prefer Uber over other transportation is its convenience for users.
With a simple app on your phone, you can book a ride, have secure details of your driver and vehicle, and ride until you reach your destination. 
Another good thing about using Uber is that you can pay through the app or cash to the driver. You can always pay through the app even if you don't have spare cash.
We recommend using cash whenever you book an Uber for more availability. Some Uber drivers prefer cash since online payments come late to them. 
They might not accept your booking if they see you booked and paid online. It will also help the driver get the money as quickly as possible.
Whether or not it's your first time using an Uber, you'll find it easy, convenient, and safe. 
Cheap Fares
As mentioned, Uber fares are cheaper in Mexico City than in other countries. As such, you'll always find it ideal to book an Uber. Also, this ridesharing is cheaper than taxis, which means it's a better option than a taxi that can even scam you or trick you into overpriced fares.
High Availability
Uber is highly available in the city, and you can always find one to book, even at night. Since Mexico City has many tourists and locals seeking transportation, these Uber drivers are always in demand and will always be available.
Another thing to note is that Uber isn't the only ridesharing app in the city. You can also use DiDi, which is a similar app that's continuously growing. So you have two ridesharing options, depending on which one is available.
Point-to-point Ride
While you can find many public transportation modes, only taxis and ridesharing apps like Uber offer point-to-point services. 
It can be cheaper to take the bus or the metro, but you'll still find yourself walking for a bit of a distance to get from one station and depart from the other station to your destination.
With Uber's inexpensive fares, you'll be at your destination without even walking for a bit. Also, you won't have to bargain with taxis to give you the proper fare.
Best for Evening Travel
Public transportation can be inconvenient, especially during late nights, since it can be risky to walk to stations. With Uber, you'll find it safer to travel in the evening, whether going to a bar or returning to the hotel.
With Uber, you won't have to walk through dark streets and be at risk of petty crimes. As such, you'll always have reliable transportation, even if you don't have cash.
Tips When Booking and Using an Uber
Using an Uber is quite simple, but using such a service is more convenient than these tips.
Make sure you have internet access.
Uber works through an app, which means you need your phone and an internet connection to the book. As such, if you plan on using Uber, ensure your phone doesn't run out of battery. Also, ensure you have a data connection to access the app and book a driver.
Keep some cash with you.
Although Uber accepts only payments through the app, you'll still find it best to have some cash.
As mentioned, some Uber drivers in Mexico City prefer cash payments since they get them immediately. However, if you pay online, the drivers can take some time to get paid.
It's best to help your driver by paying in cash. Also, some Uber drivers may not accept your booking if they see you paying online. It can be limiting and a hassle to wait for Ubers to accept a booking, so pay in cash whenever you have to.
Pay in Local Currency if You Pay in Cash
If you're paying cash, make sure you have some Mexican pesos. These drivers may or may not accept foreign currency, so pay in pesos to avoid hassle with your trip.
If you want to know more about the uses of currency in the city, read: Mexico City – Cash (Pesos or USD) or Card?
Download the App Beforehand
If you plan to use ridesharing apps during your stay in Mexico City, always have the app downloaded to your phone. Also, it's best to download both Uber and DiDi, so you have options.
You can book either one depending on availability. You can choose which one offers a cheaper fare if both are available.
Ensure you're hopping in the right vehicle.
Uber apps will give you details of the vehicle and the driver you're booking. As such, confirm the details once the driver stops by. 
Also, confirm with the driver if the booking is for you. This way, you'll know they have the right destination and will take you to it through the navigation provided.
Conclusion
Uber is available in Mexico City and offers a convenient and easy way to get around the city. But, as always, make sure you follow the tips we have and also book Uber apps with extra caution. This way, you can enjoy your stay and exploration in the city while staying safe.You can always choose other transportation options if you can't find any Uber or DiDi available. To learn more, read: Mexico City: Best Transport Options Revealed.