The budget is one of the most significant factors that prevent people from traveling. After all, when traveling, every move you make means you need to spend. As such, if you're interested in visiting Mexico City, you may wonder if traveling to this city is affordable or not.
Unlike other popular travel destinations, Mexico City is an affordable place to choose. In this city, you can enjoy hundreds of affordable options for food, transportation, and accommodation. By doing your research, you'll be able to have a relaxing vacation in the city without breaking the bank. 
Many people dream of visiting Mexico City, and it's something you can achieve even if you're on a budget. As such, this article will help you understand how affordable a trip to this city can be if you know your cheapest options. 
Without further ado, let's get into it!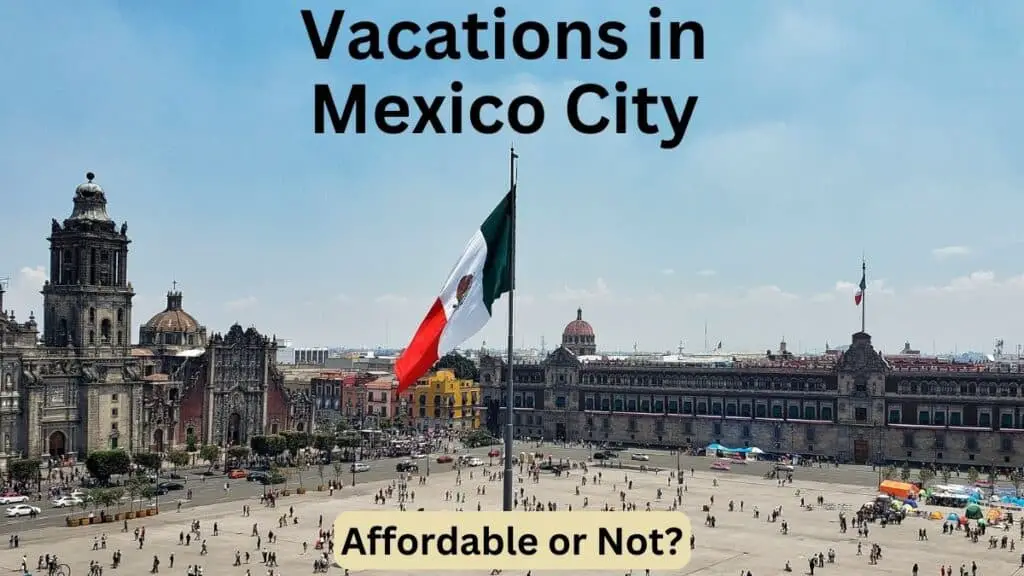 Is Mexico City a Cheap Vacation?
Mexico City is one of the most affordable destinations in the world to visit. Although prices have risen recently, street food and accommodations are still affordable. Plus, many free activities are available to help you keep costs down.
Mexico is generally very affordable, unlike other Mexican Cities, such as the Yucatan areas, since they have slightly higher prices because of their tourist popularity and location. Therefore, 30 to 40 USD per day will suffice for budget travelers.
What Makes Mexico City a Cheap Vacation Destination?
The low wages and labor costs in Mexico City are one of the main reasons it is so cheap. Since most countries have higher wages, Mexico City's cost of goods seems extremely low. 
Mexico City may be cheap to tourists, but not to locals, who cannot afford that luxury. Therefore, tip 10 to 15% (or more) according to the local standard!
Estimated Budget When Visiting Mexico City
If you plan to visit Mexico City, you can already have so much with a budget of 100 USD per day. However, exploring and having fun in the city for way less is possible.
In general, some budget travelers only spend as much as 30 USD per day. Nevertheless, a hundred dollars a day is a reasonable budget for those who still want fun while on vacation. 
Of course, a visit to Mexico City can easily cost more than a hundred dollars a day if you have the means. 
As one of the biggest cities in the world and the biggest in the country, Mexico City offers various options for low, mid-range, and high-end budgets.
Those seeking luxury accommodations and restaurants in the city will find many high-end restaurants.
Cheap or Free Things to Do in Mexico City
Unlike other destinations where every activity means spending some money, Mexico City offers cheap or free things. 
You can visit hundreds of museums with little to no entrance fees. If you get hungry, you can always enjoy authentic and excellent street food for a highly affordable price.
You can also tour on foot since most tourist spots are packed in one area or buy affordable items at local stores and markets.
Overall, you can always get by and explore the city without worrying about spending too much. Thus, you can say yes to a Mexico City trip, even on a budget. 
Where to Stay in Mexico City on a Budget?
Most neighborhoods in Mexico City are very affordable, and many exist. The food in some places is very affordable, and the accommodations are cheap. All you have to do is research and find an area that works for you. 
Centro Historico 
Centro Historico, or the Historical Center, is ideal for first-time visitors. Lots of big affordable attractions are close by, like the Zocalo. This area has a lot of great accommodations at a reasonable price too. 
Unfortunately, this area is always busy. You'll have to navigate a sea of people on the weekends. When you walk the streets of the Historical Center, be aware of your belongings – pickpockets like chaos.  
Coyoacan 
If you're traveling with a family or a significant other, Coyoacan is the place to be. Coyoacan has excellent exhibits and programs for kids in museums and art galleries. You can also find knick-knacks and trinkets at Coyoacan Market, another big market in the district. 
It's easy to find romantic restaurants and places to grab a drink in Coyoaocan. It's suitable for couples traveling by themselves to Mexico City. It's also cheaper to stay in Coyoacan hotels than in other parts of Mexico City. 
It's 30-40 minutes outside the city center, so there are more convenient places to live. Learning about the local transport system or taking Ubers to central neighborhoods is wise. 
Escandon 
One of the quietest and cheapest neighborhoods in Mexico City is Escandon. It has a calm and authentic vibe, so it's suitable for laidback travelers. Escandon has lots of street food and restaurants. You'll also find budget-friendly accommodations here. 
Escandon was such an excellent place to stay because it was so relaxed. There are better places for party-goers. While a few bars are in the area, they're fewer than in other areas. 
There are few attractions close to Escandon, so if you want to go to any of them, you'll have to travel.
Average Expenses to Expect When Visiting Mexico City
A backpacker in Mexico City might spend 1,050 MXN (Around 60 USD) daily. For this price, you can stay in a hostel dorm, eat street food and self-cook, use public transportation, and see a few things (like museums and galleries). Of course, you'll need another 100 MXN (Around 6 USD) if you eat out or drink more.
For about 1,900 MXN (Around 100 USD) a day, you can stay in a hostel or Airbnb, eat out at cheap traditional restaurants daily, visit more attractions, take the occasional taxi, and enjoy a few drinks.
You can live a high-end life if your budget is 3,800 MXN (Around 200 USD) or more per day, and you can stay in hotels, eat out, drink a lot, take taxis everywhere, and do some guided tours. There's more to luxury than this. Anything is possible!
You can use these estimated prices as a guide to budgeting daily based on how you travel. This example is the average every day – you'll spend more on some days and less on others (you might spend less every day). This estimate is to show you how to make a budget. 
If you want to know more about the costs you might pay for food and drinks in the city, read our article about Food and Drink Prices in Mexico City.
Tips To Have an Affordable Vacation in Mexico City
You can save money in Mexico City by using the following tips to help you maintain your budget:
Take advantage of street food.
Buying food from street vendors or big markets can save you money. The meals are incredibly flavorful and filling and cost only a few dollars. If you're worried, eat where children eat. You'll be fine if the kids enjoy the food, so don't worry!
Pay in local currency.
Mexico City uses the Mexican peso as its main currency. While most establishments accept US dollars as payment, they come at low exchange rates for a higher profit. Thus, it's best to exchange money and use local currency for every transaction you make in the city.
If you want to know the best places to exchange your US dollars for Mexican pesos, read our article about Money Exchange in Mexico City.
Stay in hostels or Airbnb.
The majority of hostels and Airbnbs in Mexico City are affordable. However, if you want, you can also stay in apartments. This way, you can have locals near you who can give you insights into the excellent and cheap places to explore in the city.
Join free walking tours.
Take advantage of all must-see spots in Mexico City by learning their history. With Estacion Mexico Free Tours, you can see what the city offers on a historic downtown tour. The only thing you need to remember is to tip your guide at the end of the tour!
Use ridesharing apps
The cost of Uber is cheaper than that of taxis. Therefore, getting around a city by bus or paying for a taxi is the cheapest option.
Drink less
The price of alcohol is low in Mexico City, but it tends to be higher in bars and nightclubs. Therefore, the most convenient thing you can do if you are on a budget is to buy your alcohol from a local store instead of heading to the bar to drink.
Take advantage of the city's public transit.
If you want to get around at a reasonable price, you should use public transportation. A rechargeable Smartcard can be purchased at any metro station throughout the city and used on both the metro and the metro buses.
Conclusion
Mexico City is a lot more affordable than other popular travel destinations. This city has plenty of affordable food, transportation, and accommodation options. This guide lets you enjoy a relaxing getaway without breaking the bank. 
If you want to know more activities to do in the city, read our article about the best Things to See and Do in Mexico City.