The bus is the best mode of transportation in Cancun, and it's handy, especially when you want to save money from renting a car or hailing a taxi. Unlike other towns in Mexico, Cancun has a bus system that's reliable, convenient, and affordable. 
For this reason, it makes an excellent option if you're only staying in Cancun. It's also the best option if you don't plan to travel to neighboring towns and areas. Now, if you plan on taking the bus to Cancun, you need to know how it operates, how much it costs, and other things about it.
This article will cover everything you need to know about taking a bus in Cancun. After reading this article, you'll have an idea about the buses, and you can get your way around the city by simply hopping on and off buses.
Let's get started!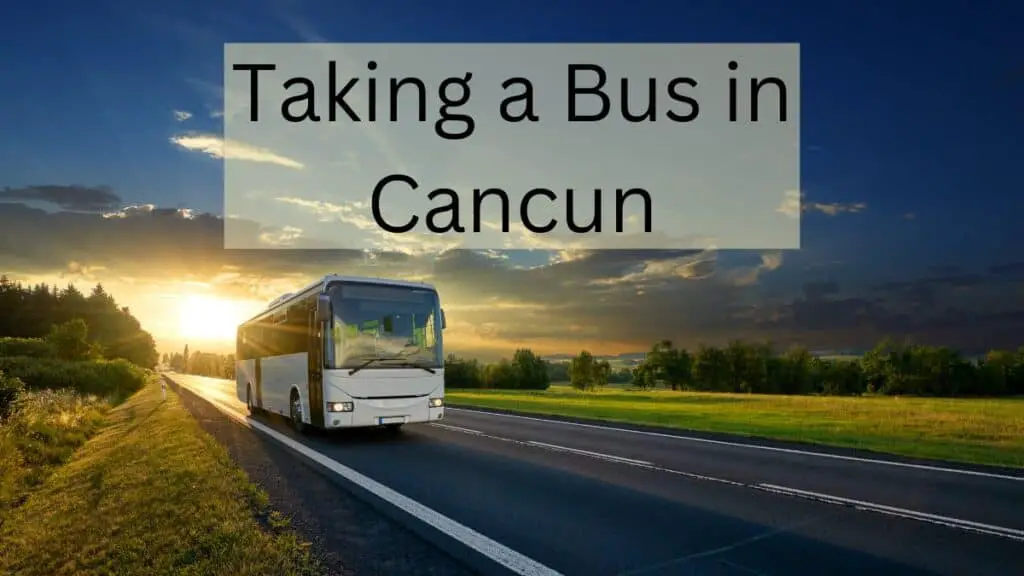 How Do Busses Work in Cancun?
The bus system in Cancun makes the city a convenient place to explore. Thus, it's one of the things tourists love about the city. Here's what you need to know about this bus system.
Cancun Buses
You can find two bus companies roaming around Cancun. Each bus has a route number displayed on the windshield. Thus, you'll know which to hop into when going to a particular destination.
These buses are not air-conditioned, and you shouldn't expect them to be in excellent condition. However, it's not that bad, and considering how affordable the fares are, it's completely worth it.
If you want to get off the bus when you want, pull the cord. If it fails, say stop, and the driver will stop as soon as the next bus stop appears.
Bus Route in Cancun
In Cancun, you'll find two significant routes of buses roaming around Cancun city: the R-1 and R-2. Buses from both routes will take you to your preferred location. Generally, it's best to take the R-1 bus if you're going to the bus station or downtown. 
One thing to note is to make sure you hop on the bus on the right side of the street. If you hop on the buses on the oceanside, it will take you downtown. If you hop on the buses traveling on the lagoon side, it will take you to the airport.
Here's an overview of the routes to familiarize yourself:
Major Routes of Bus in Cancun
The R-1 bus travels towards downtown. The familiar places it reaches are Wal-Mart, Puerto Juarez, Mercado 23, Plaza 200, and the Cancun Bus Station. The R-2 Bus travels to Wal-Mart and Mercado 28.
Minor Routes of Bus in Cancun
You can find the R-15 Bus, which also goes to Wal-Mart and Mercado 28. There's also the R-27 bus that travels along Tulum Avenue to Plaza Las Americas. You can take this bus if you plan to visit Playa del Carmen and Tulum through a colectivo ride.
If you're exploring the Hotel Zone, you can find Bus One, an air-conditioned bus roaming. Bus One, a white bus that runs in the Cancun Hotel Zone, is the only bus with air conditioning. It costs 11 pesos.
Bus Stops in Cancun
When it comes to bus stops in Cancun, you can find them everywhere. So you can always have a look, and you'll see them around. Now, if you're already near your destination, you can always tell the driver to drop you off at a bus stop.
Now, even if you're not around a bus stop, you can always raise your arm and call the approaching bus. In most cases, the driver will stop to pick you up. It doesn't work the same when taking off, so it's best to know the bus stop locations.
Cancun Buses Operating Hours
Cancun buses operate 24 hours daily, so you can explore the city without worrying about difficult travel time. Even if you enjoy some nightlife and party until midnight or early morning, you can find buses to take you back to your hotel.
Due to the 24/7 availability of buses in Cancun, renting a car or hailing a taxi is pointless. It's only ideal for driving if you plan on visiting other nearby towns and areas for a day trip.
Bus Trips You Can Find in Cancun
You can find buses offering trips within the city and some buses offering trips to nearby towns and areas. 
The central Cancun bus station, situated downtown at the intersection of Avenida Uxmal and Avenida Tulum, is where all buses traveling to the other cities depart. Therefore, it would be best if you first rode the Cancun city bus to get there.
You may board a bus there and go to practically any town in Mexico. Be careful, though, as traveling by bus outside Cancun isn't as convenient for tourists as it is inside Cancun.
The majority of travelers go to Playa del Carmen or the Riviera Maya by airport transport that has been scheduled in advance. This option is likely wise, given your bags and everything else.
But if you're trekking or roughing it, the bus is incredibly affordable, relatively safe, and rather simple to use.
Bus Schedules in Cancun
| | | |
| --- | --- | --- |
| Destination | Schedule | Estimated Travel Time |
| Cancun | Every 5 Minutes | 5-20 minutes (depending on destination) |
| Playa del Carmen | 30 times per day | 1 hour and 10 minutes |
| Tulum | 17 times per day | 2 hours |
| Chiquila | 4 times per day | 3 hours |
| Merida | 30 times per day | 4 hours and 15 minutes |
| Mexico City | 6 times per day | 23 hours |
Bus Fares in Cancun
| | |
| --- | --- |
| Destination | Fare for One-Way Trip |
| Cancun | 10.5 Pesos (0.5 USD) |
| Playa del Carmen | 40 Pesos (2 USD) |
| Tulum | 66 Pesos (3 USD) |
| Chiquila | 114 Pesos (6 USD) |
| Merida | 203 Pesos (10 USD) |
| Mexico City | 1098 Pesos (55 USD) |
The ADO website provides detailed information about costs, timetables, and bus tickets to other Mexican cities such as Playa del Carmen, Tulum, and Chiquila.
Depending on the period or demand, there are numerous bus types—from economy to deluxe—and correspondingly varying costs. 
The rates above are the lowest, so they may vary based on your preferred destination and bus type. Nonetheless, they should give you a broad sense of the pricing ranges.
How Do You Pay for the Bus in Cancun?
If you're riding a bus in Cancun, expect to pay in local currency, which is Mexican pesos. The buses accept coins or bills as payment, although it's best to use coins.
When paying bills, it's best to use lower amounts, such as 20 or 50 MXN. For example, traveling from the hotel zone to downtown Cancun, you'll need to pay around 10-11 MXN.
The usual mode of payment is by tossing the exact amount in the fare basket. However, if you will pay cash for some change, you must hand it to the driver. Otherwise, you'll receive no change.
Do Cancun Buses Give Change?
We recommend paying with local currency, mainly coins when paying for a bus ride. Unfortunately, the buses in Cancun don't accept foreign currency, and if they do, you won't receive any change.
If you have no peso coins, you can give the cash to the driver, who will likely give you some change. However, it only works with local currency. 
It's best to have coins since you can toss them into the fare basket and get out of the bus at your preferred stop. 
Does Cancun Bus Take USD?
The bus in Cancun only accepts cash payments, and it's only the local currency, the Mexican peso. As such, you must exchange your money for local currency to pay when riding a bus.
A one-way bus ride costs around 10-11 pesos, only around 50 cents in USD. Thus, it's best to have the exact amount to avoid inconvenience. 
Is It Safe to Take Bus in Cancun?
It's safe to take the bus to get around Cancun, and it's the most affordable and convenient way of transportation. Cancun has a bus system with routes directed to its tourist spots.
For this reason, you don't have to rent a car or even hail a taxi. You can also take a bus if you're coming from the airport or going to it. 
If you have oversized luggage, you can arrange a roundtrip airport transfer with your hotel, and they'll be happy to assist you. You can also hail a taxi, but before you do, you may want to read Are Taxis Safe in Cancun?
Is There a Public Bus From Cancun Airport to Hotel Zone?
No direct bus will take you from Cancun Airport to Cancun Hotel Zone. However, you can find a public bus which is ADO, at the airport. 
This bus will take you to the center or downtown Cancun. From there, you can ride either the R-1 or R-2 public bus to reach the hotel zone.
The fare costs around 86 MXN or around 4-5 USD. One thing to note is that the bus only accepts local currency, the Mexican Pesos. Thus, it would be best to have some on hand to ride the bus.
Your best bet is to exchange cash at the airport and then do the rest of the exchange downtown since they have better exchange rates there.
Now, if you're staying at a hotel in Cancun Hotel Zone, you can arrange an airport transfer to take you to your hotel. This arrangement is usually complimentary, but if not, it's usually discounted, making it a better option, especially if you have oversized luggage. 
Conclusion
With a convenient and affordable bus system that operates all day, Cancun's buses are the most popular transportation method around town. Thus, it always appeals to all kinds of tourists and even locals in the city.
Of course, if you want, you can always rent a car or bring your own to drive around town. If you want to do so, you can read about Is It Safe to Drive in Cancun?