If you're searching for a place to cool down from the summer's heat during your stay in Tijuana, the city has a famous water park called the Albercas El Vergel or the Parque Acuatico El Vergel. It's a popular water park filled with several pools and rides known for being thrilling and exciting.
If you're interested in this water park, this article is for you. Here, we'll cover everything you need to know about the Albercas El Vergel. This information includes the location, entrance fees, top activities, and even nearby restaurants for you to visit.
Without further ado, let's get into it!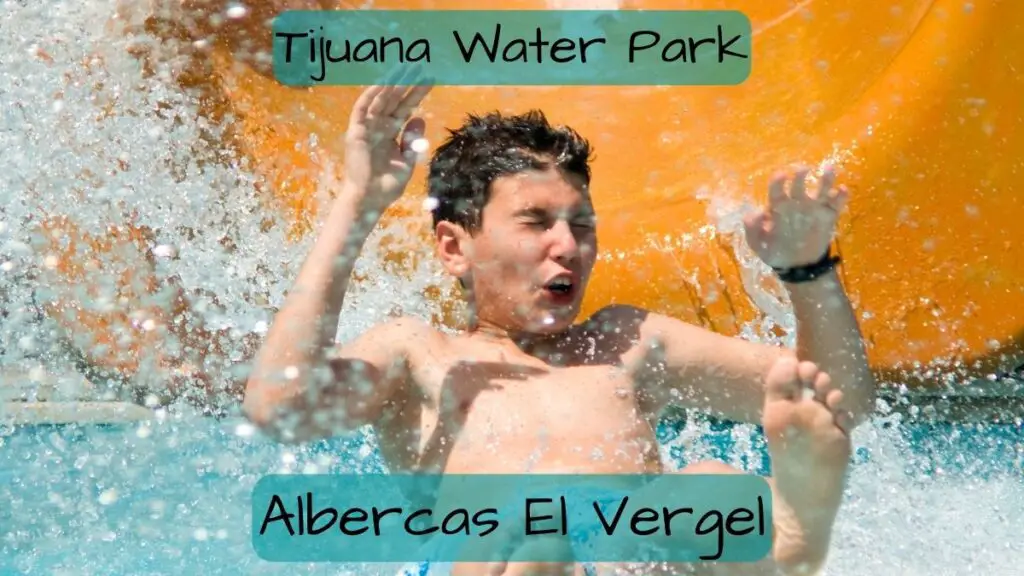 About the Parque Acuatico El Vergel
The Parque Acuatico El Vergel, also known as Albercas El Vergel, is the biggest water park you can find in Tijuana. In general, it's a water park loved by locals, but it's also where tourists spend hours cooling off from the summer's heat.
This water park houses 13 pools and several activities ideal for families and friends. Here, you can find different types of pools and several water games that kids will enjoy. 
For instance, you'll find 15 water slides, a wave pool, and a water playground for toddlers and kids. You'll even find a river in the vicinity.
If you spend several days in Tijuana and like to plunge into the water to cool down from the heat, this place is your best bet.
Operating Hours
Albercas El Vergel's operating hours start at 9:00 AM and close at 5:30 PM. The water park is open daily so you can visit any day.
The water park receives around a thousand visitors during the weekend and holidays. During weekdays, the park receives around five hundred visitors. As such, it's best to keep this one in mind if you prefer a less crowded time to visit the park.
Tickets
If you're visiting the water park, you may want to know the entrance fees. In general, the ticket prices to enter Albercas El Vergel are the following:
Adults – 180 MXN or around 10 USD
Children – 80 MXN or around 4 USD
Children under Age 3 – Free Entrance
The prices of tickets are subject to change, and they can increase, especially during the holiday season.
How to Get There
The Albercas El Vergel is located in Tijuana, just a few minutes from the US-Mexico Border. This water park has been around for years and continues to grow in popularity as it develops and gets more features.
Many tourists, especially those who love amusement parks, visit this water park because it's the largest in the city and offers plenty of pools to cool down and enjoy the hot day. It's also a perfect place if you're visiting Tijuana with your family since the kids will enjoy it the whole day.
Now, if you're visiting this water park, it's only 10.3 kilometers away from El Centenario, a famous landmark near the border. The drive time is around 13 to 16 minutes, depending on your traffic and route.
If you need a landmark, the place is also near Parque Morelos, and it's likely among the places you'll visit when you're visiting Tijuana.
If you're commuting from the border, you can take a taxi and tell the driver that you're visiting Albercas El Vergel. However, be sure to haggle for the fare to avoid overpricing. Also, it's best to use an Uber since it will be cheaper.
Where to Park
If you bring a car to the water park, you'll find plenty of parking spaces. The parking is free for all the guests so long as you pay the entrance fee. When visiting on a holiday or weekend, expect the parking area to be crowded since it's peak season.
What to See
The Albercas El Vergel houses 13 pools and 15 water slides. All the pools offer various water games for both kids and adults. As such, you can check each one out and enjoy what they offer.
The place also offers some food spots, and they cater to events if you want. The entire area also has some spots with tables and grills should you wish to bring your food and cook. 
If you're searching for other places to see in Tijuana, read 15 Things Tijuana Is Known For
What to Do
Albercas El Vergel offers plenty of things to do for both adults and kids. Here are some of the top attractions and things to do inside the water park:
Enjoy the Water Slides
The water park offers a total of 15 slides that you can enjoy. As such, it's an excellent place to allow your children to enjoy themselves. One of the most popular water games offered by the water park is the 42-foot Slip N Fly. The water park also has several other water activities for you to try. As such, you'll surely be busy enjoying a day in this park without worries.
Swim at Pools
The water park houses 13 pools, including a wave pool. Each pool comes in a different size and depth, so you'll find one suitable for a particular age bracket. For this reason, your entire family can swim without worrying about the kids.
Moreover, each pool comes with a different water activity. As such, you can always enjoy plunging and cooling down while trying some fun things.
Groove at the Dance Floors
Albercas El Vergel also has a range of entertainment areas, including dance floors. Here, large groups of people can get together and sway to the rhythm of lively music.
Eat at the Food Stalls
You'll find food stalls throughout the water park if you want a quick snack. Each stall offers local and international dishes to cater to whatever food you're craving during your stay at the park.
Relax with the Pool Amenities and Service
Albercas El Vergel offers several amenities for your enjoyment. These include areas with umbrellas to relax before swimming pools and enjoy the beauty. It also includes amenities for exercising such as bicycles, trampoline, and other games for the children's enjoyment.
If you're searching for other things to do in Tijuana, read 15 Things to Do in Tijuana.
Top Attractions
The water park has tons of attractions for you to see and enjoy. Below are some of them:
Slip n' Fly
Kamikaze
Avalancha
Alberca con Olas
Área Infantil
Twister
Latigo
Anaconda
Medusa
Rodillo Loco
Río Lento
Tarzan
Akua Kids
Where to Eat
One thing to note about Mexico is that the parks in this country allow food and drinks. So it's different from US parks wherein taking food inside is prohibited. For this reason, when you visit the park, you can permanently save money on buying food by bringing your own. 
Albercas El Vergel allows food and drinks. You'll generally find some grills and tables, meaning you can cook inside the park as long as you bring your charcoal. 
One thing to note is that they don't allow glassware inside, so avoid such. Likewise, the place doesn't allow bringing alcohol, but you can buy some inside the vicinity.
Now, if you're not bringing food, you'll find food stalls inside the park. There are plenty of options serving different dishes, snacks, and drinks. 
Nearby Restaurants
If you don't plan on staying at the waterpark for hours, you can always eat at popular restaurants nearby. Here are some of the best restaurants in Tijuana that are only a few minute's drives away from the water park:
Restaurant BAD BOY 1 – 7.6 kilometers away (13 minutes drive)
Campestre Rio Restaurant – 6.3 kilometers away (10 minutes drive)
Applebees's Macroplaza – 5.8 kilometers away (10 minutes drive)
Restaurant San Marcos – 7.8 kilometers away (14 minutes drive) 
El Sazon Cenaduria – 3.2 kilometers away (5 minutes drive)
Conclusion
Albercas El Vergel is the largest and probably the best water park in Tijuana. As such, it's common to see locals and tourists enjoying some time in this park in the city. The park is expansive and offers plenty of activities for kids and adults. For this reason, you'll surely enjoy a day of cooling down at this waterpark.
Now, if you're coming from San Diego and are interested in checking out this water park and other Tijuana spots, read How to Get to Tijuana from San Diego?