Although Barcelona is tinier than other major cities, exploring it can still be overwhelming, especially for first-timers. You may want to know more about the areas or neighborhoods in the city.
In general, Barcelona consists of several neighborhoods. Although the city is generally safe in most areas, you'll find some riskier ones, so avoiding them is best. It can be challenging for a first-timer to know which ones to visit and which to avoid. For this reason, we made this article for you.
Here, we'll cover every piece of information you'll need about the neighborhoods in the city. This information will guide you to explore Barcelona while keeping safe and enjoying your vacation.
Without further ado, let's get into it!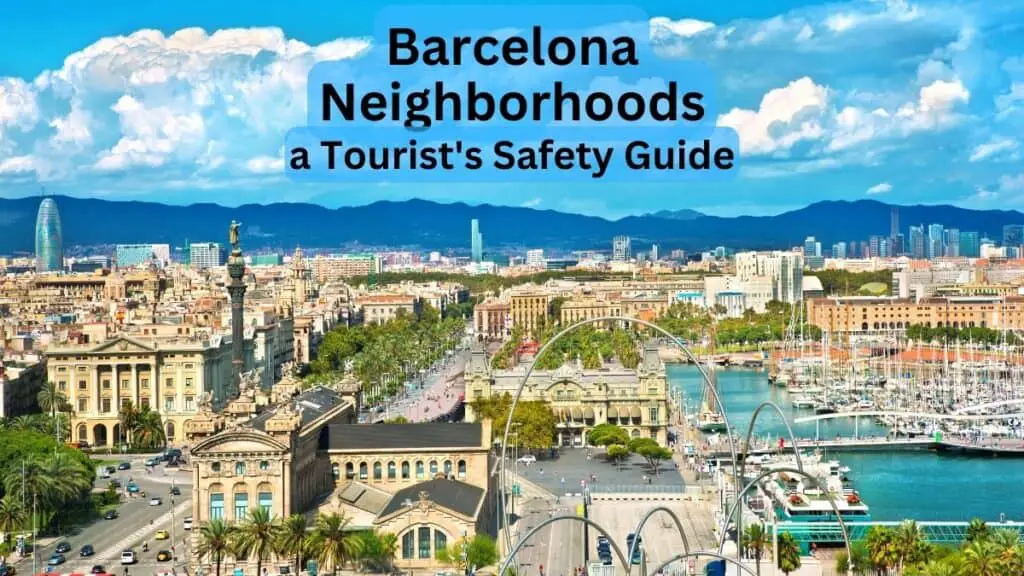 Barcelona's Top Neighborhoods
Barcelona has many attractions; you can see them all packed in significant city neighborhoods. As such, if it's your first time visiting the city, here are Barcelona's top neighborhoods:
Gràcia
Gracia is the best area to visit if you're a trendsetter or someone who always loves to feel the place's vibe. 
Originally an independent municipality, Gràcia is now a thriving neighborhood. You can find Japanese patisserie and vegan restaurants in this area. 
Catalan culture, including its language, folklore, and popular events, is also prevalent in the neighborhood, along with organic food stores and yoga studios.
Barceloneta
Barceloneta is the neighborhood to check out if you're in the mood for beaches. Due to its glorious necklace of beaches, Barceloneta, which means Mini Barcelona, is a popular year-round vacation destination. 
It was originally a fishing community that developed into a working-class district in the 18th century. 
You can still sense the industrial roots of this historic neighborhood as you stroll along the narrow lanes as the city harbor's industrial expansion continues.
Despite Barceloneta's lack of grand patrician facades, these buildings have retained their unique character and now serve as nightclubs and tapas bars. 
The Barceloneta neighborhood has plenty of places for families to enjoy late-night parties. 
El Born
El Born is among the city's best areas for sightseeing. Although El Born is Barcelona's trendiest neighborhood, it is not home to vegan restaurants and urban gardens but studios, art galleries, and concept stores.
Formerly a craftsmen's district, El Born is one of the oldest neighborhoods in Barcelona. Here, you can do a lot for free. This area contains some of the city's most important landmarks and century-old shops in this area.
Overall, this area is convenient to almost all city landmarks and enjoys a prime location between Barceloneta and the city center.
L'Eixample
L'Eixample is the area to check out if you're into Gaudí. As Barcelona expanded beyond the Old City, this neighborhood was built between the 19th and 20th centuries.
Wide avenues cross its streets, making it easy to navigate – and a popular spot for aerial photographs. 
L'Eixample is commonly divided into Left and Right, just off the most exclusive avenue in Barcelona, Passeig de Gràcia. In this area, you can find Gaudí-designed buildings that you'll appreciate if you love architecture.
El Raval
El Raval is the area to consider if you're in for some nightlife. It's the most vibrant neighborhood in Barcelona, where everything happens. This neighborhood, located southwest of La Rambla, is part of the Old City.
As one of the most multicultural neighborhoods in Barcelona, El Raval is an area of great contrasts. Bar-hopping in El Raval has a more local feel than in Barceloneta. 
Barri Gòtic
Barri Gòtic is the area to visit if you want to enjoy more of the city's history. Overall, this area is the city's historic center. Its oldest buildings are neo-Gothic, resulting from a massive restoration project in the 19th century. 
This area offers many bars, restaurants, and historic squares you've never seen before, no matter how many times you've visited. It is a delight to stroll through the labyrinthine lanes. 
Its location in the city center makes walking to most tourist attractions convenient. However, if you're considering staying in the Gothic Quarter, remember that some parts are known for late-night parties.
Safety Ratings by Neighborhood
Barrios in the affluent areas of Barcelona are among the city's safest areas. Among these are Eixample and Poblenou.
Barcelona's barrios should not be avoided at any cost. But, generally speaking, all neighborhoods are safe places to live. 
Nevertheless, in some parts of El Raval and the area around the train station in the Sants barrio, things can get a little dicey at night. 
Despite their beguiling appearances during the day, the streets of Barri Gotic and El Born can be deserted and dangerous at night.
During the day, the Ramblas, Barcelona's main promenade, is bustling with activity. It is generally a safe place except for pickpockets and tourist scams. 
Although the street's south end can feel seedy in the late hours of the night, it is still relatively safe (and very easy to avoid). 
The dynamic nature of Las Ramblas appeals to some ex-pats who have unusual schedules. The street is always open, so you can walk there anytime. However, other people don't like the noise, nor do they like pickpockets.
El Raval, Barri Gotic, and El Born are popular places for bachelor and bachelorette parties. Noise levels are affected, though it doesn't strongly affect neighborhood safety! Living close to wine bars while house hunting might not be a good idea!
Avoiding Risky Areas & Streets
Barcelona is a tourist city filled with pickpockets everywhere. There are, however, some areas that are more at risk for pickpockets than others. Whenever possible, stay away from Ciutat Vella. Barri Gotic, El Born, Barceloneta, and El Raval are all parts of this area.
Tourism has led to poor-quality housing in this area and a high cost of living. Thus, this area is prone to pickpocketing and burglary. As a result, you should avoid the following locations:
Raval
The Raval area of the old town should be avoided if you want to be safe. You will find many prostitutes and homeless people in the eastern part of the area, close to the harbor.
Among them are the Carrer d'En Robador and the Park Ronda Sant Antoni, where you can find many prostitutes and drug dealers. It is best to avoid Raval during the night, as drug dealers are likely to be present.
Sant Adria de Besos and La Mina
Walking through La Mina's streets, you see a lot of trash. The area will likely be empty at night, so you must walk alone through empty streets.
La Mina has many homeless people, alcoholics, and addicts. La Mina is a safe neighborhood, although it tends to be smoggy at night. Violence is not a significant issue here.
El Born and La Rambla
At night, La Rambla is a gathering place for prostitutes and johns. Rather than staying in La Rambla or El Born, you should look for accommodation outside these areas.
During the night, El Born, near La Rambla, is more enjoyable to walk through illuminated streets with a more significant number of people than small alleyways.
Nightlife Safety by District
While most districts in Barcelona are safe during the day, some can be riskier at night. Of course, chances are you don't want to miss the nightlife. However, it's best to be more cautious when visiting the following areas at night.
El Born and La Rambla
Prostitutes and johns gather on La Rambla during the night. As such, accommodations outside of La Rambla and El Born are preferable to those in these neighborhoods.
Walking through illuminated streets near La Rambla, El Born, at night is more enjoyable than passing through small alleyways. 
Raval
During the night, you should avoid the Raval area of the old town. Near the harbor in the east part of the area, you'll find many prostitutes and homeless people.
Many prostitutes and drug dealers are found in Carrer d'En Robador and Park Ronda Sant Antoni. Therefore, Raval is best avoided at night because drug dealers will likely be there.
Sant Adria de Besos and La Mina
You will likely see a lot of trash on La Mina's streets, especially at night. You will have to walk alone through empty streets at night since the area is likely empty.
People living in La Mina are often homeless, alcoholics, or addicts. Even though La Mina is smoggy at night, it is a safe neighborhood. Here, violence is not a significant problem.
Family-Friendly Neighborhoods
Traveling to Barcelona is quite thrilling and a dream for many families. If you're visiting the city with your entire family, you'll want to pick the best neighborhoods to stay at. Here are some of them:
Sarrià-Sant Gervasi
Sarrià-Sant Gervasi is a family-friendly neighborhood in the city, and it's ideal if you want a whole vibe around. This neighborhood in Barcelona is often called the upper zone. As such, it is one of the city's most exclusive and safest districts.
Gràcia
Gràcia is a bohemian neighborhood where young families live. However, there are many things to love about this neighborhood. It's a safe, family-friendly, artistic, and lively community. 
There's a unique bohemian vibe here where the hip meets tradition. Sarrià-Sant Gervasi is located to the west of the district. However, this area is a more affordable alternative to it.
Les Corts
Les Corts is the neighborhood to stay in if you're valuing money. This area is a very safe, peaceful, and wealthy neighborhood. Thus, it's a great place to live for families in Barcelona.
Previously, it was a separate town, but today, it is one of the city's most critical business and financial districts. This district might suit you if you want to work for a multinational company.
Sant Cugat
If you want a nice place distant from the city's action, Sant Cugat is the neighborhood to stay in. Despite being north of Barcelona, this small town retains the same warm charm and stunning architecture as Barcelona but away from its hustle and bustle. The good news is that living here does not mean living in isolation. It only takes 30 minutes to get to the city.
Safe Beach & Waterfront Areas
If you want to enjoy time by the sea, Barcelona has several beach areas. Here are some of the best and safest spots to visit:
Barceloneta Beach
Barceloneta is one of the most famous and traditional beaches in the city. So naturally, since it's a famous spot, you'll find risks of pickpockets around, but it's safe nonetheless because it's well-patrolled. 
In addition to having strong links with the metallurgy and gas industries, Barcelonaoneta is also divided by a Gas breakwater, which reflects the area's industrial past. 
Sant Sebastià Beach
Along the coastline of Barceloneta, close to the Port of Ciutat Vella, you can find what used to be called Sant Miquel Beach, which corresponds to a large section of the beachfront of Ciutat Vella. 
This beach is more than a kilometer long, walking distance from the city center, and a popular destination for locals and tourists alike. As such, it's a safe destination to check out in the city.
Mar Bella Beach
Mar Bella Beach is also a safe area to enjoy beach time in the city. This part of the coast already had baths when the 20th century began, but a storm eventually destroyed them. During the mid-20th century, this strip of beach fell on hard times, losing much of its appeal. 
Nova Mar Bella Beach
Mar Bella refers to the area where La Barceloneta is located. Now, this beach is one of the best and safest, so you'll have better chances of enjoying the beach around here. 
The name refers to land reclaimed from the sea, like the land that forms the basis of this neighborhood by the sea. Therefore, these two beaches were given the name Split in Two. 
Llevant Beach
Due to its newness, Llevant has fewer facilities and services. However, Barcelona's youngest beach is often the most relaxed and quiet. 
As such, it's among the safe beach spots around. In addition, with a large parking lot that doubles as a beach access area, it's easy to reach the beach by car.
Staying Alert: General Safety Advice
The Barcelona safety tips below will help you stay safe in the city.
Pick a safe area for your accommodation.
In some parts of the city, especially at night, it is safer than in others. Tourist zones with few tourists are the safest since crime follows jet-lagged and unaccustomed travelers. It is safest to stay in L'Eixample and Gràcia. The Gothic Quarter and El Raval are the least safe neighborhoods.
It would be best if you did not avoid El Raval or the Gothic Quarter because of this. Both neighborhoods indeed have some of the best nightlife and restaurants in the city. You should travel with friends or keep an eye on yourself if you stay in these areas.
Always manage your cash.
As a city with notorious pickpockets, you'll want only to bring small amounts when going out. This way, you avoid losing money if you become a target. 
It's best to leave your valuables at the hotel and only bring what's necessary. This way, you can enjoy your day in the city with fewer things to lose.
Always be on guard against pickpockets.
Pickpockets are a notorious crime in the city, and awareness of them is one way to avoid being victims. If you want to know more, read our guide on Beat Barcelona's Pickpockets.
Be cautious at the beach.
When going to the beach, bringing someone with you is best. This way, you'll have someone to look after your stuff. 
Also, it's best to avoid talking to other people, and when someone approaches, keep an eye on your valuables to avoid getting robbed.
Only pass through well-lit streets.
Staying in well-lit streets at night is the best way to avoid petty crimes. However, since you're in Barcelona, it's best to know what streets you're taking and the places you'll visit. 
This way, you'll know your way back to the hotel and know a detour when you're facing a dark street.
Always have a copy of your passport.
Keep a photocopy of your passport with you at all times. Make sure you secure your passport, one of your credit cards, and some extra cash in the hotel's safe. 
When making a credit card purchase at some stores, like FNAC, you will need your physical passport – but you will only need it in some cases.
Be prepared for armed theft.
Petty theft is the most common type of crime in Barcelona. There are very few muggings. Spain isn't a country where people own guns, and being robbed at gunpoint is hardly ever an issue. 
Although violent robberies are rare, we cannot assume that they do not occur. As such, it's best always to be prepared for such incidents.
Conclusion
Now that you've read this guide, you know what to expect in Barcelona's neighborhood. We hope you become familiar with each one and learn about the best attractions in the area so you can enjoy your stay.