Cabo San Lucas is known for being a popular tourist destination in all over Mexico. It's even considered among the five most visited cities in the country. When searching for Cabo San Lucas, the beaches are the first to show up in the results. As such, you may be wondering how the beaches are in the city.
Cabo San Lucas's beaches are stunning, with crystal clear waters and fine white sand. However, some beaches aren't swimmable due to rough waters and ocean-floor cliffs. Nonetheless, every beach lover would find this city a haven for a nice vacation.
Cabo San Lucas is a good destination if you love spending time in the water on a stunning beach. However, it's still best to know what to expect with the beaches in Cabo San Lucas. This way, you will be prepared for what you'll see upon arrival and know how to enjoy your vacation in the best way possible.
Without further ado, let's get into it!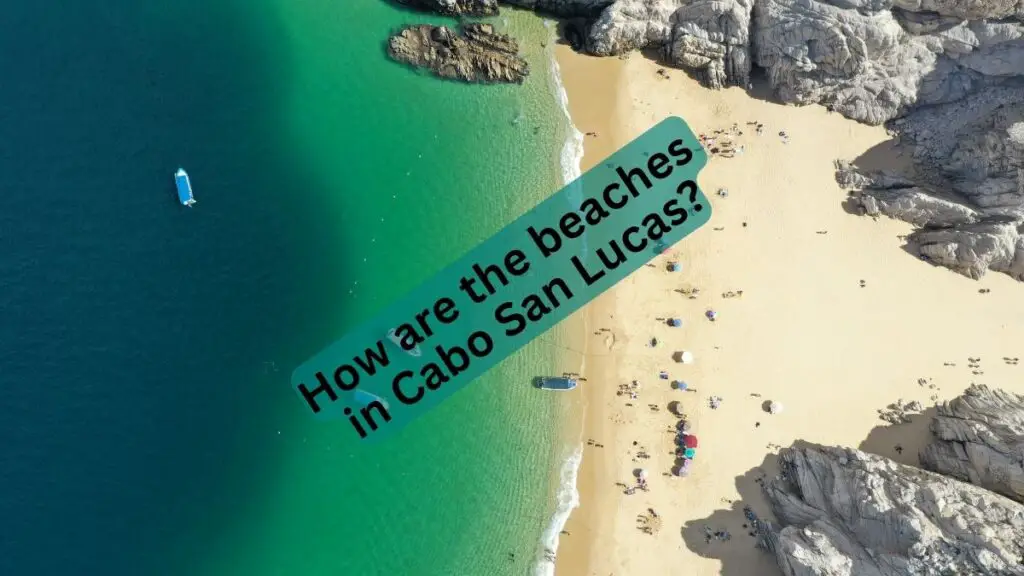 What To Expect from the Beaches in Cabo San Lucas?
A clear view of the beaches can help you prepare for your trip. When you visit Cabo San Lucas, you should have at least an idea of what to do. Below are the things you should expect from the beaches in the city.
The city has Some Famous Beach Areas
The beaches in Cabo San Lucas are known for their fine white sand and crystal-clear blue waters. As such, almost every tourist who visits this city will have the beaches as their top priority when visiting spots.
Some Beaches Are Only Accessible by Boat
Now, when we talk about the beaches in this city, you should note that some beaches are within walking distance and reachable by foot, while others require a boat ride.
The reason is that some famous beaches are situated amidst cliffs and rock formations that aren't accessible by land.
For instance, among the famous beach in Cabo San Lucas are Lover's Beach or Playa del Amor, Divorce Beach or Playa del Divorcio, and the famous Arch of Cabo San Lucas. Unfortunately, such can't be accessed by land, so you must ride a boat to reach them.
For this reason, you should prepare yourself for a short boat ride if you want to experience and see the best and most popular beaches around the area.
Some Beach Areas Are Not Swimmable
Another thing to expect is that not all beach areas in the city are swimmable. As I mentioned, the Pacific Ocean and the Sea of Cortez waters have rough waves.
For this reason, some beach areas have rough waters that need to be safer for swimmers, whether professional or not.
Now, while not all beach areas are swimmable, you can find some areas with calm waters that are perfect for swimming.
Does Cabo San Lucas Have Good Beaches?
The Los Cabos area houses many excellent beaches, and Cabo San Lucas holds most of them. 
In this place, you can see a beach that welcomes the waters of the Pacific Ocean and the Sea of Cortez. As such, you'll enjoy a sea with diverse and rich marine life.
Here, the beaches contain different types of fish and, in most cases, even whales. As such, Cabo San Lucas is known for being the Marlin Capital of the World.
Besides the rich marine life in its waters, Cabo San Lucas boasts stunning beach areas with stunning sceneries from beautiful rock formations and cliffs. 
As such, the beaches around the area are also good. Moreover, they are excellent and stand out from the regular beach areas you'll find worldwide.
Why Are Some Beaches in Cabo San Lucas Not Swimmable?
As mentioned earlier, some beaches in Cabo San Lucas aren't swimmable, and it's because of the strong waves and steep ocean floor descent.
The waves on some beaches are rough since they come from the Sea of Cortez and the Pacific Ocean. Moreover, the underwater current can also be influential in some beach areas. 
For this reason, these beach areas aren't swimmable and are restricted by the local government to avoid accidents.
Are There Swimmable Beaches in Cabo?
While some beaches aren't ideal for swimming, don't fret since you can still find beach areas with calm waters where you can enjoy swimming, snorkeling, and other activities.
In many places, waves are large, ocean bottom drop-offs are steep, and undertows make many beaches unsuitable for swimming. As such, always be cautious and beware of the warnings.
There are some Cabo beaches where you can swim, but there are others where you cannot. Most beaches along the Pacific Ocean side of Cabo are unsuitable for swimming.
One of the swimmable beaches in the city is Medano Beach. This area sits beside the Marina, and you can easily reach it on foot. Here, you can enjoy a typical beach setting and some water activities since the waters are calm.
Despite this concern, the collision of the blue ocean and the long vast stretches of golden sand there is stunning!
Conclusion
Overall, the beaches in Cabo San Lucas are all stunning, and while you can't swim in some, you can still find a spot to enjoy the waters. Nonetheless, all beaches offer a stunning view that will always satisfy every traveler, whether they are a beach lover or not.
To know the best spots to satisfy your beach craving, read our article about The Best Beaches in Cabo San Lucas.