If you're someone who loves snorkeling, you may have a gear of your own, and you know your way around this activity. Thus, if you plan on visiting Cancun, you may wonder if you can snorkel around without paying anything.
In general, you can always snorkel within the shores of Cancun. However, you'll likely see nothing but the sea bed in this area. Most snorkeling spots in the city are only reachable by boat. Further, you'll need a guide to help you find the spots where you can enjoy views of abundant marine life.
Snorkeling is an excellent water activity, especially in cities like Cancun and other towns and beaches within Quintana Roo since it boasts of the beautiful coast of the Caribbean. Now, while Cancun offers lots of snorkeling spots, you may not be able to enjoy it best without paying.
This article will cover everything you need to know about free snorkeling in Cancun. Here, you can know some free spots where you can snorkel without paying for tour packages, and you'll also enjoy some cheap packages if you want to reconsider.
Let's get started!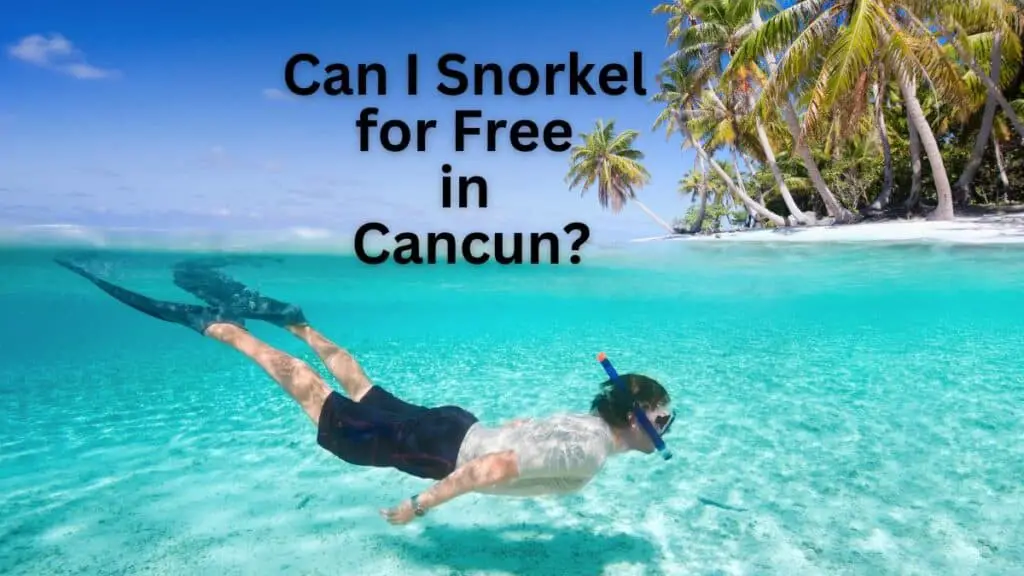 Can I Snorkel off the Beach in Cancun?
You can go out and snorkel on the beaches of Cancun. However, you won't find anything enjoyable around. In most cases, you'll only end up seeing empty sea beds.
The Great Mayan Reef can be found in Cancun, Mexico. In Cancun, you can snorkel in some of the best waters on Earth. If you're staying at a beachfront hotel in Cancun, you can enjoy free snorkeling if you own snorkeling gear.
Still, it would be best to take an organized snorkeling tour. With such a package, you can access a boat ride that will take you to some of the best snorkeling spots in Cancun. Also, you can enjoy the company of experts who will guide you to particular spots for snorkeling.
Free Snorkeling Spots in Cancun
If you want to enjoy some snorkeling activity without availing of some snorkeling tour package, here are some spots for you to consider.
Cancun Hotel Zone
If you want to enjoy a quick swim with your snorkeling gear, you can always do it free at the Hotel Zone. However, it may not be enjoyable since there isn't much to see.
While you can do so safely on Cancun's shores, some areas may have extreme currents that can be dangerous for snorkelers. Also, some parts of the hotel zone have choppy waters that can make navigating underwater challenging.
With nothing much to see and the dangers surrounding the area, you should purchase a snorkeling tour package rather than snorkeling alone with only bare seabeds to enjoy.
Puerto Morelos
Puerto Morelos is another option if you want to snorkel for free in Cancun. This spot requires a short journey from downtown, but it's better than swimming and snorkeling in Cancun's beach areas.
Puerto Morelos has a shallow area that's ideal for snorkeling. With 30 minutes of travel, you can reach Puerto Morelos and snorkel off its shores. 
The waters in this area are shallow and usually calm, making it ideal for snorkelers without tours. However, you need to bring your gear if you don't want to spend money on rental fees.
Playa Norte At Isla Mujeres
Playa Norte is the spot for you if you're searching for an excellent snorkeling spot in Cancun where you can snorkel without a guide.
This area offers a fantastic beach with calm waters. As such, you can snorkel in this area without a guide. In addition, you can spot some marine life by swimming around 200 feet into the water.
What makes it better is that you don't have to pay for any entrance fee or snorkeling gear rental (if you bring your gear). However, you'll need to take the ferry since it's located at Isla Mujeres.
You can reach Isla Mujeres from Cancun, and you can start at Puerto Juarez, just 10 minutes from downtown. 
The ferry ride from Cancun to Isla Mujeres costs only 24 USD for a roundtrip ticket and takes around 25 minutes of travel time.
You still need to pay for the ferry, but you can save a lot, unlike purchasing a snorkeling tour package.
Is It Worth Getting a Snorkeling Tour Package?
If you're in Cancun and want the best snorkeling experience, it's always worth booking a snorkeling tour package.
While it comes with a price, it's usually not that expensive, and you can enjoy the perks that come with it. Here are some of them:
Complimentary Snorkeling Gear
While bringing your gear is always economical, you can save some space in your luggage if you rent some gear. Now, if you book a snorkeling tour, you don't need to pay a rental fee since it's already included in the package.
Complimentary Boat Ride
Cancun snorkeling spots require a short boat ride since they are far from the beach. Thus, when you book a tour package, you already get to enjoy the boat ride, and the captain will take you to the best spots in Cancun to snorkel.
Professional Guide
By booking a snorkeling tour, you get to enjoy professional guidance. They can orient you to the conditions of Cancun's snorkeling spots and even teach you to snorkel if you're a beginner. As such, it's always best to book a snorkeling company to ensure your safety while you enjoy the marine life of Cancun.
If you're planning on snorkeling without a guide, you may want to read Is It Safe to Snorkel in Cancun?
Day trips to some snorkeling spots outside Cancun
If you want to enjoy a wholesome snorkeling experience, Cancun isn't enough. Some other places, such as Akumal, Playa del Carmen, Cozumel, and Tulum, have snorkeling spots that you shouldn't miss. 
If you want to enjoy that tour, you can have snorkeling day trips to these nearby towns for a wholesome experience.
Snorkeling Tour Packages and Estimated Prices
Now, if you are considering booking a tour package, here are the estimated prices for each snorkeling tour:
| | |
| --- | --- |
| Location | Snorkeling Tour Price Per Person |
| Akumal | 80-120 USD |
| Cozumel | 50-70 USD |
| Isla Mujeres | 80-120 USD |
| Playa del Carmen | 70-100 USD |
| Puerto Morelos | 30-50 USD |
| Punta Nizec (and Underwater Museum) | 50-70 USD |
| Tulum (with Cenote Snorkeling) | 100-150 USD |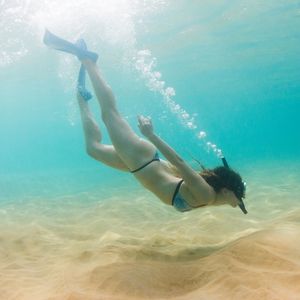 Besides these basic packages, you can enjoy deals and discounts if you book a multi-day snorkeling tour. Also, it's best to book these tours when the weather is ideal for snorkeling. Read When Is The Best Time To Snorkel In Cancun?
Thus, if you want to spend a couple of days snorkeling around the beautiful spots of Cancun and the entire Quintana Roo, you can avail of some packages and save a few bucks rather than booking a package per day. 
Conclusion
In a nutshell, you can always snorkel for free on the beaches of Cancun. However, it comes with risks, and you don't get to enjoy the best of what this city has to offer to snorkelers. Therefore, your best bet is always to avail yourself of a snorkeling tour package. This way, you can stay safe and guided as you enjoy the best of the marine life of Cancun and the neighboring areas.
If you still want to know if it's worth visiting Cancun for snorkeling, read our article Is Snorkeling in Cancun Worth It?