Cancun is a hotspot for tourists and travelers of all kinds, but surfing might not be the first activity that comes to mind when you think of this beautiful city. Have you ever wondered: can you surf in Cancun?
Cancun can be a great place to surf, and there are many different beaches that get surfable waves throughout the year. Most of the surf that you get in Cancun is suitable for beginners, and the waves can get strong enough at certain times for intermediate and even advanced surfers to enjoy.
This article will tell you all about the type of surfing that is available around Cancun, including what the waves are like throughout the year and where to go so that you know how to make the most of the sea in this fantastic location.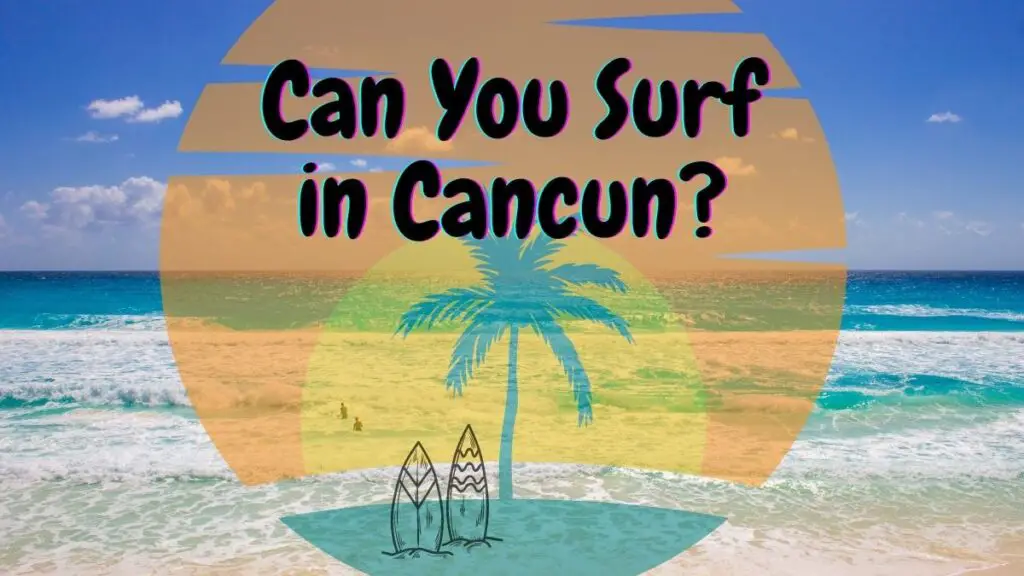 How Big Do Waves Get in Cancun?
Of course, one of the most important factors when it comes to surfing anywhere in the world is the size of the waves that you can expect. So, how big are the waves in Cancun?
Most of the time, the waves reach an average swell height for rideable waves of between 4 and 6 feet. These kinds of waves are great for most beginner and intermediate surfers, although they can get a little taller on certain days of the year.
The best waves for surfing are generally between 3 and 9 feet of swell height, with the lower end of that scale being better for those who are new to the sport. Anything about 9 feet is a little more dangerous for people with less experience. The average swell height will rarely go above 8 feet, and you will rarely see massive waves for more advanced surfing.
Individual waves can get very big, depending on the weather and time of year. It's not unknown for waves of over 16 feet in height to spring up from time to time, so you should always check the conditions and the latest weather report before you get into the water.
When Is the Best Time to Surf in Cancun?
Throughout the year, the surfing conditions in Cancun will change quite dramatically. Although you are likely to get good waves no matter when you visit, they will certainly be taller during the peak season.
If you are a more experienced surfer, then you might want to visit Cancun around June and July. This is hurricane season in the region when the waves tend to be more consistent. Between November and January, you get decent waves as well, but it's not exactly the peak holiday season.
Throughout the year, Cancun's average swell height and consistency change from month to month. The table below shows the averages based on data collected for magicseaweed.com, to give you a better idea of what the surf might look like when you visit.
| | | |
| --- | --- | --- |
| Month | Average Swell Height | Swell Consistency |
| January | 6 feet | 41% |
| February | 5 feet | 32% |
| March | 5 feet | 29% |
| April | 5 feet | 14% |
| May | 3 feet | 19% |
| June | 4 feet | 38% |
| July | 4 feet | 45% |
| August | 3 feet | 21% |
| September | 4 feet | 8% |
| October | 8 feet | 13% |
| November | 6 feet | 25% |
| December | 6 feet | 34% |
Does Cancun Have Surfing Beaches?
It's not just about what's going on in the water – you need to have some great beaches to surf from too. Fortunately, Cancun is well known for its long, beautiful beaches, and many of them are great spots for surfing.
The internal Nichupté Lagoon may be a lovely place to try other watersports, but you will find the surfing beached of Cancun along its Caribbean coastline.
Best Places to Surf
So, we know that you can enjoy a good surf in Cancun, but where are the best places to actually get into the water? Let's look at some of the top surfing beaches in the city so that you know where to go to catch some waves and some rays.
Playa Delfines
Maybe the most popular beach in Cancun is the famous "Dolphins Beach," or Playa Delfines, which can be found at the South end of Kulkucan Blvd. The current is a little too strong for most swimmers, but that means that there is usually plenty of space for surfing. The waves are normally smaller around noon, but they can get a bit more adventurous later in the day.
Playa Ballenas
Situated between the Hard Rock Hotel, Secrets, and the JW Marriott is Playa Ballenas, which means "Whales Beach." The surf here is usually great for both beginners and those with a little more experience. The beach is generally not too busy and has an exit directly onto Kulkucan Blvd.
Playa Chacmool
Playa Chacmool is very close to the Hotel Zone but far enough south to get some decent waves throughout the day. There are a couple of very popular surf schools in the area, 360 Surf School and Good Vibes, so it's a great place to get some training or rent some equipment.
Playa Marlin
Playa Marlin is a great option for scenic and relatively relaxed surf. It is located just a little south of the La Isla area and has many facilities that you can take advantage of.
Can You Enjoy Other Watersports in Cancun?
If surfing isn't your thing, or the waves aren't showing up while you're there, don't worry. You can enjoy a wide range of other watersports in Cancun as well, so you will never find yourself without something to do.
In Cancun, you can try:
Wakeboarding
Jet Skiing
Jetpacking
Flyboarding
Speedboating
Parasailing
Scuba Diving
Paddleboarding
Not to mention all of the other kinds of other activities that the city has to offer!
Also, check out these articles: Fishing In Cancun and What to do in Cancun.
Recap: Can You Surf in Cancun?
So, can you surf in Cancun? You definitely can, and you will find many people out riding the waves when the surf is good. The waves in Cancun tend to be on the smaller side, and they are not always consistent, depending on the weather and the time of year, but under the right conditions, even advanced surfers can practice their skills here.
It's always a good idea to look at the weather report and check the conditions before you plan a surfing holiday in Cancun, although there are many other watersports to enjoy if the surf isn't quite right when you arrive.
Did you know this: Can You Drive to Cancún From the United States?