Cancun is a tourist destination for many. Is there enough for you to do, though, beyond the hotel? Yes. Cancun offers many things to do for all family types.
First, we will go over a few things that adults would enjoy. Then we will talk about a few family-friendly activities. If you and your significant other need a getaway, you will want to read the next section for couples. We will end with a few free things you can do in Cancun. Continue reading to find out some of the great opportunities available to you in Cancun.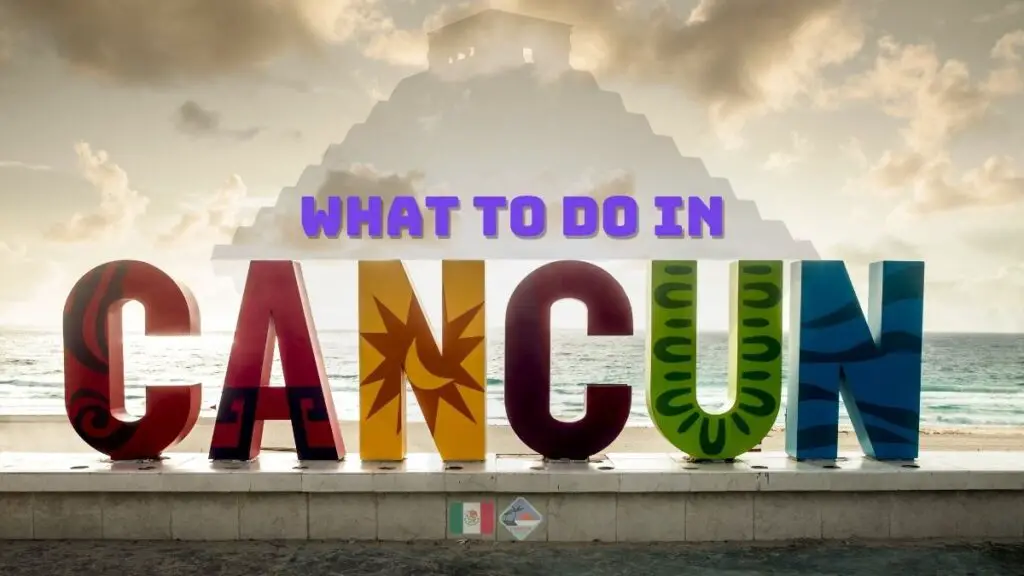 Things to do in Cancun for adults
Maybe you are seeking something that would only appeal to adults, or perhaps Grandma is watching the littles. Either way, there are things in Cancun that appeal primarily to adults. Maybe you want to learn more about the Mayan culture or have a huge interest in cars. Regardless, here are a few options that would appeal primarily to adults.
Zona Arqueologica El Rey
If you don't want to spend a lengthy bus ride on seeing Mayan ruins, you can opt for Zona Arqueologica El Rey for a nominal fee of around 3 dollars. This place thrived from 1200 to 1500 AD, and you can see the ruins of a small temple and several ceremonial platforms. You can also catch glimpses of the many iguanas here as well.
Mayan Museum of Cancun
If you don't want a long drive to experience Mayan culture, this museum in Cancun will show you some interesting things. Their many Mayan artifacts to look at, predating the Spanish coming. The ruins outside have English and Spanish plaques, so you can understand what you are looking at, even if there is no guide there to help you.
Museo del Automovil Antiguo del Sureste
This antique car museum features cars from 1917 to 1992. If cars are your thing, you will have a private tour guide that can tell you stories about each individual car. The tour is thorough; they will start some of the cars for you and let you sit inside them. It is not a public museum, so you will need to coordinate in advance.
Eco Colors Tours
If you are looking for small tour groups and amazing opportunities, look no further than Eco Colors Tours. They offer a whale shark swim, where you can see the majestic creatures up close, followed by going to Isla Mujeres to enjoy the beach. A truly amazing vacation would include their Beauty of the Butterflies Tour, where you spend 7 days exploring Mexico, including museums and the Capulin Sanctuary, which has a massive amount of butterflies.
Things to do in Cancun with family
Regardless of your kids' ages, Cancun is chockfull of family-friendly activities. If your kids are adrenaline junkies, Cancun has something for you. If your kids love sea animals, Cancun has something for you. If your kids want to spend a day at the beach, Cancun has something for you. Cancun is a family-friendly area by and far. Check out our complete article here: What to Do in Cancun With Family.
Want to see animals? Chwéck out this article: Cancún Animals – Where to See Crocodiles, Monkeys, and Other Wildlife
Interactive Aquarium
This aquarium is located in the mall La Isla. Its main draw is that you and your family can swim and interact with dolphins. The photo package is not included in the price and is on the pricey side, but it is a once-in-a-lifetime kind of trip. 
There is more to this aquarium than just swimming with dolphins. They offer a special aquarium trek, where you can walk around a large aquarium for 20 minutes using their special breathing apparatus. This aquarium also has touch tanks, where you can touch rays, sea urchins, and starfish. They have over 1,500 species in their aquariums for you to see, from sea lions to sea cucumbers and everything in between.
Wan to go fishing instead? Read more here: Fishing In Cancun.
Xavage by Xcaret
For the adventurous family, this is your stop. This park offers unlimited fun. You can go through their rope courses, with the most difficult being 118 feet in the air. Xavage also has white water rafting to get your adrenaline going. These rapids are the longest man-made circuit of rapids in the world. If rapids aren't your thing, you can join an expert captain on a crazy fast jet boat ride. These boats carry up to 10 passengers and complete a 360-degree spin.
Xavage offers much more. You can sit behind the wheel of a monster truck for the ultimate adventure. Your family can kayak through the park's different canals. To really get your adrenaline pumping, you can take part in a zip-line flight 65 feet above the ground. Finally, your kids can calm down and enjoy the splash zone, complete with water slides, a wading pool, and more.
Isla Blanca beach
You can enjoy the beach here for a nominal fee of about five dollars. This beach has a lagoon on one side, where you may spot flamingos or crocodiles, and the ocean on the other. This is less of a touristy beach so that you can enjoy more quiet time at the beach. The restaurant El Cayo is a perfect stop on your way in or out.
Captain Hook – Cancun, Mexico
This is a dinner and show, a kid-friendly event. The pirates will entertain with stories. They also invite guests to join in, such as with a dance contest. There is a buffet for you to enjoy, including the ticket cost. There is a lot of dancing and loud music, so it may not be best for sensitive children.
Things to do in Cancun for couples
Perhaps Cancun is your honeymoon destination, and you are looking for things for the two of you in Cancun. Whether you want a romantic dinner or a couples' massage, you can find your heart's desire in Cancun.
Night Mayan Temazcal Purification Ceremony
Enjoy a 6-hour cultural tour with your loved one. You will be picked up from your hotel and wished away to enjoy a wood-fired steam bath, followed by a purification ritual. Then you can swim together in a breathtaking cenote, which is essentially a cave filled with water. Finally, you can enjoy dinner in a local Mayan home. You will learn about the Mayan culture during the entire trip.
Columbus the Romantic Dinner Cruise
You can enjoy a lovely dinner aboard a galleon. The sunset makes the dinner feel romantic as you relish fine wine and lobster dinner together. There is a live saxophonist. The boat will cruise around Nichupte Lagoon, letting you soak in the setting sun while enjoying the breathtaking views.
You can also rent your own Yacht if you want. It´s not as expensive as you think. Check it out here: Renting a Yacht in Cancún – What You Need to Know.
Village Spa at Villa del Palmar Cancun
What better way to relax with your other half than a spa day? This spa is modeled after an ancient Mayan village. You can pick the Yaakunah Lovers Ritual, which includes a body wrap and a relaxing massage, or the Nuup Couples Massage, a side-by-side couples' massage. The Yaakunah Lovers Ritual takes 100 minutes, while the Nuup Couples Massage is 80 minutes long.
Total Snorkel
This travel group offers special activities for couples. You can go on a once-in-a-lifetime snorkel trip, swim alongside sea turtles, view underwater statues and shipwrecks, and even see an underwater cenote. Their extended snorkel trip gives you 2 hours in the water, which reaches a depth of up to 9 feet. This is a calm area with a beautiful coral reef.
Also check out this artcle: Top Places to Scuba Dive in Playa del Carmen.
Free Things to do in Cancun
Not everything in Cancun costs money. Like other countries, public spaces are a great way to spend the day without spending a dime. You are not limited to only the hotel you are staying in or the beach closest to it. By going to the free places, you can splurge on souvenirs or local restaurants.
Playa Tortugas
This beach is free and opens all year. The water around the shore is shallow enough for children to enjoy. It is also a perfect location for snorkeling. If you want to pay, the more adventurous ones in your group can enjoy bungee jumping from the 82-foot tower.
Parque Urbano Kabah
This amazing park is a nice nature reserve that you can enjoy. You can see many different animals here, including crocodiles, tamanduas, and iguanas. If you are looking for more jungle-like pictures, this is the place for you. It is free to enter and an enjoyable walk to see some of the plants that are native to Cancun. There is a small museum that will tell you about the history of the park.
Want to see turtles? Check out this article: When Can You See Turtles in Akumal?
Playa Delfines
This public beach offers bathrooms, canopies, and picnic tables for you to enjoy the day in the Sun. It features soft sand, clear water, and bright blue skies. Since this beach is close to many resorts, it tends to get busy fast.
Conclusion
We have gone over many of the things available to you in Cancun. Whether you are looking for an adult-only adventure, a family-friendly expedition, a couples' retreat, or something free, you have a few options to choose from. You can now plan your visit to Cancun accordingly.
Want to go surfing? Check out this article: Can You Surf in Cancun? (Best Places).