As one of the cities with the wildest parties and nightlife, many people often think Cancun is only for teens and young adults. However, it's also a family-friendly destination with many activities for children and parents.
If you want to enjoy Cancun and spend time with your family, don't worry. The city has a lot of exciting and fun things to offer that every family member will enjoy. As such, you can spend your entire vacation together in Cancun.
In this article, you'll see seven family-friendly activities in Cancun. This information will help you plan your schedule and itinerary throughout your entire stay in the city. Further, it will help you know which ones you want to prioritize, mainly if you have limited time.
Without further ado, let's get into it!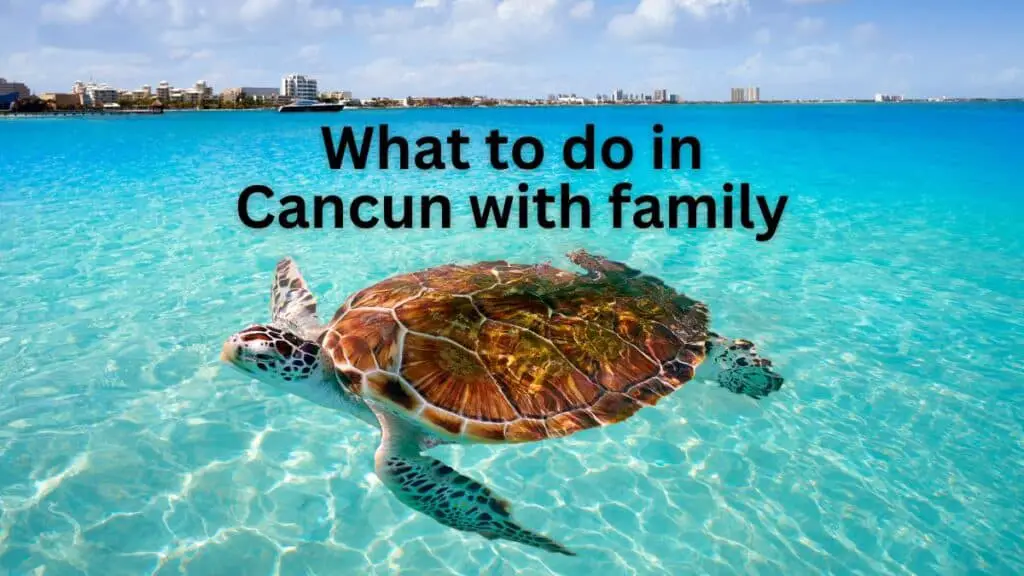 Snorkeling with Whale Sharks
It is a unique experience to see and swim with whale sharks in Cancun, and the whole family will have a great time.
It is best to swim with whale sharks during July and September. However, it is generally the middle of March when whale shark season begins.
The process of booking a whale shark swim in Cancun is easy. As such, you can arrange it before or once you arrive.
If you book a hotel, they can provide you with navigation tips and have connections with tour operators. You can reach the area by a ferry ride or a boat rental from Isla Mujeres and Holbox, where these cruises depart.
Cancun's water temperature is best between July and September, making it ideal for swimming.
Here's more information regarding Cancun Whale Sharks.
Enjoy the Captain Hook Pirate Dinner Cruise
A Captain Hook Pirate Dinner Cruise is an excellent choice if you're looking for a family-friendly experience that involves dining. Also, it's the perfect way to spend an evening in Cancun with your family and kids.
This dining cruise recreates an 18th-century Spanish sailing ship with food and beverages for a memorable night.
The trip leaves from Cancun's Hotel Zone every evening at 7:00 PM. The trip lasts approximately three hours and ends at 10:30 PM. Further, the package will provide you with dinner, beverages, and pirate-themed activities throughout the evening.
If your kid enjoys pirates or any ship-related experience, this activity is for them. However, even adults cannot resist the thrill of a spectacular pirate adventure. As such, it's worth trying with your family if you're staying in the city.
Have Fun with Dolphins
Interaction with dolphins will always be a delight for everyone. As such, it's among the best activities you can do in Cancun with your entire family.
There is a Dolphin Discovery in Cancun where you can swim with dolphins, play with them, and even get a kiss on the nose from them! 
The good thing is that younger children can participate in the sport since everyone is required to wear a life jacket. As such, this one is an excellent activity for toddlers and older kids alike.
After this event, you may frame a few photographs taken by the official photographer. It would be great to capture this moment so you will fondly cherish it forever. 
We can learn more from our article about Swimming With Dolphins in Cancun.
Explore Parque Las Palapas
Parque Las Palapas is one of Cancun's most popular spots, and it's an excellent place for the whole family to enjoy. The park is a prominent open space downtown and hosts various public gatherings.
This spot is an ideal destination for relaxing with the family in Cancun. El Cristo Rey can be found in the park if you want to visit it.
It would be wise to see it before exploring the park on Sundays, as the church often attracts large crowds of worshipers. There are several playgrounds in the area, and you can pedal around with a bike.
A person of any age can enjoy this excursion, located in the Kukulcan Boulevard neighborhood of the Hotel Zone. The boat leaves each day from the same spot, so you can choose any day that works for you.
See the Interactive Aquarium
Cancun is most commonly associated with outdoor activities. However, many people need to know that Cancun also offers indoor fun. For example, you'll see an interactive aquarium perfect for families.
You can find various indoor activities within La Isla Shopping Village, including the Interactive Aquarium.
If you visit other Cancun attractions, you may combine this aquarium visit with them. You should be able to view the entire aquarium in less than half an hour.
Aside from feeding sharks and swimming with dolphins, this aquarium offers several other activities. 
Additionally, you can purchase photos that document your travels in the aquarium's gift shop. The aquarium is also a wonderful experience, no matter how short your time is.
Explore Xcaret
If you're on vacation with your family in Cancun, Xcaret is the perfect destination. In general, Xcaret makes vacation days enjoyable and relaxing, not to mention that it's kid-friendly.
This ancient site is an excellent destination for families in Cancun, Mexico. This park represents a natural environment and celebrates Mexican and Mayan heritage.
The area has ruins you can climb, rivers you can plunge into, and animals such as sea lions, jaguars, birds, and other species. In addition, you can enjoy a cultural gala celebrating Mexican and Mayan culture in the evening. 
Mundo de Nios, also known as Children's World, is the perfect vacation destination for your children, and you can find it here. Visiting this place with your children is the best way to introduce them to the country's past and traditions.
Ride ATVs
When you're in Cancun, you can take your entire family on an ATV ride and excursion. Also, an ATV tour provides an excellent opportunity to learn about a city and its surroundings.
Several organizations and businesses can arrange this activity for you. Thus, it's relatively easy to plan. Additionally, these activities often take place in rainforests such as those in Cozumel.
You can spend an entire day on the adventure or take a quick tour, depending on how much time you have. A few packages also offer off-road adventures through the forest, where you can spot cenotes, tunnels, and organic vegetation.
Besides being a great way to introduce your children to the native wildlife and flora, this experience will certainly delight your children. People may encounter distinct and vastly different organic plants and land structures in Mexico.
Conclusion
In Cancun, you'll always have family-friendly activities to do with the whole family during your vacation. However, if you only have a little time and want to see different tourist attractions in Cancun, you can choose one of these activities.
With this list, you'll have a starting point to help your children engage in some activities they will enjoy. 
Now, booking an all-inclusive package is the best way to relax and let your family do the same. With such a package, you and your family can stay in one place and have everything you need. 
This option is ideal because Cancun houses many all-inclusive hotels and resorts, most of which are family-friendly. 
To know your best options, read our article containing the best Cancun All-Inclusive Family Resorts.