Swimming with dolphins is one of Cancun's best things to offer its visitors. If you love some marine life interaction, you know that the places in the world where you can see and swim with dolphins are just a few. As such, if you're visiting the city, this activity is something you don't want to miss. 
If you have already decided to go swimming with dolphins in the city, this article is for you. Here, you'll see a complete guide to swimming with Dolphins in Cancun. It includes the best locations, how much it costs, and even some tips you can use to enjoy this activity in the best way possible.
Without further ado, let's get into it!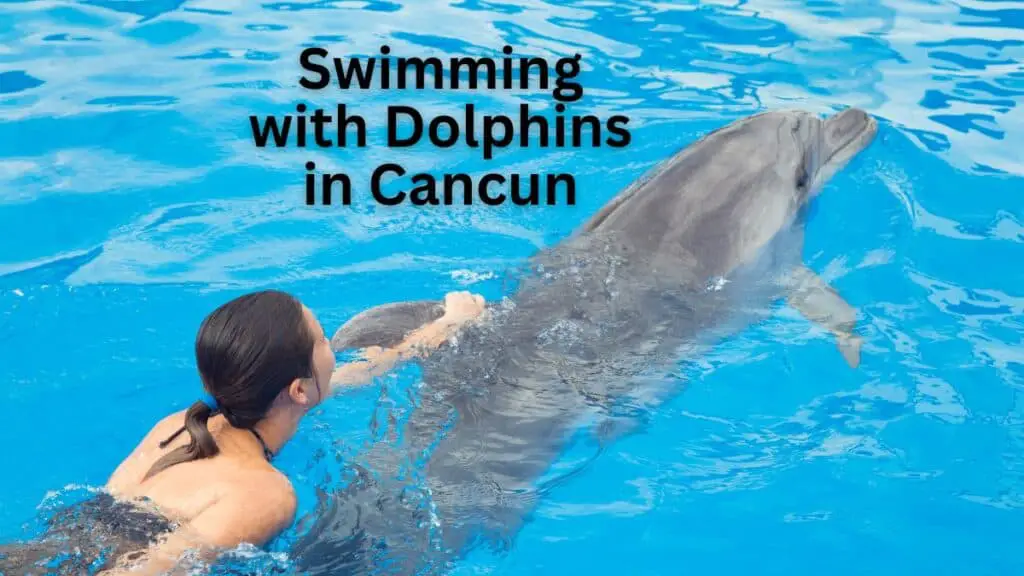 Can You Swim With Dolphins in Cancun?
Cancun is one of the few places where you can find dolphins and not only that. You can do more than watch dolphins, and you can even swim and play with them. 
When you're in Cancun, you'll find many tour package offers on dolphins. Depending on your budget and preference, you can swim and play with dolphins, and it's a memorable activity you'll surely enjoy while in the city.
Why Go On a Dolphin Adventure?
The Yucatan Peninsula offers several attractions, and a dolphin adventure is one of the most memorable activities you can enjoy. 
You should plan a day trip visit to Isla Mujeres if you want to have an incredible experience. Numerous aquatic species, including dolphins, are present here, and you may learn more about them. 
This island, which is five miles long, is an excellent place to see dolphins, sea lions, and other marine animals. 
You can do several activities here if you reserve a dolphin trip. You have many exciting things to do here, from swimming in the shallow water to playing with the lively dolphins at the dolphin park.
How Old Do You Have to Be to Swim With Dolphins in Cancun?
There are no age restrictions regarding swimming with dolphins in Cancun. However, children below eight years old or under 3.6 feet in height must swim in the company of an adult (both need to pay a fee). So now, if you want to swim with dolphins alone, you must be at least 3.6 feet or higher or nine years old or older. 
How Much Does It Cost to Swim With Dolphins in Cancun?
The dolphin adventure packages vary in price depending on the company and inclusions. The lowest price can be around 84 USD per person and includes interactions. You can purchase more if you want better inclusions. You can spend up to 424 USD for the most exclusive dolphin package.
Where Can You Swim With Dolphins in Cancun?
If you're planning to stay in Cancun and searching for the best place to swim with dolphins, you're up for a treat. Here are the best places to swim with dolphins and interact with them.
Delphinus' Sanctuaries
The Delphinus' Sanctuaries are the best places to visit if you want to interact with dolphins. These places allow you to experience playing with dolphins as if you're in their natural environment.
Now, if you're searching for a natural location to sightsee and swim with dolphins, you can find dolphin adventure and tour packages to these areas:
Puerto Morelos
Puerto Morelos is a coastal town south of Cancun, and it's located at the heart of the second-biggest reef in the world. Here, you can enjoy swimming with dolphins and see them up close. It's also an ideal place to snorkel for free in Cancun. If you want to know more, read Can I Snorkel for Free in Cancun?
Riviera Maya
Riviera Maya is a small area south of Cancun, and you can reach it after passing Playa del Carmen. It's a popular destination for its crystal clear waters and soft fine sand. Here, you can also enjoy some sights of dolphins, along with other marine life.
Xel-Ha
Xel-Ha is a rare natural wonder you can visit to enjoy dolphin adventure. The palace offers dreamy landscapes with fantastic water activities, like swimming with dolphins in a jungle near the sea.
Playa Mujeres
Playa Mujeres is a spot in Cancun, and it is situated at the Dreams Playa Mujeres Golf Resort and Spa. Playa Mujeres offers the only dolphin sanctuary on a beach in the world.
Xcaret
Xcaret is a beautiful location akin to Disneyworld. It is due to its ample space and wide array of activities available, both on and off the water. It was Delphinus' original habitat, the current location of their animal welfare program, and the spot where many of the dolphins in their family were born.
Interactive Aquarium Cancun
The Interactive Aquarium Cancun is an outdoor education place where you can engage with dolphins and learn about and enjoy other marine animals.
Punta Cancun
Punta Cancun is one of the hotel zone's most upscale locations and is encircled by the Caribbean Sea. It is part of the Hyatt Ziva Cancun Hotel & Resort. Along with several other marine species, dolphin sightings are possible here.
5 Things To Know Before Swimming with Dolphins in Cancun
If you're planning to swim with dolphins in Cancun, you may find these things helpful to know or at least be aware of. This way, you can know what to expect when you're already there.
1. Suitable even for non-swimmers 
Since dolphins are enormous and active, they require deep and spacious environments. You can continue to experience it. Swimming pools are made to have a platform where you may stand comfortably.
In addition, life vests are required for everyone who participates in our programs, without exception. Most sanctuaries provide visitors with a life jacket customized for their size and weight.
2. Available for children, pregnant, and even the handicapped 
Children and persons with disabilities over one meter tall can participate in the experience, and pregnant women can enjoy the activity.
Everyone ought to have the opportunity to experience this sort of engagement. Thus, most sanctuaries provide a variety of swimming programs because we want no one to miss out on this opportunity.
3. No Jewelry or Sunscreen
We advise everyone participating in the encounter to refrain from wearing jewelry and sunscreen to ensure the dolphins' safety and maintain their environment to the best standard.
You won't need anything other than your life vest and the thrill of having an unforgettable experience because this will be a time to interact with the dolphins.
4. You can expect close contact 
Interaction with dolphins is a better experience than other animal interactions. Some animals are not allowed for close contact. You can kiss them, touch them, play with them, swim with them, or even ride them.
Although they are powerful, giant creatures, there is no need to be scared of them because they adore human contact and appreciate displays of affection. Additionally, you'll appreciate their friendliness and how much they like swimming close to you.
5. No cameras during interaction
Regarding dolphin interaction, it's prohibited to bring cameras such as smartphones and action cameras since electronic gadgets can take the dolphins' interest. As such, most dolphin sanctuaries don't allow cameras near the animals for their safety and yours.
Additionally, because dolphins are naturally curious creatures, they could be drawn away from the teachers' instructions if there are any unexpected items around.
As a result, you can enjoy access to vaults where you may store your belongings safely before entering the water.
Nevertheless, sanctuaries know this is the memorable experience you'll want to share. Thus, you'll always find staff taking expert photos or video clips for you. Then, after the interaction, you can see and claim these pictures.
Conclusion
A dolphin adventure makes Cancun a particular destination, especially for marine life enthusiasts. It's also another family-friendly activity that kids and adults enjoy together. With this complete guide, we hope you enjoy your time in Cancun with dolphins. Swim with them, play with them. It's always a joy to be with these intelligent creatures.

Besides dolphins, you can also enjoy swimming with whale sharks. To know more about this activity, read our article about Cancun Whale Sharks.