Cancun is a popular destination because of its fine white sand and clear turquoise waters. However, some travelers visit Cancun to watch and swim with whale sharks. Thus, if you also enjoy whale sharks, you may find Cancun an ideal destination.
This article will walk you through everything you need about Cancun whale sharks. This information includes a general overview of this activity, some helpful tips to guide you with your whale shark adventure, and other necessary things for you to plan.
Without further ado, let's get into it!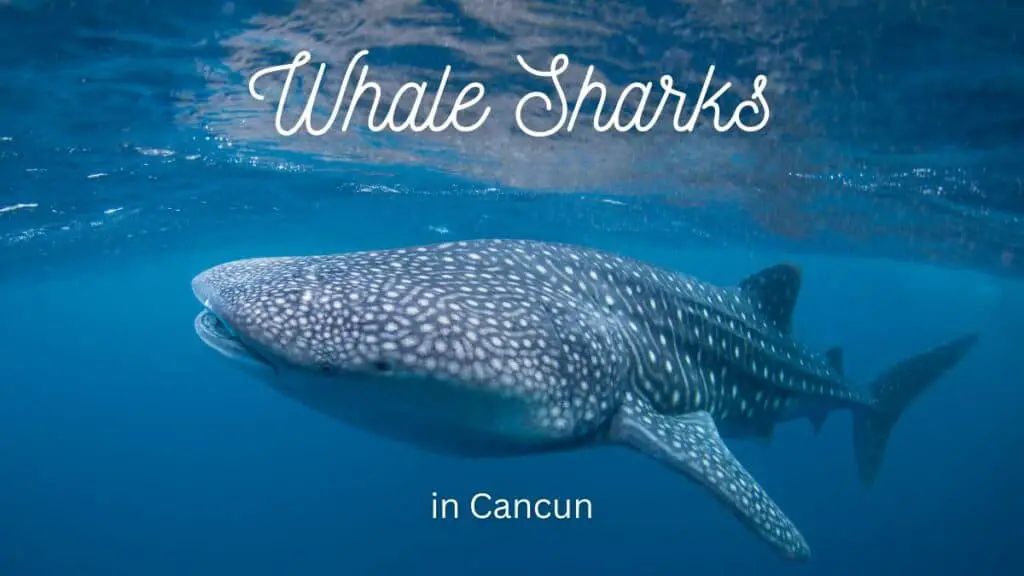 About the Whale Sharks in Cancun
Whale sharks are the most significant type of fish known to man. These sharks have an average size of around 25 to 40 feet in length or 7.5 to 12 meters. 
However, you can even find bigger ones. Although these creatures are sharks, they are harmless to humans, and you can even enjoy swimming with them.
Whale sharks are friendly sharks that are entirely harmless. As such, you can watch them and even swim with them. 
The thing is that whale sharks aren't everywhere, and they only gather in a particular area from time to time. Thus, for many people who search for whale sharks, Cancun is one of the places where you can check them out.
Can You See Some Whale Sharks in Cancun?
Cancun is one of the places where you can see and swim with whale sharks. There's whale shark season in Cancun, and you'll find many of these creatures swimming in the sea during that season. As such, whale shark enthusiasts visit the city during such a season.
One thing to remember is that booking a whale shark tour guarantees you'll see these creatures. 
While you may see as many as fifty whale sharks, you can also see fewer or none. Also, a tour company won't offer any refund if you don't see any whale sharks, so bear that in mind when you book.
When is the Cancun Whale Sharks Season?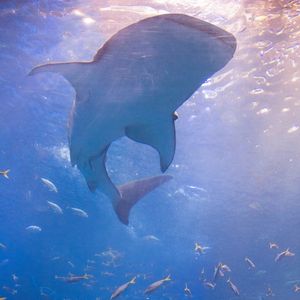 The whale shark season in Cancun starts around the middle of May and ends by the middle of September. As such, most whale shark tours operate during these times, and most only offer tours during the season.
During the whale shark season in the city, the Caribbean waters around Isla Mujeres become a flocking destination for these creatures because they love the warm waters. For this reason, they stick a bit longer in this area, making it ideal for those who love to spend time swimming with them.
What's the Best Time to See Whale Sharks in Cancun?
Although the whale shark season in the city starts in May and ends in September, the best time to see these creatures is in the middle, from around July to August. 
The warm waters are ideal for diving and snorkeling with whale sharks during these two months. It's also the best chance of finding whale sharks around. If you're lucky, you might even see some dolphins around.
Also, these months have the best weather, which is ideal for swimming with whale sharks. If you want an overview of the weather in the city, read our article about Cancun Weather.
How Much Does It Cost to Swim With Whale Sharks in Cancun?
The tour packages to swim with whale shark varies on the inclusions. However, the basic packages usually cost around 150 USD or even more. Some packages have extra inclusions. Thus, you should pick one according to your preference and budget.
How Long Does a Whale Shark Tour in Cancun Last?
A whale shark tour in Cancun typically lasts for around 3 hours. This duration is only for the entire viewing and interaction with whale sharks. It does not include the boat travel time to the whale shark area and the orientation. 
In short, you'll have three hours to swim with whale sharks, but it will be interchanging with your group since only two persons can dive simultaneously with a professional guide.
5 Helpful Tips When Swimming with Whale Sharks in Cancun
Below are some helpful tips you need to know when swimming with whale sharks in Cancun.
1. Licensed tour guides are necessary
If you want to swim with whale sharks, you need to do so with the company of a licensed professional. This tip ensures your safety and the safety of the whale sharks. It will also help you get better chances of spotting some whale sharks around.
2. You can't flock with whale sharks
When swimming with whale sharks, the maximum number of persons who can come near is two at a time with one guide. So you'll have to divide yourselves if you have a large group. Otherwise, a large group might scare the sharks.
3. Always keep some distance
Although you're swimming with whale sharks, you always need to keep some distance. So it would be best if you were at least six feet away from them. This tip will bring us to the next one.
4. Never touch a whale shark
Whale sharks might be harmless, but it's not reason enough to touch them or try to ride them. Whale sharks are protected creatures, and they are wild animals. As such, it's best to avoid touching them at all times.
5. Don't come closer to the mouth and tail
The areas near the mouth of whale sharks can have an intense suction power, and the tail part can whip now and then. As such, it's always best to keep your distance from these parts.
What to Bring for a Cancun Whale Shark Swim
Below are some things you'll want to bring when swimming with whale sharks. Some are optional, while the tour company of your choice might provide others.
Medicine (If Needed)
If you or someone with you quickly gets seasick, we suggest you bring some medicine like Dramamine pills. Or better yet, take one before going. It's best to take non-drowsy medicine to ensure you won't feel sleepy. You can also get some anti-motion sickness bracelets if you like.
Snorkeling Gear
The snorkeling gear is an optional thing to bring since most packages include free rental already. However, if you're a frequent diver and have your own set, it's best to use such instead since you're comfortable and familiar with it. 
Or, if you're yet to buy one, you can buy a full snorkeling gear that you can still use in the future. You can also snorkel in some spots in Cancun if you want after swimming with whale sharks. To learn more, read Is Snorkeling in Cancun Worth It?
Action Camera
Since you're swimming with whale sharks, you can only take pictures with your phone and bring a heavy camera. But, at the same time, you should take pictures since they will be the only memory to remain with you.
As such, it's best to bring an action camera that you can strap. This way, you can record your experience and even take pictures of yourself with the whale sharks. Of course, the best one is the GoPro Action Camera, but if you can't afford such, the AKASO Action Camera is a cheaper alternative.
Rash Guard or Sunscreen
A rash guard is also essential to bring and wear when swimming with whale sharks. In most cases, the tour company can provide one for you. However, it's still best to bring your own as it will fit you and you can choose the best one. If you want, you can also apply some sunscreen for added protection.
Waterproof Hat
Cancun's weather is typically hot, and if you're swimming with whale sharks in the middle of the day, you'll need protection from the sun, like a waterproof hat. This way, you can stay protected from direct sunlight. It's also best since you'll likely stay in the boat and under the sun for around three hours.
Conclusion
Whale shark swimming is one of the best activities in Cancun, and many people visit the city mainly for this purpose. As such, you want to take advantage of it, especially when planning a vacation here.
This complete guide lets you plan your whale shark swimming in Cancun. The rest of the concern is for you to enjoy watching whale sharks and having fun, as it will be one of the most memorable experiences.