One thing that makes Cancun an ideal destination is its array of accommodation options, and the most popular ones are the all-inclusive resorts. If you're unfamiliar with the term, an all-inclusive resort is an accommodation that includes everything you need, from rooms to food and even activities. As such, it's the ideal option for families since it will reduce the stress of planning.
Lucky for guests, Cancun houses several all-inclusive resorts, and most of them are family-friendly. Thus, the only thing you need to do is pick one that covers all your preferences. For this reason, we made this list of the best all-inclusive family resorts to help you.
We rounded up all the options and chose only the five best recommendations. Before examining other possibilities, this list will ensure you know the best ones. In addition, this feature will allow you to reserve a spot at an all-inclusive hotel, which will simplify, enhance, and simplify your trip to Cancun.
Let's get started!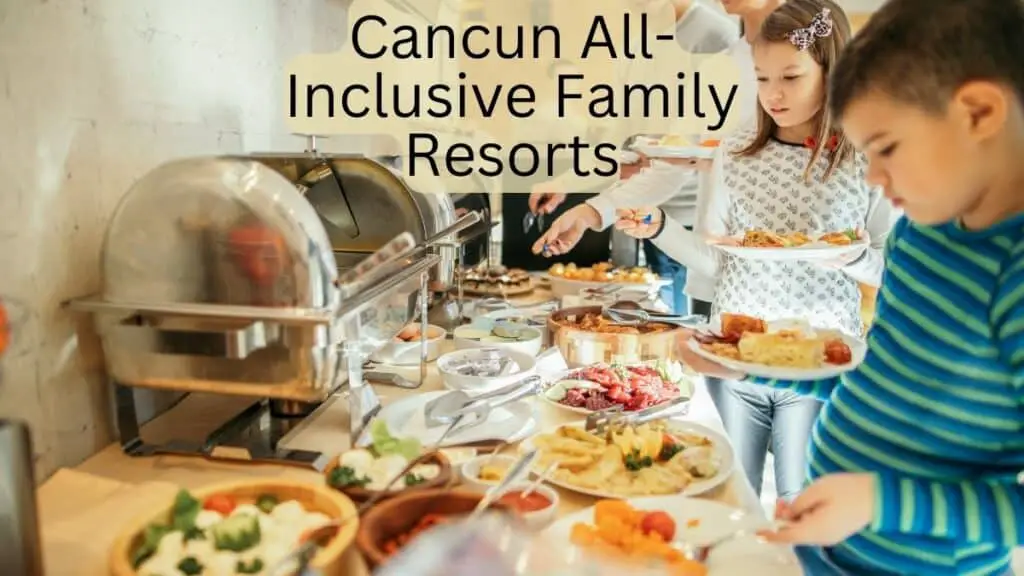 Fiesta Americana Condesa Cancun 
Fiesta Americana Condesa Cancun is the best resort for families since it seamlessly blends the authenticity of tropical vacationing with the comforts and conveniences of a resort.
You'll discover everything you need to keep everyone content and enjoying the time of their life on vacation, including delectable restaurants, a world-class spa, distinctive pools, a fitness center, and play spaces for youngsters.
| | |
| --- | --- |
| Restaurants: 11 | Bars: 2 |
| Pools: 2 | Wi-Fi: Yes |
| Distance to Cancun Downtown: 12.3 mi (19.8 km) | Distance to beach: Beachfront |
| Rooms: 480 rooms and 27 suites | Tripadvisor-review: 4.5/5 |
Rooms
Fiesta Americana Condesa Cancun All Inclusive comes with 27 suites and 480 cozy rooms with views of the Caribbean. It also has brand-new restaurants open 24 hours a day with a wide variety of Mexican and international cuisine. In addition, each accommodation has a minibar, a rainfall shower, and high-quality amenities.
A swimming pool with two pools is available at the Fiesta Americana Condesa Cancun, one of which has an infinity edge that spills over into the second pool.
Restaurants
The resort houses eleven restaurants to accommodate your options. Enjoy options like Asian, Mexican, Italian, and sushi here. You can also find several bars and a poolside smoothie station for your drinks.
If you have young companions, you can share drinks as long as they are of drinking age. To know more, read our article about Cancun Drinking Age.
Below is the list of restaurants and snack bars in the resort:
El Mexicano – Mexican
La Cevichería – Seafood
Pizzería – Pizza
Sushi Corner – Sushi
Trattoria – Italian
Rosato – Italian
Kalmia – International
San Telmo – Argentinian
The Grill – Snacks
K'ambu – International
Cenaduría – Mexican
Activities
The Fiesta Americana Condesa Cancun provides a variety of recreational opportunities. Here, you can take advantage of everyday activities for the entire family and live entertainment every night.
You may relax in the full-service spa with treatment areas and a sauna if you want to indulge. In addition, the children may use the kids' club and the ping-pong table in the gaming area.
Every guest is entitled to complimentary 24-hour room service so that you can order meals or housekeeping anytime. Every visitor will also appreciate the on-site parking and complimentary Wi-Fi.
Contact Info
Address: Blvd. Kukulkán Km 16.5 Zona Hotelera, Cancun 77500 Mexico
Phone Number: +52 443 310 8137
Website: Fiesta Americana Condesa Cancun 
Hard Rock Hotel Cancun
The Hard Rock Cancun is considered the best all-inclusive resort for kids and teenagers, which is not surprising. Parents will nevertheless enjoy themselves there as well.
Music has been known to bring people together for thousands of years, and families are no exception. Being a music lover is optional to enjoy yourself here, though it surely helps.
| | |
| --- | --- |
| Restaurants: 5 | Bars: 5 |
| Pools: 3 | Wi-Fi: Yes |
| Distance to Cancun Downtown: 11.93 mi (19.2 km) | Distance to beach: Beachfront |
| Rooms: 598 | Tripadvisor-review: 4.5/5 |
Rooms
Hard Rock Hotel Cancun houses a whopping 598 rooms, so you have plenty of options even when you book during peak season. 
Here, you can enjoy spacious rooms with complimentary minibars, double jetted tubs, and even flat-screen T.V.s. In addition, each room is furnished with terraces offering ocean or lagoon views.
You can enjoy a massive infinity pool with ocean views and two hopping swim-up bars when you go out.
There is a private beach with cabanas at this mega-resort, and you can borrow a Fender guitar for a day if you choose.
Restaurants
Regarding food and dining, you can enjoy different options from five restaurants and drinks from five bars. You can also enjoy in-room dining if you want to stay in your room.
A great room service menu is available 24/7 at the Hard Rock Hotel Cancun, including breakfast, lunch, and dinner. 
The five restaurants are:
Frida – Mexican Cuisine
Zen – Asian Cuisine
Ciao – International and Italian Cuisine
Toro – Steakhouse
Pizza – Pizzeria
The five bars are:
Smash Bar
Float Pool Bar
Splash Bar
Dive Pool Bar
Healthy Bar
Activities
If you're staying in Cancun as a family, you'll likely prefer staying around since you have everything you need. Luckily, you can enjoy both daytime and nighttime activities. 
For instance, you can enjoy some live entertainment at night and spa treatments during the day. 
You'll also stay connected all the time since you can enjoy the free Wi-Fi all around the place. You'll enjoy the parties in-house or nearby if you want to party.
On the other hand, kids can enjoy playing with some water and indoor activities offered by the resort.
Contact Info
Address: Boulevard Kukulcan Km 14 Zona Hotelera, Cancun 77500 Mexico
Phone Number: +52 800 272 0216
Website: Hard Rock Hotel Cancun
Moon Palace Cancun 
The Moon Palace Cancun makes luxury seem approachable and not scary. But, at the same time, it's a family-friendly resort for everyone. There are many different restaurants, from steakhouses to Asian food and everything in between.
Adults may enjoy clubs and pubs, and children like the wave machine where they can practice surfing. The views from the accommodations might be of a lovely garden, the resort, or the breathtaking oceanfront.
| | |
| --- | --- |
| Restaurants: 16 | Bars: 12 |
| Pools: 19  | Wi-Fi: Yes |
| Distance to Cancun Downtown: 15.22 mi (24.5 km) | Distance to beach: Beachfront |
| Rooms: 1316 | Tripadvisor-review: 4.5/5 |
Rooms
The all-inclusive hotel has 1,316 rooms and suites with free Wi-Fi, smart T.V.s, coffee machines, two-person whirlpool spas, and minibars that are restocked daily. Guests also receive a wine upon arrival.
If you have no idea about all-inclusive accommodation, read What Does Cancun All-Inclusive Mean?
You can unwind at this spot's tranquil beachside setting on the Riviera Maya. Each of the beautiful, modern rooms is furnished with top-notch facilities. For instance, you may use coffeemakers, furnished patios, and two-person whirlpool baths.
You may use several pools, including a sizable one with Flowrider machines, swim-up bars, and waterslides.
Restaurants
This vibrant resort has 12 bars with premium liquor selections and 16 restaurants serving the best in foreign cuisine. Some choices include Mexican, Asian, Italian, buffet, and Mediterranean cuisines. Further, the resort provides complimentary room service and premium liquor if you want a drink.
Mexican and Italian Cuisine:
Gondola
La Trattoria
Riviera Maya
Bugambilias
Los Caporales
Pan-Asian and International Cuisine:
Momo 
Agra
Arrecifes
Palapa Asadero
Pier 8
El Manglar
Palapa Pelicanos
Snacks and Cafes:
Cafe Bistro 
Sweet & Coffee
La Burgueria
Pepe's Pizza
Smoked
The resort also offers 24-hour room service and a signature baby puree menu if you bring kids.
Activities
Regarding activities, Moon Palace Cancun has things to do for every family member. 
There are two kids' play spaces, the first is designed for outdoor leisure with participation, and the rest have a range of games and things to explore.
If your family wants to explore outside the hotel, you can always rent a car for flexibility. Here is the Best Car Rental in Cancun.
If you desire pampering and exercise, you can also benefit from a fully-stocked fitness center, full-service spa, sauna, and steam room.
You may discover various indoor and outdoor activities, including a 27-hole golf course and mini-golf if you wish to play and have some fun.
The resort offers a Dolphinarium section where visitors may swim with dolphins, which is another noteworthy feature.
Contact Info
Address: Cancun – Chetumal Km 340, Riviera Maya, 77500 Cancun, Q.R., Mexico
Phone Number: +52 998 881 6000
Website: Moon Palace Cancun 
Iberostar Cancun
Iberostar Cancun offers another family-friendly option if you're searching for all-inclusive accommodation. Your entire family can enjoy various activities, excellent accommodations, and food options here.
The lovely Iberostar Cancun is at your disposal, and you can either cram as much into a short visit or spend your time and absorb it all in.
| | |
| --- | --- |
| Restaurants: 6 | Bars: 7 |
| Pools: 10 | Wi-Fi: Yes |
| Distance to Cancun Downtown: 13.29 mi (21.4 km) | Distance to beach: Beachfront |
| Rooms: 426 | Tripadvisor-review: 4.5/5 |
Rooms
Iberostar Cancun houses 426 rooms, so you'll find plenty of accommodations. Additionally, it implies that you have choices for lodging regardless of your family's size.
You may take advantage of a beachfront home with breathtaking Caribbean Sea views. It is reachable in 15 minutes from Downtown Cancun, El Rey, and Luxury Avenue.
Also available are intelligent, contemporary guest rooms decorated in a Mexican-Caribbean style. Overall, the rooms are large, light, and contemporary, with fantastic sea views.
Restaurants
Iberostar Selection Cancun meets all of these and any other requirements you may have. In addition, the hotel offers ocean views, fun in the nightclub, relaxation in the pools, and a table permanently reserved at one of its six restaurants.
The restaurants and bars are:
Antiguo Laguito – Mexican and International Cuisine
El Maguey – Mexican Cuisine
Naga Hibachi – Japanese Cuisine
La Horma – French and International Cuisine
La Parrilla – Steakhouse
Las Palmas Lobby Bar – Lobby Bar
Vertigo Sports Bar – Sports Bar
La Perla Swim-up Bar – Poolside Bar
Cohíba Atmosphere – Smoker's Bar
Carey Snack Bar – Snack Bar
Star Cafe – Cafe
Gourmet, Japanese, Mexican, and other foreign cuisines are available in two international buffets and four specialty eateries. At the Steak House, meat lovers will be ecstatic, while the hotel's seven bars provide some of the most incredible places in Cancun to unwind and drink.
Activities
Iberostar Cancun offers some activities that are suitable for families. Consequently, it's a fantastic option that the entire family will love. Here, you may use the full-service, opulent spa with a pool, hot tub, and steam room.
Your children may use the kids' club and a different adolescent club, serving children up to 17. Additionally, you'll like the everywhere free Wi-Fi and the 24-hour room service.
There are several sporting facilities on site, along with an 18-hole golf course and a soccer field, if you wish to play some sports.
Contact Info
Address: 368C+H7, km 17, Blvd. Kukulcan, Zona Hotelera, 77500 Cancún, Q.R., Mexico
Phone Number: +52 800 288 9891
Website: Iberostar Cancun
Paradisus Cancun
The entire family may indulge in 5-star luxury at Paradisus Cancun. Here, you'll find several areas for adults to unwind, play areas for children, and family-friendly activities like swimming in the resort's lovely pools or on the equally stunning beach outside your hotel.
| | |
| --- | --- |
| Restaurants: 9 | Bars: 6 |
| Pools: 4 | Wi-Fi: Yes |
| Distance to Cancun Downtown: 12.55 mi (20.2 km) | Distance to beach: Beachfront |
| Rooms: 525 | Tripadvisor-review: 4.5/5 |
Rooms
Every pyramid of the Paradisus Cancun houses 525 rooms and suites designed to accommodate a particular type of visitor. In Cancun's Hotel Zone, you may enjoy accommodations with a backdrop of the lovely white-sand beach.
There are flat-screen T.V.s, complimentary minibars, and coffeemakers in every room.
Every accommodation has a furnished balcony with views of the ocean or lagoon. You'll also like the family Concierge Suites, which have many kid-friendly extras.
Restaurants
Paradisus Cancun houses nine dining restaurants and six bars, meaning you'll have plenty of options to try during your entire stay at this resort. In addition, each restaurant and bar offers plenty of options from different cuisines for you to try.
The nine restaurants are:
Sal Steak Cave – Exclusively for Adults-Only Guests
Mole – Contemporary Mexican
La Palapa Restaurant – Exclusively for the Reserve Guests
Fuego Restaurant – Burger Boutique and Peruvian "Nikkei" Style
Bana Restaurant – Japanese Fusion
Enso Restaurant – Exclusively for the Reserve Guests
Vento Restaurant – Tapas
Blue Agave Restaurant – Typical Mexican, Colourful and Friendly
The six bars are:
Toji Bar – Asian-Inspired Cocktails
Avenue Bar – Asian-Inspired Bar and Cocktail Bar
Red Bar – Exclusively for Adults-Only Guests
Swim Up Bar – Bar and Cocktail Bar
Coco's Beach Club – Organic Cocktails and Mojitos
Blue Agave Bar – Exclusively for Adults-Only Guests
Activities
There are several family-friendly activities available at Paradisus Cancun. As a result, it's a great choice that the whole family can enjoy. You may enjoy the roomy, freeform pool with a swim-up bar here. The nightclub, theme evenings, and beach parties are all available to adults.
If you feel like being pampered, visit the renowned Yhi Spa, which offers a wide selection of massages. In addition, the on-site nine-hole golf facility and indoor tennis court will thrill sports-loving family members.
Contact Info
Address: Blvd. Kukulcan km 16.5, Zona Hotelera, 77500 Cancún, Q.R., Mexico
Phone Number: +52 305 774 0040
Website: Paradisus Cancun
---
Cancun houses a lot of family-friendly all-inclusive resorts. As such, you will have enough options. However, since it can be overwhelming to choose, the top five options above will be an excellent starting point, as you can't go wrong with these options.
All all-inclusive hotels mentioned above will guarantee access to all facilities, and you can even plan excursions if you want to explore some of Cancun's top tourist attractions. It's up to you to enjoy the most of your Cancun holiday, as the all-inclusive hotels described above are the finest overall.