Cancun is one of Mexico's most popular travel destinations for tourists from around the world. Beautiful sand beaches and oceanfront views draw thousands of people in every year. With so many outdoor activities to partake in, some people might not know if Cancun is a popular fishing destination.
Cancun is indeed a great place to go fishing on your next trip. Whether you prefer to fish from shore or charter a deep-sea fishing experience, Cancun offers a multitude of fishing experiences that can be enjoyed year-round. On top of this, Cancun is famous for its diverse fish population that will satisfy any type of angler.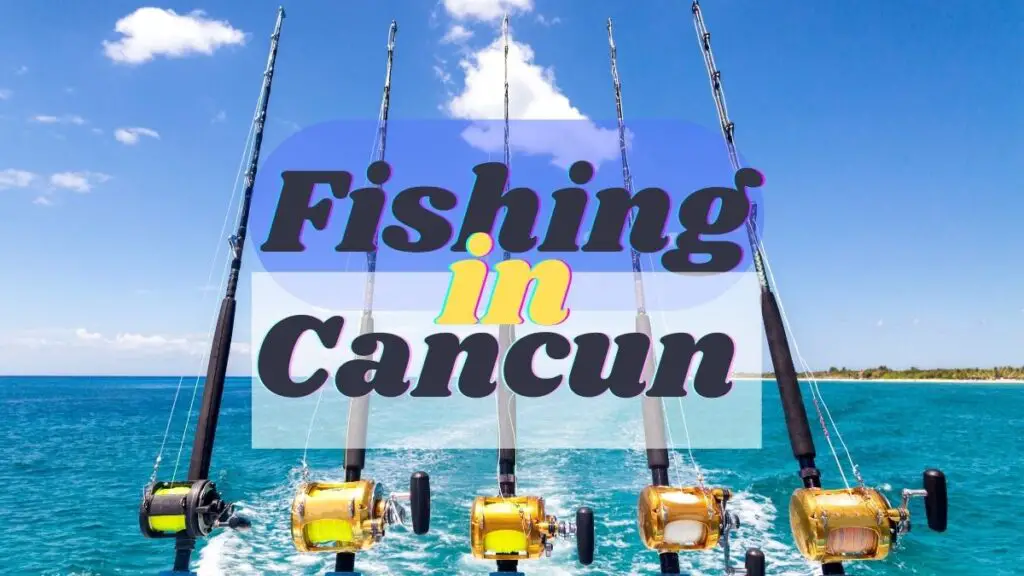 Can You Go Fishing In Cancun?
In Cancun, fishing isn't only easily accessible, and it's exceptional for most of the year. There are plenty of options for those who want to sail out into deep water in search of large billfish and inshore fishing options for those who prefer to stay landlocked.
Fishing tourism booms from the spring through the fall, but this is mainly because this time of year produces the most trophy-sized fish. Winter fishing in Cancun provides plenty of large and delicious fish species that every angler would be proud to catch.
Want to go all-in? Why not rent your own Yacht? Check out this article: Renting a Yacht in Cancún – What You Need to Know.
Can You Fish On The Beach In Cancun?
Fishing from shore is a great option because it is so easily accessible. All you need is a rod and bait, and you are ready to head down to the beach to start casting. Another upside to surf fishing is that you do not need to purchase a fishing license, just gear up and go!
The most popular places to inshore fish include Isla Mujeres and Isla Blanca, although the beaches that lie just outside most of the hotels are also fishing hot spots.
Even though Cancun is known for its diverse fish populations offshore, there are plenty of fun species to catch inshore, including:
These fish are not only fun to catch, but netting all three of these species is known as an inshore grand slam by locals!
Other Types Of Fishing In Cancun
Cancun offers many different types of fishing outside of surf fishing from the beach, including deep-sea fishing and flies fishing.
Deep-Sea Fishing In Cancun
Cancun is most famous for its deep-sea fishing, which allows anglers to take in the sights of the open ocean and fish for larger species of fish. Some of the trophy fish that live offshore include:
Swordfish
Sailfish
Blue Marlin
White Marlin
Mahi Mahi
Grouper
Snapper
King Mackeral
These large fish will surely give anyone a run for their money! Catching a swordfish, sailfish, blue marlin, and white marlin will earn you a billfish grand slam.
Chartering a deep-sea fishing experience in Cancun will prove to be more expensive than inshore and fly fishing excursions. Still, it offers the opportunity to catch the largest species of fish in the region. Be sure to book your charter in advance, especially during the busy season from March until November.
Fly Fishing In Cancun
Cancun offers an unrivaled opportunity for saltwater fly fishing that you will remember for the rest of your life. The most popular area with the largest fish population is undoubtedly Isla Blanca. Expect to catch:
Snook
Bonefish
Tarpon
Permit
Catching these four species will earn you a fly fishing grand slam!
Do You Need A License To Fish In Cancun?
Unlike in the United States, you will only need a fishing license to fish from a boat. Fishing from shore doesn't require a license, which makes surf fishing so popular.
How To Obtain A Fishing License
If you decide to book a charter to fish offshore, you must obtain a fishing license before heading out to sea. Most, but not all, charters will include this cost when you book them, so make sure you have this figured out beforehand.
If you have to purchase a fishing license on your own, no problem! You can find all the details on the Government Of Mexico's website.
Cancun Fishing Seasons
Some fish species can only be caught seasonally, but Cancun is one of the few places in the world that supports enough different types of fish to satisfy your urge to angle any time of the year.  
Best Fish To Catch In The Spring
March, April, and May are the best months for catching:
Sailfish
Wahoo
Bonito
White Marlin
Spanish Mackeral
Bonefish
Mahi Mahi
Permit
Blackfin Tuna
It should be noted that March marks the beginning of the busy season for fishing in Cancun. If you consider booking a charter, make sure you do it well in advance.
Best Fish To Catch In The Summer
June, July, and August are the best times to travel to Cancun for:
Bonefish
Bonito
Mahi Mahi
King Mackeral
Blue Marlin
White Marlin
Permit
Sailfish
Tarpon
Blackfin Tuna
Wahoo
It's not hard to see why Cancun is such a popular summer fishing destination!
Best Fish To Catch In The Fall
September, October, and November are the best months to fish for:
Bonito
King Mackeral
Tarpon
Barracuda
Snapper
Amberjack
Snook
November marks the end of the busy season for fishing in Cancun, the winter months are still great for fishing, but the most sought-after trophy species are less abundant.
Best Fish To Catch In The Winter
Not only is Cancun great for escaping the cold and snow of winter, but it is also great for catching these fish in November, Desember, January and February:
Amberjack
Barracuda
King Mackeral
Snapper
Snook
Wahoo
Winter in Cancun is much slower for fishing charters and tourism because of the lack of trophy billfish in the surrounding waters, but as you can see, there are still plenty of species that are well worth the trip to Mexico.
Check out this article: Can You Drive to Cancún From the United States?
Conclusion
It's not hard to see why Cancun is considered a premier saltwater fishing destination by people from all over the globe. It offers different fishing options that everyone is sure to love, not to mention an extremely diverse range of prized fish species.
Whether you want to sail out into the depths to hook a marlin that weighs more than you, or you would prefer to sit in the sand and catch your limit of delicious permits and pompano, Cancun has exactly what you are looking for on your next fishing excursion.
Here is a list of other things to do in Cancun: What to do in Cancun.