Cancun is a beautiful tourist destination on the tip of Mexico and the clear waters of the Gulf. Cuba is a historic and charming country with a vintage flair, just a short distance to the east. Could Cuba be the perfect day trip during my Cancun vacation? Can I travel to Cuba from Cancun?
Traveling from Cancun to Cuba for a day trip or part of a longer vacation is possible, but travel options between the two are limited. Planning is helpful but not necessary. Trips to Cuba from Cancun can be booked last minute with the required documentation.
Below we explore how to mix a bit of vintage Cuban flair into our next Mexican resort vacation as we learn the best way to travel from Cancun to Cuba.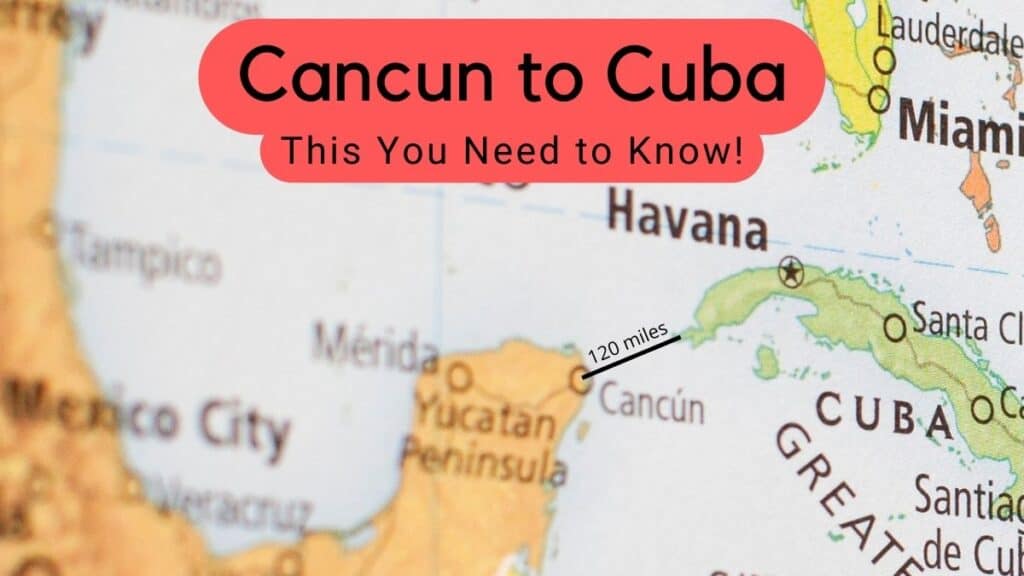 How far is Cuba from Cancun?
The distance between Cancun and Cuba can be measured in a few different ways. From shore to shore at the closest point, the distance from Cancun to Cuba would be just over around 120 miles. This is longer than Cuba's 90-mile proximity to the island of Key West in Florida.
By boat, the distance will increase to 250 miles and almost 10 hours in travel time. The mileage from Cancun to Havana is measured as 585 miles. Despite the increase in distance, the travel time is shorter, taking only one hour and twenty minutes. Flying is the only current travel option.
Can you see Cuba from Cancun?
There is an old saying that on a clear night, you can see the flickering lights of Cuba from the beaches of Cancun. This may sound beautiful, but it just isn't true. The two may be a close distance together in millage, and it is much too far for the human eye to see lights across the Gulf.
A few issues prevent someone in Cancun from seeing the lights of Cuba. The curve of the Earth plays a big role in how far a human eye can see. Even from the tallest building in Cancun, it would not be enough for our eyes to spot Cuba in the distance.
Ferry Boats from Cancun to Cuba
Traveling to Cuba from Cancun by boat seems like it should be a short, easy trip. The truth is there are no currently available ferries traveling to Cuba from Cancun. The distance between the two coasts is too great for most boats to complete the ten-hour trip on one tank of fuel.
Cruises and day trips from Cancun to Cuba were available at one time. Cancun Plus offered a day trip to Ocho Rios, Cuba, but currently, it's temporarily out of service. There are available cruise lines that stop in both Mexico and Cuba, but these are part of a larger itinerary package.
Related article: Renting a Yacht in Cancún – What You Need to Know
Flying from Cancun to Cuba
Flying is the only current travel option available from Cancun to Cuba. With a short travel time of one hour and thirty minutes and round-trip flights to Havana, Varadero, and Holguin, Cancun has become a hotspot for travel into Cuba. Trips can be planned in advance or at the airport.
Airlines such as Copa Airlines, Avianca, VivaAerobus, and American Airlines offer round-trip daily flights between Cancun and Havana. Flight prices can range from a few hundred to over a thousand. Check with Skyscanner for the latest prices and flight availability.
What to know about the flight
Most flights from Cancun are to Jose Marti International in Havana. It is possible to fly into Frank Pais in Holguin or Juan Gualberto in Varadero when traveling to Cuba. You will need a passport with at least two blank pages that will be valid for 6 months past your travel date to enter Cuba.
You will also need a Cuba Visa before traveling. Cuba visas are relatively inexpensive when traveling from Cancun and easily attainable online here or at the airport before you travel. To obtain the visa at the airport, you will need a passport, health insurance, and your travel tickets.
Can Americans travel to Cuba from Cancun?
There are no restrictions to prevent Americans from traveling to Cuba from Cancun. Some Americans have found it cost-effective to travel to Mexico before traveling to Cuba. Charges for tourist visas in Cancun can be significantly less for Americans than if purchased in the US.
Americans traveling to Cuba are still required to possess their passport, travel visa, and fall under one of the 12 categories required to travel.
Related article: Can You Drive to Cancún From the United States?
Air Travel and COVID-19
Some airlines may have certain policies in place due to the COVID-19 virus. It is important to check with the airlines to get the latest updates on travel restrictions at airports, on airplanes, and at your final destination due to COVID-19 restrictions.
Airlines also may offer flexibility with cancellations due to the COVID-19 virus. Check online while booking your tickets or contact the airline directly to find out their policies on ticket cancellations and travel plan changes due to COVID-19 infections or outbreaks.
Swimming from Cancun to Cuba
With what seems to be such a short distance between the two destinations, it is not probable for the average tourist to swim in the shark-infested waters to visit Cuba. The feat, however, has already been accomplished.
Read more about the sharks here: Does Cancun Have Sharks?
Susie Maroney is an Australian swimmer and contestant on the 6th season of Survivor. She managed to swim the 122-mile distance on June 1, 1998, in just under 39 hours without flippers.
Conclusion
Traveling to Cuba from Cancun, as a one-day trip or for a longer vacation is only possible with air travel. There are no ferries currently operating between the two destinations. The short flight time and multiple destinations in Cuba would still make flying the most practical option.
Flight prices can vary, making booking your trip in advance helpful but unnecessary. With a valid passport and insurance, you can book the trip and obtain the required permit at the airport on the way to your destination in Cuba. Happy Travels!