Barcelona is among the destinations you'll consider suitable for every type of traveler. Here, you can find all types of activities, and the attractions are enjoyable. As such, it's an excellent destination for family trips, couple trips, and even solo. So, if you plan to discover Barcelona as a solo traveler, this article is for you.
Here, we'll cover everything you need about Barcelona for solo travelers. This way, you can enjoy expert tips while touring the city for a unique and extraordinary adventure. After reading, you'll have a general overview of the city and know what to do upon arrival.
Without further ado, let's get into it!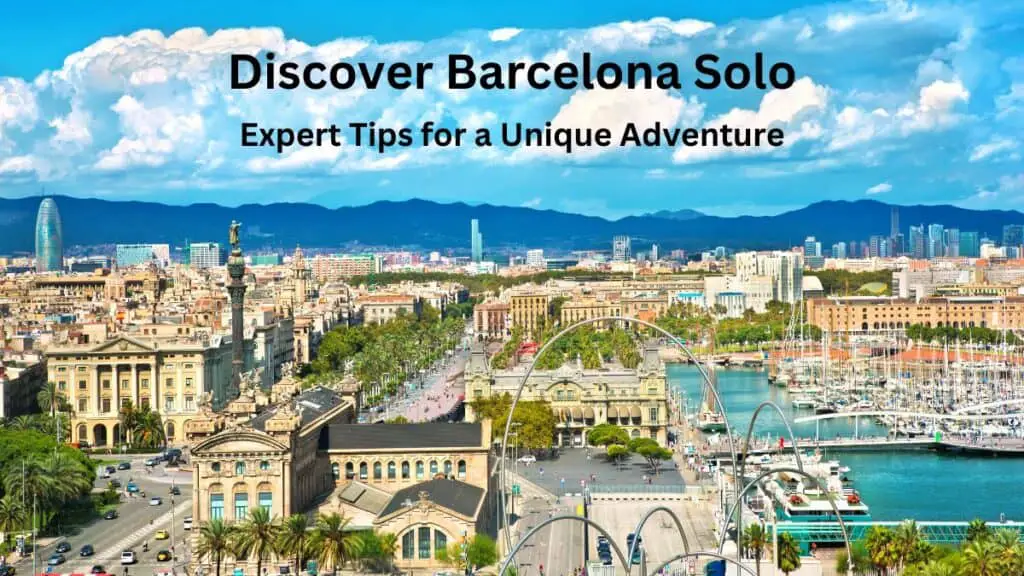 Accommodation for Solo Travelers
As a tourist destination, Barcelona houses all types of accommodation, and you can find plenty of options for solo travelers.
Now, accommodation is one of the first to settle when traveling solo. After all, you'll first want a safe space to rest and head back whenever you're in the city.
When picking an accommodation, you'll want it as close to the main reasons and attractions that made you want to visit this city.
As such, it's best to set your preferences upon a specific location and filter out the hotels or lodging options you can find nearby. 
Also, when traveling solo, you'll find many places in the city that host other solo travelers, which will be the best for you.
It is also a good idea to stay close to public transportation. By doing so, you will have a more accessible and safer time getting around the city. 
If you love the beach, book an apartment near Barceloneta Beach. If you want to check out Barcelona's experimental contemporary art scene, head to the Poblenou district. There is also an abundance of nutritious food in Sant Antoni, the neighborhood popular with food lovers.
If you want to know some of the best options, you can check out the following hostels:
Kabul Party Hostel – for solo travelers who like to party
Mediterranean Youth Hostel – for solo travelers who want to meet other solo travelers 
Unite Hostel – for solo travelers who want the best location
St. Christopher's Barcelona – for solo travelers on a budget
Generator Barcelona – for solo travelers working remotely
Socializing & Meeting Locals
Socialization and meeting with locals are part of the fun when traveling solo. As such, when you plan a solo trip to Barcelona, you can enjoy socializing and enjoying local culture in the city. 
Learning about Catalan life is essential to preparing for your trip. For solo travelers, getting to know local customs is a great way to make connections. 
The Spaniards, for example, do not dine out before 9 PM. A city's holidays, usually dedicated to one of its patron saints, are also helpful. 
Many public facilities and stores in Barcelona will be closed on unexpected days. A Spanish holiday, such as Sant Jordi's Day or Sant Joan's Festival, is surrounded by tradition. These events are a must-see on any travel bucket list.
Safe Solo Exploration Tips
When traveling solo, safety is always a priority. After all, no one will be there to look out for you, and you won't have anyone to trust entirely. As such, it's always best to follow some safety tips to enjoy your stay in Barcelona while avoiding potential risks and dangers.
In general, Barcelona is a relatively safe destination for solo travelers. However, you can still be reckless and ignorant of obvious safety procedures.
For instance, Barcelona is notorious for pickpockets, so you must always stay on guard and secure your valuables. If you want to know more, read: Beat Barcelona's Pickpockets: A Traveler's Guide.
Here are other safe solo exploration tips to consider:
Having a map before you venture into the streets is essential. This way, you can walk with confidence and avoid catching the eyes of scammers who will think you're unfamiliar with the city. 
Be sure to spread out your funds as much as possible. Make sure to bring two credit or debit cards. Further, you can take them to different places and have a backup if you lose one. It's also best to ensure you only have small cash in your pockets, so it's not much of a loss when someone steals it.
Top Solo-Friendly Attractions
The thing about attractions in Barcelona is that they are all meant for every traveler to witness. As such, you'll find the attractions in the city as a must-visit, even if you're traveling solo.
Barcelona is a fantastic city to explore on your own. The best way to explore the city is with an expert in contemporary art. In addition to all the information these tours will provide, you will also meet other travelers. 
You'll also find tours offering tip-based cycling and walking tours. You can learn about various topics from their energetic guides. 
Barcelona's sightseeing tour bus will take you to most of its highlights with hop-on-hop-off stops. There are three different lines, each named after a color. Choose red, blue, or both to get the most out of it.
Now, if you want to explore on your own, you can find unique attractions in the city that you need to see.
Budget-Friendly Solo Adventures
Solo travel is one of the most budget-friendly things to do, which is why solo traveling is a trend. Now, if you're planning a trip to Barcelona, here are some solo adventures you can enjoy:
Wander the streets of Barcelona alone.
Barcelona is a small city, and you can find most attractions within walking distance from each other. As such, you can always wander the streets on your own. 
If you have comfortable walking shoes, a map, and some small cash for food, drinks, and public transport, you can enjoy the best of Barcelona.
Explore Roman Barcelona
The Romans founded Barcelona as Barcino, which many people don't know. Today, relics of the city's millennia-old past can be found around nearly every corner of the former Roman citadel that occupied its Gothic quarter. As such, you can enjoy Roman Barcelona alone.
Have some tapas
Ordering enough food for travelers searching to eat tapas alone in the city is challenging because this specialty is meant to be shared with friends and family. However, you can enjoy some when you join a walking food tour.
Appreciate the works of Gaudi.
Antoni Gaudi is regarded as one of the most famous residents of Barcelona, with many iconic attractions he built. As such, most of what you'll visit is a creation of this man, and you'll appreciate the city more if you're familiar with Gaudi.
Enjoy some underrated gems.
It is no secret that Barcelona has many undiscovered destinations worth exploring outside of the tourist crowds.
You'll soon be branded a visitor when you visit the city's top attractions, but finding the hidden spots will let you experience the city from a local's perspective. 
For instance, it's worth visiting these attractions:
Sepucral Romana's Outdoor Roman Tombs
Gothic Quarter's Medieval Synagogue
Palau Macaya
Chill at local cafes.
Barcelona's many cafes and coffee shops can provide a quiet respite from the busy streets of the Catalan capital if you're looking for a quiet place.
You'll find everything from cool spots to Instagram-worthy interiors and gourmet coffee joints. But, of course, solo travelers will find a lot of cafes in the city and fall in love with most of them.
Enjoy some food and drinks.
La Boqueria is a covered food hall that is famous throughout Europe. The market offers various stalls and shops, including locally sourced dried fruits, nuts, and meats. As such, it's a must-visit for solo travelers.
Explore the Ciutadella Park
The Ciutadella Park is the most famous in Barcelona, and it's a must-visit for its Gaudi-designed fountain, zigzagging pathways, and secret chapel.
Visitors are free to explore it, and it even offers a rowboat rental on the lake and benches for picnics. In addition, an impressive late-19th-century brick monument can be found nearby, the Arc de Triomf.
Solo Dining in Barcelona
Solo travelers will find Barcelona a haven of food and local cuisine. As such, dining in the city is as exciting as exploring attractions. 
Whether you want to sit at the bar or the main table in a restaurant in Barcelona, you can do so. The thing about this city is that it offers Mediterranean dishes with a refreshing twist of Catalan cuisine. 
If you want to dine like a local, you'll need to know more about the locals. For Catalans, eating is a social activity. Therefore, lunch, served in two or three courses around 2 PM, is the day's most important meal. 
Also, it's worth noting that Barcelona is about more than just paellas, tapas, and sangrias. There's more to the city that you can explore. 
If you want to know more about local cuisine, the best place to start is the Born district. You can enjoy El Diset, which houses the best bars and restaurants here.
Conclusion
A solo trip to Barcelona is pretty exciting, and you'll surely appreciate the best of the city even on your own. But, of course, you'll need to ensure your safety, and you have to be extra careful and responsible since you're on your own. Nonetheless, if you adhere to safety tips and stay well-informed, you can enjoy the city's best things.