If you plan on traveling to Cancun, one of the things you'll need to prepare is the requirements. After all, no one wants their vacation ruined or postponed simply because of forgetting a travel requirement. Thus, you may wonder what travel documents you need to visit the city. For instance, do you need a passport to go to Cancun?
If you're coming from anywhere outside Mexico, you need a passport to go to Cancun. Some travel methods may not require a passport, but it's best to bring yours in case of an emergency. Now, if you're a Mexican or coming from anywhere in Mexico, you don't need a passport.
A vacation to Cancun is pretty exciting, and it's one of the things you'll look forward to with all the things the city has to offer. Thus, the last thing you'll want is for your travel to get postponed, delayed, or ruined because you lack travel documents or requirements. For this reason, we wrote this article for you.
Here, you'll read through our in-depth guide regarding the travel documents or requirements when going to Cancun. This way, you'll know what to bring besides a passport from anywhere outside Mexico.
Without further ado, let's get into it!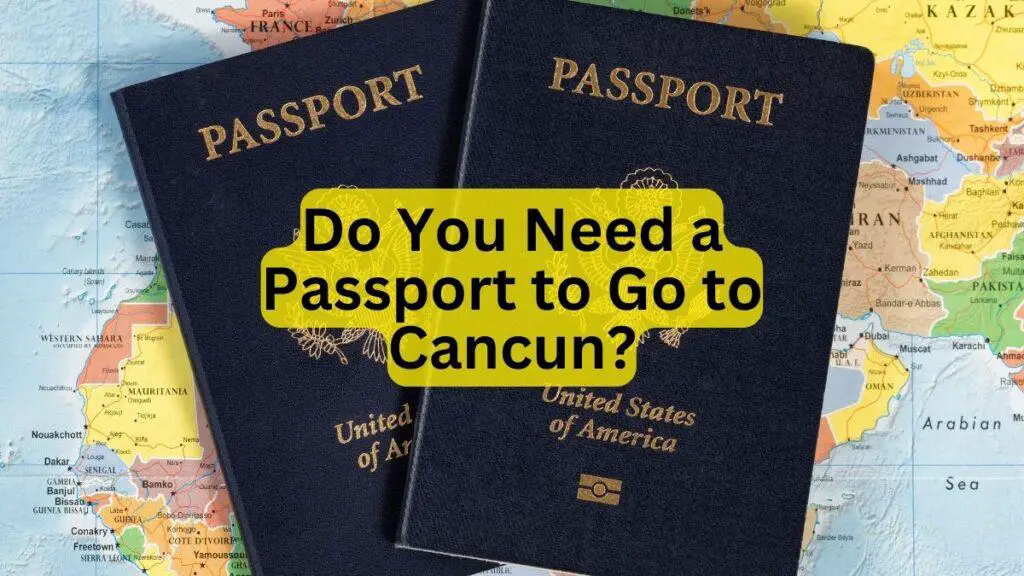 Do You Need a Passport When Traveling to Cancun by Air?
You will need a passport if you fly to Cancun from outside of Mexico. It lies at the very end of Mexico. Though the road distance appears near on the map, it is pretty far. You might not enjoy traveling to Cancun by land if you don't love adventure. 
Flying to Cancun is the fastest and most ideal way to get there. However, it is always a requirement to have a passport to fly inside and outside of Mexico. As such, it's always best to have your passport with you whenever you fly to this city. 
Requirements for Air Travel to Cancun
Generally, you'll need a passport book rather than a passport card since it isn't valid for international travel. It would be best to have a valid passport book during your stay.
All travelers must also fill out an FMM. It applies to both adults and children. Ensure your FMM is secure, and keep it since you'll need to retrieve it when you depart.
The airport will provide you with forms for your flight before departure, but you can also complete and print them online before departure. Thus, if you want to save the hassle of filling out forms on your way, it's best to do it beforehand.
Do You Need a Passport When Traveling to Cancun by Land?
If you don't prefer flying to Cancun, driving by car is an alternative way to reach this city. Now, if you're driving, you may wonder if a passport is still necessary.
To travel by car, you will need valid travel documents. Although passports issued in passport booklets are essential for Cancun, it isn't mandatory. It is acceptable to use passport cards.
This type of passport is an excellent way for budget travelers. Passport cards are much smaller than booklets and are accepted in places like nearby countries. Registration forms (FMM) and everyone else should still be carried with you.
If you are concerned about safety issues when driving in this city, read Is It Safe to Drive in Cancun?
Requirements for Land Travel to Cancun
You will need a valid driving license if you visit Cancun by land. Furthermore, your vehicle must have a valid registration and insurance. 
Import licenses are required for American-registered vehicles traveling over 20 kilometers from the border. 
Temporary import permits require a security deposit refunded upon leaving the country and can be applied online. Please acquire this requirement to avoid the seizure of your vehicle.
If you choose to drive, driving to this Mexican city will take considerable time. However, stopping for food and gas along the way may take longer. 
Driving more than two thousand miles from El Paso takes around forty hours. It takes more than thirty hours to drive fifteen hundred miles from Laredo. 
A car rental in Mexico City is your quickest road travel. If you want to know more, check out our article about the Best Car Rental in Cancun.
It takes about 30 hours to drive to Cancun from Mexico City by highway. To reach Mexico City, you'll still need your entry card.
When renting a car in Mexico, you'll still need some documents. A passport or other form of identification is required as a first step. A valid driver's license is also required. 
You must provide proof that your vehicle is insured. For payments, you need a credit card. A minimum age of 21 is also required to rent a car.
Do You Need a Passport When Traveling to Cancun by Sea?
Another way to travel to this city is by sea on a cruise. If you're planning to travel through this transportation method, you may wonder if a passport is still necessary.
The requirement is conditional, but most travelers won't need a passport. A cruise is the best way to get to Cancun by sea. The cruise even handles your FMM for you. 
Getting to Cancun on a cruise ship is the only mode of transportation that doesn't require a passport. However, it only applies to closed-loop cruises. 
In a closed-loop cruise, the ship leaves and sails back to its home port in the U.S. without stopping to visit ports that don't belong to the WHTI.
There are a few warnings to keep in mind if you take advantage of this opportunity. For instance, something may go wrong, and you must fly back home. Passports are required to board a flight in this case.
For safety reasons, it's always best to carry passports with you, even with a closed-loop cruise to Cancun.
Requirements for Sea Travel to Cancun
Let's say you decided to try closed-loop cruises. But, first, you'll likely need a photo ID (like a driving license) and citizenship proof (like a birth certificate). 
For closed-loop cruises, you may need an identification card. As such, it's best to ask the cruise line of your choice to ensure you complete the required documents.
Furthermore, when traveling by cruise to Cancun, travelers will not be required to carry a passport but any proof of identification. Additionally, you will need the FMM, which you can obtain at the port. Finally, to reach Mexico via the sea, you must have a Mexican Embassy boating permit. 
At the pier, the harbormaster examines the boat permit. The government will impose penalties on those without permits. Also, private boats may be pulled over by Mexican Coast Guards. Thus, it's always best to prepare your identification.
By sea, Miami is five hundred miles from Cancun. The motorboat will take two days to reach its destination under ideal conditions. However, it may take up to a week to prepare a sailboat.
If you want more information about sea travel to this city, read Can You Take a Boat from Florida to Cancun?
Conclusion
If a passport is necessary when visiting Cancun, it is when you're from outside of Mexico. The answer depends on how you travel, but you will often need a passport when visiting Cancun. 
You will need passport booklets if you plan to travel by plane. Likewise, you need a driver's license if you drive to Cancun by road. When traveling by sea on a closed-loop cruise, a passport is not required, but it's best to bring yours anyway.