Tenerife is one of the most-visited places among the Canary Islands, and one of the reasons for this popularity is its vast size. The size of this island is quite significant in comparison to the others. But most people are unaware of the actual size of this beautiful piece of heaven on earth.
If you have also been wondering how big Tenerife is compared to other places and vacation spots in the world, you have come to the right place. This is what we are going to discuss today.
Tenerife is the largest of the Canary Islands, with an area of around 2,034 sq. kilometers (785.5 sq mi). It is surrounded by the Atlantic Ocean and has tons of tourist attractions that bring millions of people to the island every year.
But that is not all you need to know about the size of Tenerife Island. In this article, I will talk about all the details of the entire length of Tenerife and compare it to other famous places and areas around the world. So, without wasting any time, let us get to it.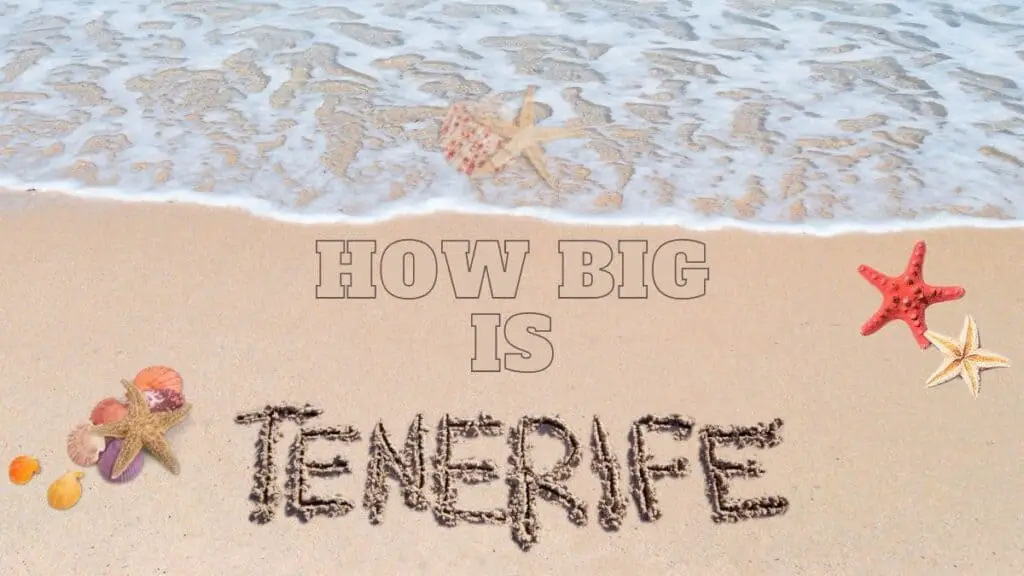 How Big is Tenerife?
Tenerife is the capital of the Canary Islands and is the largest of all the Canary Islands. The area of this island is 2,034 square kilometers (785.5 sq mi). Therefore, this island is the center of attention of all the tourism in the Canary Islands.
As a tourist, you can see beautiful views of mountains, white-sand beaches, luscious greens, outstanding parks, grand architecture, and modern shopping malls as well here.
Tenerife is quite a big Island. It is much bigger than even Fuerteventura, which is also considered one of the cluster's more significant islands. So, you are going to have to spend quite a while exploring the entirety of this island.
Check out this article: Which Canary Island Is the Hottest?
How Long Will it Take to Drive Around Tenerife?
So, how long exactly would it take for my family and me to travel around the Island of Tenerife if we get on a rental and think of sight-seeing the natural beauty?
That is a pretty great idea and a decent question as well. Well, if you do get your hands on a rental and take your family and friends out on an Island-wide trip, you are going to be able to travel around Tenerife in 4 or so hours without taking stops.
The island has a road perimeter of 360 kilometers, and if you are taking stops it will add up to around two or so hours, so it would be a great decision to explore the island thoroughly.
How Big is Tenerife Compared to the UK?
The United Kingdom consists of a cluster of countries, including England, Scotland, Wales, and Northern Island. So it is quite a large area if we talk about geography.
This is a very well-known fact among tourists. If we compare Tenerife to the entire United Kingdom, there is no comparison at all. Tenerife might be significant as a singular Island, but in contrast to the UK, the size of Tenerife is relatively tiny.
How Big is Tenerife Compared to England?
England resides right within the United Kingdom bounds. A lot of people tend to ask, how big is Tenerife compared to England? Well, to the country, the size of Tenerife is not quite comparable.
But if you are talking about the central business hub of England, Tenerife is actually than it. We are talking about London here. London is smaller than the Island of Tenerife. It is said to be approximately 0.77 times the size of Tenerife. This makes the Island of Tenerife relatively more significant in comparison to London. However, the entirety of England is still too big for a direct comparison.
How Big is Tenerife compared to Ireland?
Ireland is another country around the United Kingdom, with a part of it being inside. So how big is Tenerife compared to Ireland? You might be wondering right now.
Well, Tenerife is not quite as extensive in comparison to Ireland as you would expect. But, Ireland is a country with quite a large geographical area. So, if we compare Tenerife to Ireland, we might see Tenerife fall over some counties within the Ireland region. But, it is no bigger than that. So, do not expect Tenerife to be the same size or more significant than the entire country of Ireland. It is not that big in reality.
Is Tenerife Bigger than Madeira?
Madeira is the main island in the Madeira Archipelago – an autonomous region of Portugal. It is located off the African coast and is volcanic landscapes, trails, luscious greenery, and unique tourist destinations.
In many ways, Tenerife is quite similar to Madeira. But is Tenerife bigger than Madeira? Tenerife has an area of 2,034 sq. kilometers, whereas Madeira has an area of around 801 sq. kilometers which means that Tenerife is actually 2.5 times bigger than Madeira in size comparison. There is a difference of over 1,200 sq. kilometers between the Islands of Spain and Portugal, but they are both fantastic.
Is Tenerife Bigger than Mallorca (Majorca)?
Mallorca (Majorca) is one of the main Islands in the Balearic Islands region of Spain situated in the Mediterranean. It is quite a large-sized Island, filled with luscious beaches, beautiful limestone cliffs, ancient remains, and fantastic tourist destinations almost everywhere.
This must be making you wonder, is Tenerife Bigger than Mallorca (Majorca)? Tenerife is not as big as Mallorca. Majorca/Mallorca Island has an area of around 3,000 sq. kilometers. This makes Tenerife 1.7 times smaller than Mallorca in size comparison. Although it might be smaller, you can have a great time there because of the fantastic amenities and tourist attractions.
Read more about the size of Mallorca here: How Big is Mallorca?
Is Crete Bigger than Tenerife?
Crete is the largest of the Greek Islands. It is also the most populous. In the Mediterranean Sea, it is the 5th largest island whereas, in the world, it is the 88th largest. It is one of the most beautiful travel destinations in the world.
If we compare the size of Crete with that of Tenerife, we will see that it is much more significant than Tenerife in terms of area. It has an area of around 8,336 sq. kilometers. This makes it around four times as large as Tenerife, which is quite a fascinating fact.
U.S. Places Similar in Size to Tenerife
Many states, cities, counties, and places in the US are actually around the size of Tenerife, so it helps in scaling the island if you are a resident of the US thinking of visiting Tenerife in your next vacation.
Let us compare the size of Tenerife to some of the familiar places in the US.
Rhode Island
Rhode Island is a state in the United States of America known for having many coastal towns and beaches. It has an area of 3,144 sq. kilometers which is quite large. In comparison to Tenerife's site, Rhode Island is much more prominent. If we talk about how much bigger Rhode Island is, it is 1.54 times as big as the Island of Tenerife.
Sequoia National Park
Sequoia National Park is one of the many national parks in the US. It is located in the Sierra Nevada region of California and is known for many Sequoia trees planted there. This Park is 1,635 sq. kilometers in terms of area. Therefore, if we compare its size to Tenerife, it is slightly smaller, approximately 0.85 times smaller than the Island of Tenerife.
Orange County
Orange County, California, is a county in the US known for the Disneyland Resort, restaurants, shops, tourist attractions, and tons of fantastic surf beaches. The area of this County is 2,455 sq. kilometers. Comparing Tenerife's size to Orange County, Tenerife is slightly smaller in size. However, orange County is around 1.21 times bigger than the island that is the capital of the Canaries.
Want to go surfing? Check out this article: Canary Islands Surfing – The Best Places
Jacksonville
Jacksonville, Florida, is the largest city by area in the contiguous United States and the most populous city in the Florida region. It is quite a beautiful city with a lot of attractions. The location of Jacksonville is around 2,265 sq. kilometers. Tenerife is just a little bit smaller than Jacksonville in terms of size.
Yosemite National Park
Yosemite National Park is another vast US national park in the Sierra Nevada cluster. It is known for the fantastic mountains, hiking trails, luscious greenery, and tourist attractions. The area of Yosemite is 3,027 sq. kilometers. So if we talk about comparing the size of Yosemite National Park with Tenerife, it is bigger than Tenerife by quite a margin. The real difference in Yosemite is around 1.49 times bigger than the Island of Tenerife.
Conclusion
Tenerife is a large island with tons of cliffs, beaches, attractions, restaurants, and resorts that you will want to visit to immerse yourself in the beauty of the Canaries truly. So, make sure you visit Tenerife when you head for a vacation to the Canary Islands with your friends and family next time. I hope you learned a lot from this article and that you will have a great holiday there!