Mallorca is the largest of the Balearic Islands, with a total surface area of 3640 sq. kilometers which is quite huge compared to other Islands in the Balearic cluster.
From west to east, Mallorca is 100 kilometers wide, and in terms of length, it is around 75 kilometers from north to south. Therefore, it is one of the most beautiful tourist destinations in the Balearic.
Geographically, Mallorca is located at a latitude of 39.710358 and a longitude of 2.995148, around 150 miles east of Valencia, and from Barcelona, Spain, it is approximately 130 miles south.
Mallorca, with its capital Palma de Mallorca, is in the western mediterranean sea and is one of the most famous archipelagos in the Balearic Islands; you will have a great time visiting there.
You might be wondering how big Mallorca is compared to the other Balearic Islands and places in Europe. 
That is precisely what I am here to tell you in this article. I will compare the size and span of Mallorca with that of Menorca, Ibiza, the Canary Islands, and even the UK.
So, without wasting any further time, let us get started.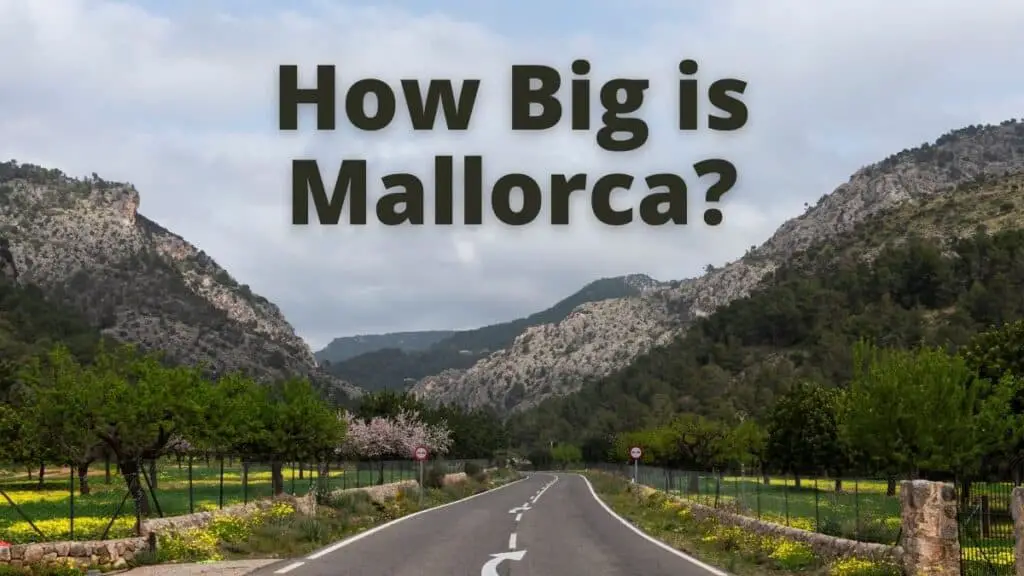 Which is Bigger Mallorca or Menorca?
Mallorca is significantly bigger than Menorca in terms of both area and size. Menorca is another one of the many Balearic Islands, and the location of this Island is just around 695 sq. kilometers.
Compared to Menorca, Mallorca is around 4.5 times bigger, which is incredible. However, when it comes to views, stunning mountains and mountainous regions, greenery, and crystal-clear waters, both these Islands are a treat to watch.
So, if you are ever in the Balearic Islands, make sure you take time to check out and visit both Islands and experience the fantastic tourist attractions they offer visitors.
Read about the size of Menorca here: How Big is Menorca?
Is Mallorca Bigger than Ibiza?
Mallorca is roundabout six times bigger than Ibiza. Ibiza is one of the smallest Islands in the cluster of the Balearic. Still, it is nonetheless one of the most popular, tourist-friendly, enjoyable, and party-having Islands where many celebrities go for events and occasions to interact with locals and tourists.
Ibiza has an area of roughly 572 sq. kilometers which is very small compared to the 3640 sq. kilometers of Mallorca. However, these Islands are located near each other and are both beautiful works of nature's art. There is a lot to explore, and it will be amazing.
So, visiting them would be the best thing to do on your trip to the Balearic Islands in Spain. 
Want to know in detail about the size of Ibiza? Check this out: How Big is Ibiza?
Which is Bigger Tenerife or Mallorca?
Mallorca is relatively friendly, beautiful, and larger in size and area than Tenerife. Tenerife is the largest of the Islands in the Canaries. However, it still has a total area of around 2,034 sq. kilometers, which is more than a thousand sq. kilometers less than Mallorca's area.
Read more about the size of Tenerife here: How Big is Tenerife?
The interesting bit is that Tenerife has a slightly larger population than Mallorca, so in terms of the overall population, Tenerife is more densely populated than the larger Mallorca.
Both the Canary and Balearic Islands are at the forefront of tourism in Spain, and visiting them would be a great decision on your part. You are going to love spending time with your family and friends there.
Which is Bigger Mallorca or Gran Canaria?
Mallorca is more than twice the size of Gran Canaria since the general area of Gran Canaria Island is around 1,560 sq. kilometers while the area of Mallorca is 3,640 sq. kilometers.
Gran Canaria isn't even the largest island in the Canary Islands, so it is quite evident that it isn't as big as Mallorca. Even the coastal line of Mallorca is 550 kilometers, while the line of Gran Canaria is around only 236 kilometers. This is also a pretty significant difference.
Despite being smaller than the largest of the Balearic Islands, Gran Canaria is one of the most cherished tourist spots in the Canary Islands, and stopping by would not be a wrong decision. But, of course, your goal is to have a great time, and that's what you'll get when you go there.
You can read more on the size of Gran Canaria here: How Big is Gran Canaria?
How Big is Mallorca Compared to the UK?
Mallorca is unbelievably small in comparison to the UK. The United Kingdom is not just a single place; it collects multiple European countries. It comprises England, Scotland, Wales, and Northern Ireland.
As a result, there is not much comparison between the United Kingdom and Mallorca regarding size, area, and overall geography.
The United Kingdom is 242,495 sq. kilometers in area, which is astronomically bigger than the 3,640 sq. kilometers area of Mallorca in Spain's Balearic Islands.
So, in terms of comparison, there is not much to do. But it does not mean that Mallorca is not an incredible place to visit. You are going to have a great and relaxing time there. 
How Big is Mallorca Compared to Ireland?
Ireland is much bigger than Mallorca in comparison if we take a look at its overall size and area. It comprises an astronomically bigger area, multiple states, and cities held within a span of over 84,400 sq. kilometers compared to the slim 3,640 sq. kilometers of Balearic's Mallorca Island.
Ireland has a European culture and history and is also known as one of the better tourist destinations in the world. Particularly the capital, which is Dublin.
But if we compare its size to Mallorca, the latter does not even stand a chance, and there is no competition. Ireland is loads of times bigger than Mallorca, which is just a single Island in the cluster of the Balearic Islands of Spain. 
Conclusion
Mallorca is a wonderful tourist destination and one of the most popular ones in the Balearic Islands of Spain. It is on the warmer side throughout the year and has beautiful natural scenes and uncountable epic tourist adventures awaiting your arrival there.
Want to know about the weather? Check this article: Mallorca Weather – Everything you need to know
People who visit Mallorca enjoy driving across its twisty mountainous roads, which are quiet and serene almost all year long. The longest distance you will travel here is about 312 kilometers, covered in just about 6 hours.