Ibiza is one of the smaller Balearic Islands with an overall area of around 571 sq. kilometers which is less than both Mallorca and Menorca Islands, stands as the largest and second-largest Islands in the region.
It is at a distance of 150 kilometers from Valencia, and the main settlement on this Island is Ibiza Town. Although the island is not very rocky and mountainous, its highest peak is (Sa Talaiassa), around 475 meters above sea level.
A more in-depth article on the distances between Ibiza and other cities here: Where is Ibiza?
As mentioned in music, songs, and movies, Ibiza has become a trendy destination for travel, leisure, nightlife, and parties for celebrities and tourists worldwide.
Ibiza is also a renowned UNESCO World Heritage site. There are a lot of places and attractions in Ibiza that would attract you to enjoy and have fun with your loved ones there.
Suppose you wonder how big Ibiza is compared to other parts of the world. In that case, you are in the right place because, in this article, I am going to talk about Ibiza, its length and width, comparison with other tourism destinations in Europe, and everything in between. So, without wasting any time, let us get started.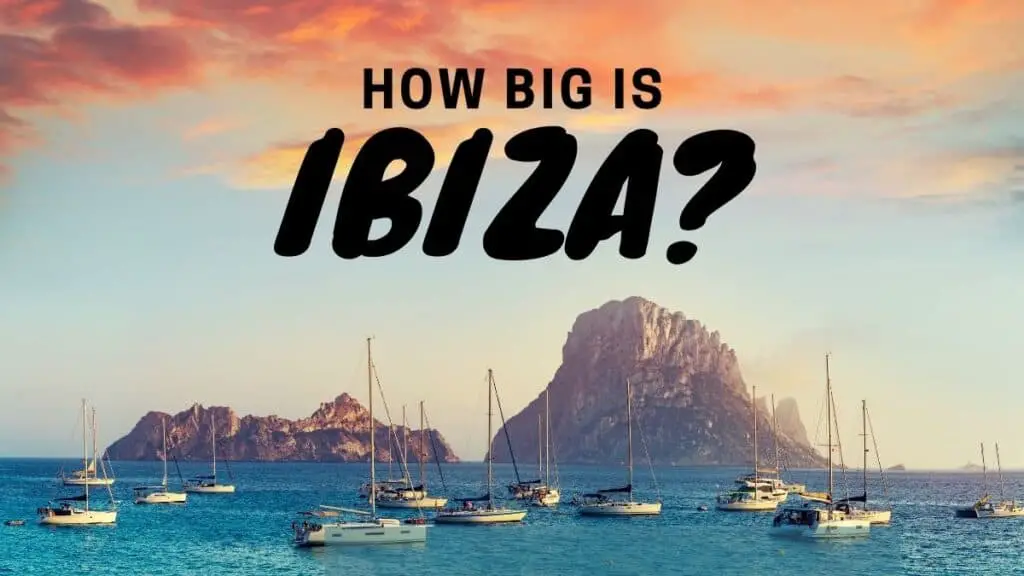 How Many Miles Long and Wide is Ibiza?
Along its longest side, Ibiza is approximately 21 miles (34 kilometers) long, and in terms of width, it is around 12 miles (19 kilometers) wide. So this might not be a very geographically large spanning Island, but that does not stop it from being one of the most beautiful tourist spots globally.
Ibiza does not compare quite a lot with some of the bigger Islands of the world, but it is one of the best for tourism, relaxation, and spending a vacation with your loved ones. So, make sure you give it a visit when you are in the Balearic Islands and you are looking to have a good trip full of adventure, excitement, partying, and enjoyment.
How Long Does It Take to Drive Across Ibiza?
If you are traveling from the top side of Ibiza to the bottom side, it will take you around 45 minutes on average. But if you are traveling across Ibiza, it will only take you 25 minutes at a maximum.
This is just because Ibiza is a small island, and even though there is a lot of epic adventure in store for you there, you will be able to travel across in a significantly short time.
A cool thing you could do is take one day out of your trip schedule to explore the beauty and nature of Ibiza, drive around, talk to the locals, learn about the place, and make great memories with the people you love and cherish. It will not cost too much, and the experience will be pretty fantastic.
Read more about traveling in Ibiza here: How to Get Around in Ibiza
How Big is Ibiza Compared to the UK?
The UK is unbelievably huge and bigger than Ibiza if we compare the size and area of both these places. 
The comparison is not even fair for Ibiza since it is just a tiny island in the Balearic Islands of Spain. At the same time, the United Kingdom is a collection of several European countries with a total area span of over 242,495 sq. kilometers.
The UK is home to countries like England, Wales, Northern Ireland, and Scotland, all places where you can find fantastic tourist spots, but they are pretty far away. 
Ibiza is a destination that you will be able to explore in a couple of days entirely and live through all of it and have a great experience doing so. So, you should choose Ibiza as your next tourist destination. 
How Big is Ibiza Compared to Ireland?
Let us compare the size of Ireland to Ibiza. Ireland is way bigger than the small Island of Ibiza because it is a whole country, while Ibiza is just one of the many Balearic Islands of Spain. 
The general area of the land of Ireland is around 84,421 sq. kilometers while Ibiza is around somewhere 571 sq. kilometers which in comparison seems very small to the point where the comparison is not even fair.
Ireland is also one of the better tourist destinations in Europe due to having many places of interest and tourist attractions there. 
Still, compared to Ibiza, every place feels a bit lackluster because of the nightlife, the colors, the parties, and everything in between. So, you are going to have a wonderful time staying in Ibiza. 
Is Ibiza Bigger than the Isle of Wight?
Despite being one of the smallest Islands in the Balearic cluster, Ibiza is bigger than the Isle of Wight off the coast of England. 
This is because the Isle of Wight area is archaeological. At the same time, it is around 390 sq. kilometers, and the size of Ibiza in comparison is about 571 sq. kilometers, which is almost 1.5 times as big.
The Isle of Wight is known for its beautiful sandy beaches and seafront promenades. There are stunning beach huts, tourist attractions, monuments, and even Dinosaur remains around these parts, which could be great for an archeological experience.
It is one of the better tourist sites than others in Europe. However, Ibiza is just one of the best party places globally. Making a comparison with Ibiza is a bit difficult because the entertainment value is truly incomparable. 
Conclusion
Ibiza, also known as a "party island," is a beautiful part of the world that is the perfect mixture of natural beauty and luxury. The nightlife, clubs, parties, and entertainment this Island offers are unparalleled. If you bring your friends and family here, you will have a wonderful time with them.
Want to know the weather? Check this article: Ibiza Weather – Everything you need to know
One thing that many people wonder is how big this island is as compared to other parts of the world. As a general rule of thumb, remember that it will not take more than 25 minutes to drive from one end to another. So, it is a relatively small island but still bigger than the Isle of Wight.