Ibiza is the third largest of the Balearic Islands and a holiday island. It is a fairly popular destination for tourists to spend a lovely time at the beach with the sun shining down in all its glory and the sea splashing around with all its refreshing coolness and chaos.
Ibiza is also filled with fun things like its vibrant nightlife, electrifying music by various popular DJs to light up the summer club scene, attracting many tourists. 
However, with so many diverse places to be at in different parts of the Island and so many tourists rushing in, it's always a big question for enthusiasts as to how to get around in Ibiza. 
If you want to learn about the different modes of transportation you can use while vacationing in Ibiza, you're in the right place. 
Here we will discuss the various ways you can travel around in Ibiza and the time it might take you to do so. So, without wasting further time, let's get started.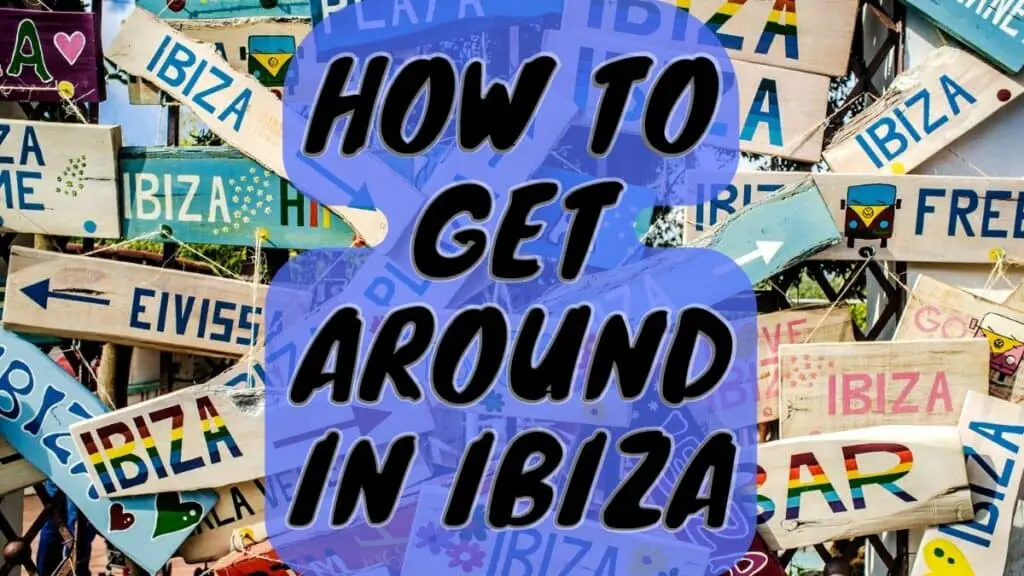 Traveling by Car in Ibiza
Ibiza is a very well-developed place in terms of transport. There are multiple ways to get around in Ibiza. You can either rent a car or hop in a taxi. Once at the airport you can benefit from the efficient public transport system and hop on a bus. 
However, if you are not feeling land traveling too much, there are always the ferries on the sea.
Cars are undoubtedly the best way to move around in Ibiza; many car rentals offer all kinds of cars at very competitive prices. You can find roads leading to virtually every place in Ibiza, and the farest you would have to travel would be no more than 25 minutes.
The best part about traveling by car is that you can go anywhere you want, from secluded beaches to the old town and that at your own speed. There is no need to rush for a bus that will leave at its own time, with or without you.
Did you know all this? Check this article: How Big is Ibiza?
Speaking of cars, there are two different ways you can travel by car in Ibiza. You can either rent a Car or take a Taxi.
Car Rentals
When you arrive at the airport, you can find four Car Rentals companies, all of which require you to have a driver's license and an international driving permit, which you can get from either IDL Service or AAA.
Remember to make sure the car you rent is fully insured and observe the driving rules while on the road. Make sure to request a children's seat if you have someone under the age of 12 in the passenger's seat. It is also advised to make your bookings in advance to avoid any time delays and get the best price.
Taxis
Taxis are a good alternative to renting a car in the sense that you don't have to go through the hassles of acquiring the relevant documents to do so or having to take care of the car. 
You can find a Taxi in Ibiza just about everywhere and they are an essential means to travel in Ibiza in the evening when the buses are unavailable. If you do travel at night you would need to book in advance or communicate using the phone with the driver to come to pick you up at the correct location. And if you gonna travel for a long distances you also have to book in advance.
For times like these, some basic knowledge of Spanish can always come in handy. You should note that rates are also higher during the night compared to daytime. During the day, from 07:00 – 21:00 (7 AM – 9 PM), the taxi fares range from $1.30 to $4.25 for each kilometer (0.62 miles) traveled.
After 21:00 (9 PM), the fares rise on weekends and especially during holiday seasons. Radio Taxi Eivissa and Ibiza Transit Express SL are the two main companies that provide taxi services in Ibiza. 
The fares for booking might vary from those on the streets depending on the area, so keep that in mind and prepare accordingly.
Does Ibiza Have Uber?
You can get an Uber in Ibiza from almost any place in the area. You can also reserve one in advance for up to 30 days. And you can also order a ride on-the-go provided you have a stable internet connection. 
Along with Uber's traditional ride-hailing services, you can also access Uber eats to order from various local restaurants and other home chefs.
How to Get Around Ibiza Without a Car?
You can use many other alternatives to using a car while traveling in Ibiza. Here we will discuss all of these options. Ranging from Buses to Ferries. Land, air, or water you can find just about any mode of transport in Ibiza.
Here we will discuss these alternatives in detail and how you can avail yourself of them in Ibiza.
Buses are a very good and affordable option, tickets are relatively cheap, and you won't have much of a hassle as the transport is efficient and regular. In Summer, the bus timings are extended for the night due to peak season by introducing the so-called "Disco Buses."
Does Ibiza Have Public Transport?
In Ibiza, public transport is readily available in most of the popular destinations and population centers. They are a cheap yet effective alternative to cars and are very well developed as well.
Buses are thus, the best option and the only option for you in the public transport area. Some of the important routes are given below and should be kept in mind if you want to utilize buses in Ibiza.
Lane L7 has buses going from Sant Antoni to Cala Bassa every hour. In addition to that, the L10 sees public buses going from Ibiza Town to the airport every 30 minutes.
Some roads in the winter might not be open so keep in mind to check in advance for those. And keep an eye on the weather before going out.
Read more about the weather here: Ibiza Weather – Everything you need to know
DISCO Bus
DISCO buses are a popular concept in Ibiza. In summers, due to many clubbing and partying, the bus timings are extended to accommodate the tourists. The L3′ Disco Bus' runs from San Antonio to Pacha in Ibiza Town, starting from midnight to 6 AM.
On the other hand, the L3B Disco Bus starts in the early afternoon and runs from San Antonio to Playa d'en Bossa. You can hop on to one of these and go party in any of the clubs and bars in Ibiza without having to worry about finding means of getting back to your hotel and resorts.
As one would think, these buses are filled with many people roaming around as tourists. Being on a Disco bus is undoubtedly an experience you wouldn't want to miss out on if you are in Ibiza. And the convenience it provides while saving you a lot of money is a great deal.
Ferries
Ferries are the way to go if you are looking to visit popular places in Ibiza like Ibiza Town and Sant Antoni de Portmany. Essential to note ferries are usually only available from May to October.
If you are looking to get in one of these ferries, you should look to companies like Balearia, Aquabus Ferry Boats, and Trasmediterranea. These boats leave for trips to various small beaches and other activities several times a day.
You can find rides connecting San Antonio to the many lovely beaches on the Island. Some of the beaches worth visiting through a ferry are Cala Bassa, Cala Salada, and Cala Conta, along with rides from the Town of Ibiza to Playa den Bossa, Cala Llonga, and Cala Salada.
There's a wide range of places you can go to on a Ferry in Ibiza for a reasonable price, and the best part is that you can avoid the long traffic queues in peak season on the roads while you are at it. 
With the cool sea breeze blowing under the bright sun, it's a refreshing experience in and off of itself and one you wouldn't want to miss.
Conclusion
Ranging from affordable car rentals that provide all sorts of cars, big or small, to disco buses, ferries, and taxis, you will find multiple transport options while vacationing in Ibiza. 
The taxis can even be booked in advance, and you can see the entire Island within 35 minutes. The fares are also quite reasonable. However, the most common form of public transport in Ibiza is the public bus system, which is available everywhere from airports to other tourist sites and attractions.  
You can find just about any way you want to get around Ibiza. The options are diverse and practical and offer the best prices due to a lot of competition in the market. 
So, take all the necessary measures you need before you take off for your trip, as booking your rides in advance is the most recommended option. The beautiful island of Ibiza is waiting for you!