Mallorca is the largest of the Balearic Islands archipelago off the eastern coast of Spain. It is a top-rated tourist destination and one of the best ones you can visit throughout the year.
Many people tend to ask about the weather in Mallorca and how good it is for tourism? Well, if that's what you're also wondering, then you're definitely in the right place.
This article will talk about Mallorca's weather throughout the year in different months, the temperature at popular places in Mallorca, the best place to visit on the island in terms of weather, and the best time to visit Mallorca as well. 
So, without wasting any further time, let's get started with this guide.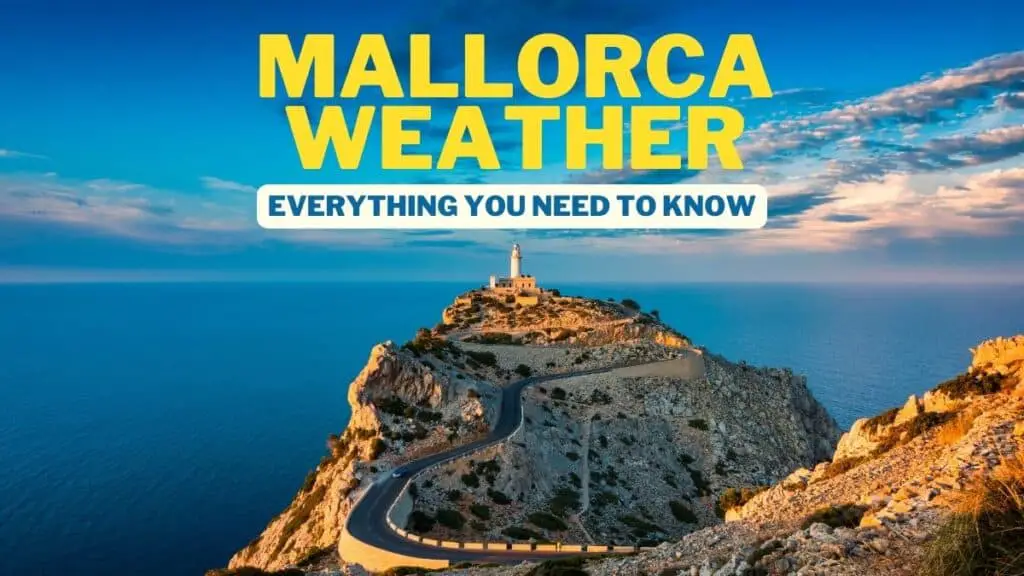 Is Mallorca Warm All Year?
When it comes to the weather of Mallorca, we see that it remains warm almost throughout the year. On average, the Island of Mallorca experiences around 300 days of sunshine in a year.
For tourists visiting from colder regions of the world, the destination being warm is definitely one of the requirements of a good vacation. 
So, the fact that Mallorca's weather is warm and sunny throughout the year helps its case of being a great tourist destination and a place you should visit with your loved ones. 
Mallorca Weather in Different Months
Despite the fact that Mallorca's weather is sunny throughout the year, there are still months where the weather, climate, and atmosphere are different from the others. Let's take a look at the temperature of the island of Mallorca in various months throughout the year.
January to February
This time of the year is cold but not as cold as you'd expect. With the average temperature in these months being around 15 °C (59 °F), you're going to have a good time even if you're visiting in these months.
January and February are both months that lie right outside the coldest winter (which isn't very cold in Mallorca). So, there won't be heaps of tourists at this time, and you might even get good hotel and restaurant rates in comparison to the peak summer season.
March to May
The perfect span of months to visit Mallorca is between March and May. Within this time, you're going to see an average temperature of around 20 °C (68 °F) and a warm and sunny day every day.
The best thing about this time is that you're going to see warm weather and still no peak summer season. So, there won't be tons of people everywhere with little to no space on the beaches. And you'll also be able to get good deals on tickets and hotels as the peak season hasn't still arrived.
June to August
This is the peak visiting summer season where the temperature will be pretty warm, and the days will be super sunny with an average temperature of 25 °C (77 °F). Still, there will be a lot of crowdedness at the same time.
Also, the prices will be jacked up since it is peak season, so even though this time is perfect for tourists in terms of weather, it isn't the best time because of the excessive rush of tourists and the difficulties you might have to face in your trip there.
September to December
Once the peak summer season is over, Mallorca enters the mild weather season before winter. In the months between September and December, you're first going to see a decline in the temperature.
This will then turn into a full-fledged winter season that will last for quite a while, with the temperatures falling below 10 °C (50 °F) as well. So, visiting at this time won't be ideal, but the experience won't still be that bad if you don't have a problem with staying in the cold weather as the costs of tourism will be less expensive.
Weather at Popular Places in Mallorca
If you're thinking of visiting a particular place on the island and curious about learning what the weather there feels like, let's talk about the weather at different popular sites within Mallorca that you might want to visit with your friends, family, and loved ones.
Palma de Mallorca
One of the busiest places in all of Mallorca, Palma de Mallorca, has an average temperature of 20 °C (68 °F), which means that it remains warm throughout the year. Still, the temperature can fall a bit by the night. 
So, even though the days might be very sunny and warm, the nights could be a bit mild in terms of temperature if you're thinking of visiting there or anywhere nearby. Still, it will be a good place for you to stay in Mallorca. 
Puerto de Pollensa
The best place to stay in Mallorca if you're visiting for a vacation is Puerto de Pollensa. The average temperature in the summer of this region is 25 °C (77 °F) which is the perfect amount of warmth and sun. 
The winds are low, and the nights aren't cold either. So, if you want to have a decent holiday in the Balearic Islands and you want to stay warm and feel the authentic island vibe, staying in Puerto de Pollensa would be a great decision. 
Cala d'Or
Cala d'Or is one of the colder regions of Mallorca. Despite the summer season being warmer, it lasts not very long, is windy, and there are cases of rain at times. 
Read more in-depth here, where it is windy: Is Mallorca Windy?
On the other hand, the winters in Cala d'Or are more prolonged and colder than the other places in this list and Mallorca in general. So, if you have reservations about the cold weather of this region, you should stay somewhere else on your visit.
Calas de Mallorca
This region of Mallorca is also trendy among tourists and is on the warmer side of the spectrum. The average temperature is just under Pollensa, which makes it the second warmest and best place to be in Mallorca if you're someone who likes the warm weather of the islands on vacation. 
So, staying in Calas de Mallorca would be a good option for you and your loved ones. 
Alcudia
Another extremely popular region in Mallorca is Alcudia. The temperature varies quite a lot in this island region throughout the year. However, the temperature doesn't fall below 10 °C (50 °F) or pushes above 30 °C (86 °F) on average. 
So, visiting Alcudia and staying in the summers will be a great option, but if you're visiting in the winters, you should think of someone else if you're not a fan of cold weather and windy regions at all. 
Sa Coma
Known to be one of the rainiest places in Mallorca, Sa Coma is not a very warm region. It has an average annual temperature of around 17 °C (63 °F), which is mild, and the winters here are pretty cold. The annual rainfall is 485 millimeters (19 in). 
So, when it rains; What to do? Read this article: What To Do in Mallorca When It Rains?
Where is the Best Weather in Mallorca?
The region around Pollensa on the island of Mallorca has the best weather throughout the year usually. In the daytime, the weather is warmer in comparison to other places.
However, when it comes to the nighttime, this region has a milder temperature in comparison to Palma de Mallorca and other famous places. That's why it is the best place to visit in Mallorca if you want to have balanced weather throughout your vacation.
The weather in different places in Mallorca tends to vary astronomically for various reasons. So, where you stay matters a lot. That's why you need to choose your place of residence wisely for your vacation.
Best Month to Visit Mallorca
The Best Month to visit Mallorca is, without a doubt, May. During this month, the weather will be pretty warm as summer is just around the corner, and there won't be too many peaks of tourists around either.
So, you're going to have the Island to yourself and your loved ones with fewer people hanging around, and you'll be able to get cheaper tickets and hotel prices as well.
You should read this: How Big is Mallorca?
The overall experience is going to be pretty impressive as well. So, visiting Mallorca in May would be an excellent idea for you and your loved ones. 
Conclusion
Mallorca has perfect weather, especially for tourists who might be planning to visit it. The best time to visit this place is from March to May; however, many people also like to visit during the hotter summer months to enjoy more outdoor activities. 
If you are also planning a visit to Mallorca in the near future, it will be good to know that the weather here remains pleasant almost all year long. August is the hottest month in Mallorca, while January is the coldest.
Must read: Majorca or Mallorca: What's the Difference?
Depending on these weather stats, you can easily plan a trip to the largest of the Balearic Islands. All the best!