Food and drink are one of the most essentials, and it's something we always prioritize when traveling. As such, if you're planning to visit Cancun, you may wonder how expensive these commodities are in the city to allot a particular budget for them.
The price of food and drink in Cancun is low, but it still depends on where and what you're eating. A full meal in Cancun can cost as low as 1 to 10 USD in local stores or street food, and it can also be as expensive as 50- 100 USD if you're eating at a luxury or high-end restaurant.
We know budgeting your trip to Cancun can be stressful, especially for food. Thus, we wrote this guide to help you know what to expect when visiting the city. This information will also help you plan your budget for your entire stay.
Without further ado, let's get into it!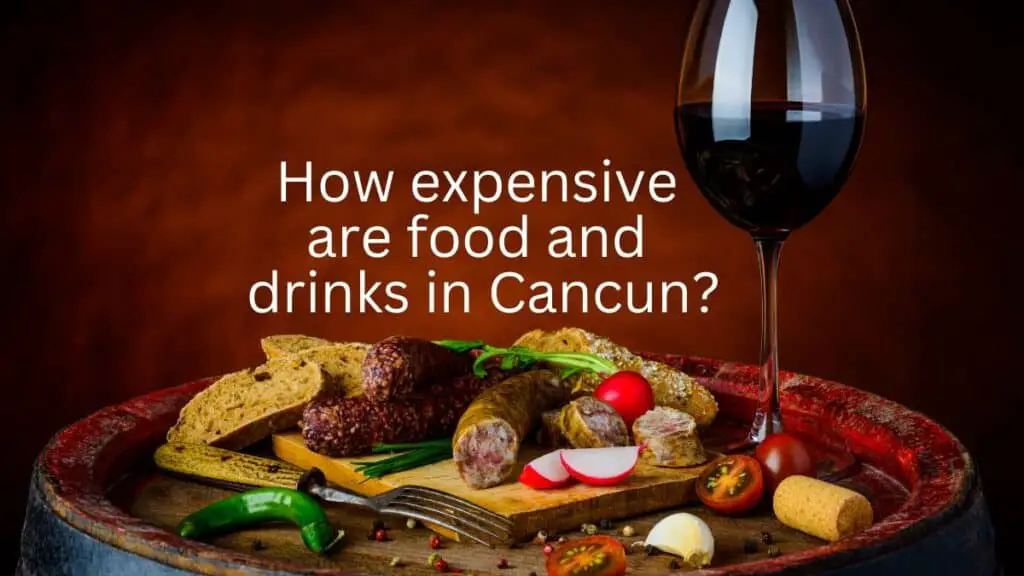 Are Food and Drink in Cancun Expensive?
There is cheap food all over Cancun, literally on every corner! Depending on your order, you will pay between 20 and 65 pesos (around 1 to 4 USD). This price is how much you will generally pay for food in Cancun, at least at street spots and local restaurants.
To know the best options around the city, read our article about the Best Cancun Restaurants.
How Much Does a Meal Cost in Cancun?
The price of a meal in Cancun depends on the restaurant you're dining in. As such, it's best to know your preference first before planning your food budget.
For instance, you can enjoy a meal at a local restaurant or a spot on the street for 40 to 100 pesos or 2-5 USD.
On the other hand, travelers who prefer meals at a casual restaurant cost around 200 to 300 pesos or 10 to 15 USD.
Now, if you want something fancier but are still on a budget, you can expect to pay around 350 to 600 pesos or 20 to 30 USD per person.
Finally, if you want to indulge in high-end or luxury restaurants, expect to pay around 1000 to 2000 pesos or 50 to 100 USD.
Average Price of Tacos
Tacos are one of the most popular Mexican food enjoyed in Cancun. If you're wondering how much it costs, here's the answer.
In general, you can expect to pay at least 20 to 60 pesos or 1 to 3 USD for tacos in local stores and restaurants around the streets of Cancun. 
The exact price is also the average of most food options in Cancun. So think about how good it would be to pay less than 3 USD for a meal that fills you up and tastes great. 
In short, it's accessible to budget food during your Cancun vacation, and you don't have to hold back when you feel hungry.
If you want to know the best places to enjoy Mexican cuisine in the city, read our article about Cancun Mexican Restaurants.
Average Price of Complete Meals
Generally, it's best to budget for food through a rough estimate of the price of complete meals. Of course, such a meal would include drinks as well.
In general, you can enjoy a complete meal at street restaurants and local spots for around 60 to 100 pesos which are around 3 to 5 USD.
In Cancun, it's always best to eat street food and dine at local restaurants and eateries. By doing so, you don't have to spend a lot, and you can enjoy local cuisine at its best.
Now, to give you an idea about a complete meal, look at it this way. You can find a complete meal consisting of a grilled chicken with bean sauce, rice, salsa, and tortillas for only 50 pesos or less than 3 USD. 
You can generally fill your tummies and satisfy your hunger for just a couple of dollars. As such, it's always best to enjoy food at Cancun Downtown rather than in the hotel zone.
When you're in Cancun, you've got to go to this park plaza at least once to feel more like the real Cancun than the tourist trap called the hotel zone. 
Nighttime is when locals come to Parque Las Palapas to relax and eat! You'll also find souvenir shops, playgrounds, live entertainment, food carts, and an outdoor food court!
Average Price of Street Food
As I mentioned, you can spend as low as 30 pesos or less than 2 USD and enjoy as many as three tacos in the local spots in Cancun Downtown. 
Generally, we recommend that you skip restaurants in favor of street vendors if you're looking for cheap food. 
Besides being cheap, street food is good, it supports locals, and it gives you a taste of Cancun as it is.
To try out the best food in Cancun, read What Food Is Cancun Known For?
How Much Does a Drink Cost in Cancun?
Like food, drinks are also of the same importance. As such, you should also include this commodity in the budget. In general, there's an average price of drinks in Cancun:
A 1.5-Liter of Water Bottle – 15 pesos (less than 1 USD)
A bottle of juice or soda – 80 pesos (around 4 USD)
A bottle of mid-range wine – 180 pesos (around 9 USD)
A local bottled beer – 30 pesos (less than 2 USD)
A bottled beer from a reputable brand: 50 pesos (less than 3 USD)
Such a price is the average in downtown, but it can be more expensive when you buy from high-end establishments such as casual restaurants.
The drinks are also more expensive in clubs and bars. For instance, a single cocktail drink from a club in Cancun can cost around 150 pesos or around 8 USD. It can even be more expensive if you're partying at a luxury hotel in the Hotel Zone.
Conclusion
The price of food and drink in Cancun is affordable, and you can enjoy some excellent food without hurting your wallet. But, of course, it will all depend on the type of meals you want during your stay in the city. 
However, we always recommend going local when you're eating. This way, you can enjoy lots of food at an affordable price while enjoying the best of Cancun's local lifestyle. At the same time, you also get to help locals earn their living.
To plan a budget for your Cancun trip, you can read How Much Money to Take To Cancun?