Tulum, Mexico, is a popular destination for tourists and travelers. If you're looking to get around, one of your options is to get a taxi.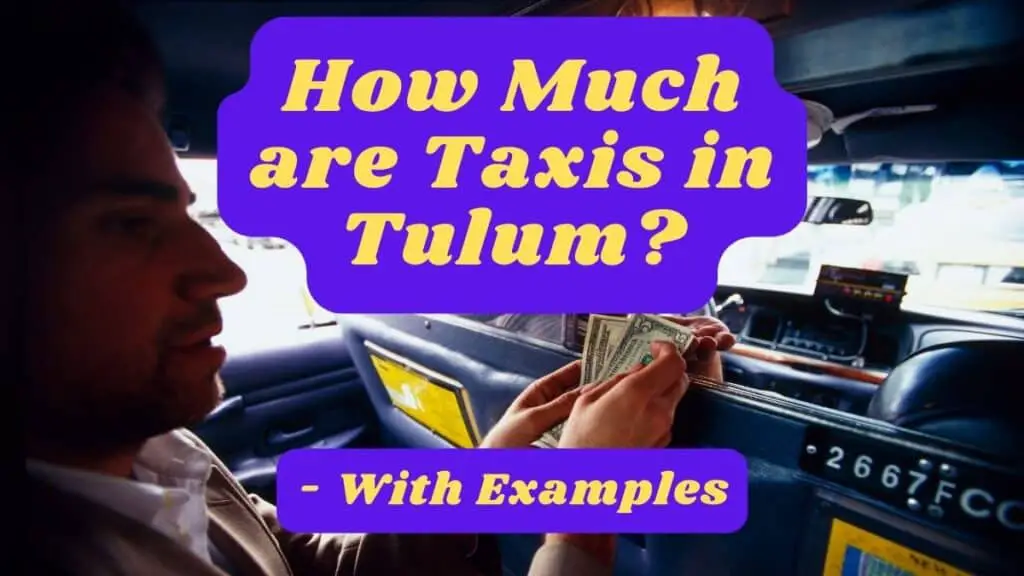 How to get a Taxi in Tulum
Taxis are a reliable, convenient way to get around Tulum and are available 24/7. This can make navigating a foreign city much less stressful. These taxis also charge fixed fares that are agreed upon prior to entering the taxi.
It is very easy to get a taxi in Tulum. They're everywhere! It's especially easy to hail a taxi in the Tulum Pueblo, and there is a taxi stand at the bus terminal on the central plaza and the beach road. Empty taxis also tend to gather around Playa las Palmas, Punta Piedra, and at the north end of the beach road.
If you're staying at a hotel, the receptionist will likely have a list of drivers they can call for you.
Do Taxis in Tulum Accept Credit Cards?
Unfortunately, most taxis in Tulum do not take credit cards. Some may accept them if you do not have enough cash, but in these cases, there is often a minimum spending requirement of 1000 pesos ($50 USD).
When traveling in Tulum, you should be prepared to pay with pesos rather than by credit card. You can exchange currency at the airport and various locations within Tulum.
Read more on here: Best Places to Exchange Money in Tulum – with locations.
Although you may be tempted to try and avoid the currency exchange or carrying around cash, it will be in your best interest to have some pesos on you.
Read more on why here: How to pay in Tulum? (Pesos, dollars, cash, or card).
The rest of this article will explain the various costs of taxis to and from popular destinations in and around Tulum.
How Much are Taxis in Tulum?
The taxi fare varies depending on the driver and the pick-up location, but all taxi fares should be agreed upon before getting in the taxi. Most fares are fixed, although some drivers may try to tack on a few bucks to unsuspecting passengers. If the fare that one taxi driver charges are too much for you, a driver with a lower fare is likely to come by soon.
It is also important to understand that taxi fares have increased significantly in recent years, and you may end up paying more than you expected to, depending on the driver.
How Much is a Taxi from Downtown Tulum to the Beach?
The typical taxi fare from Downtown Tulum to Playa del Carmen is around $800 to $1000 Pesos, or $40 to $50 US dollars, according to Tulum Now. However, other travel sources suggest that the fare ranges from around $160 to $200 US dollars. The drive from Downtown Tulum to Playa del Carmen is about an hour and a 62.2-kilometer distance.
According to the travel site Rome2Rio, a taxi from Downtown Tulum to Tulum beach is about $110 to $140 US dollars. This is a seven-minute drive and a 6.5-kilometer distance.
Taxis are the fastest way to get to the beach from Downtown Tulum, although they are the second cheapest, with a bus costing between $3 and $6 US dollars.
How Much is a Taxi from Cancun to Tulum?
The taxi fare from Cancun to Tulum depends on how many people and what size taxi you need, but it typically costs around $2000 and $2700 pesos, or $100 to $135 US dollars, although prices may have increased more recently. The drive from Cancun to Tulum is about an hour and a half to two hours and a 131-kilometer distance.
There are a ton of taxis in Cancun since it is a popular place for travelers to fly into, and you should have no trouble finding a driver.
Related article: How Far is Tulum from Cancun? (Time and Distance).
How Much is a Taxi from Cancun Airport to Tulum?
The Cancun International Airport is the closest airport to Tulum if you're flying to Mexico, so this will be where you'll get a taxi to Tulum. A taxi from the Cancun airport to Tulum will typically be between $1800 and $2700 pesos or $90 to $135 US dollars.
However, you should know that the price will likely be toward the high end if you drive into the hotel zone or a more remote location.
If you are looking for a cheaper way to get from the Cancun Airport to Tulum, ADO bus transfers are the most affordable way to get to Tulum, although you may have to take a detour to Playa del Carmen and get a ride from there to Tulum. However, a taxi drive will be significantly faster, with the bus ride taking about an hour longer than a taxi.
Read more on saving money here: How To Do Tulum On A Budget.
How Much is a Taxi from Akumal to Tulum?
A taxi from Akumal to Tulum typically costs between $130 to $170 US dollars or $2,600 to $3,400 pesos. This drive is around 30 minutes and has a distance of 28.1 kilometers.
Taxis are the second cheapest option for traveling from Akumal to Tulum, with a bus being the cheapest at around $1 to $6 US dollars if you don't want to pay for a taxi.
Conclusion
Tulum is an incredibly popular tourist and traveler destination in Mexico, and while you're there, you're going to want to be able to get around quickly and safely. Taxis are typically very safe in Tulum, particularly if you're traveling during the day and in areas where there are many other people.
Taxis are numerous in and around Tulum, offering you plenty of options for traveling. Most taxis have set fares negotiated before the drive to protect you from being scammed or overcharged.
The cost of taxis varies based on where you're traveling, where you're traveling from, how many people you have, and what size car you need. But regardless of where you are, you should have no problem finding a taxi driver with a fare that you can afford!