One of the first things to take care of upon arriving in Mexico City is the transfer from the airport to the hotel. If you're flying into the city, you may wonder how to get to the city center from the airport.
Upon arrival, you'll notice hundreds of taxis lined up at the airport, and that's usually the first option to come to mind if you still need to arrange an airport transfer service. First, however, you have several options for getting downtown from the airport.
In this article, we'll walk you through everything you need to get to the city center from Mexico City Airport. This way, you won't have to spend a lot and have convenient travel after arriving in the city from your flight.
Without further ado, let's get into it!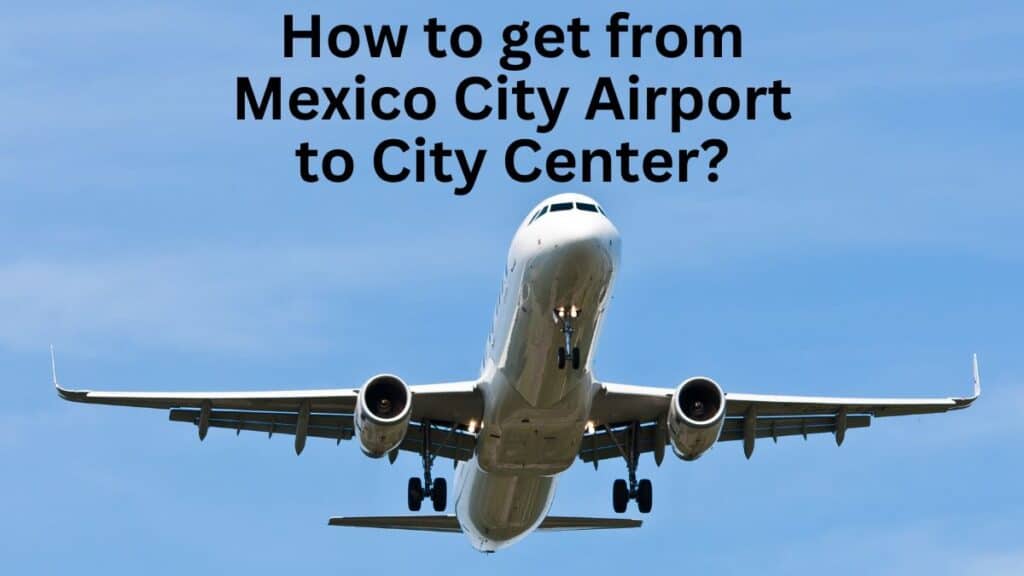 How Much Is a Taxi from Mexico City Airport to Downtown?
As mentioned earlier, a taxi is one of the first options to come to mind when going to downtown Mexico City from the airport since you'll find them lined up there.
If you're wondering about the fare, expect to pay around 300 MXN (around 15 USD) to go to the Centro Historico from the airport. On the other hand, going straight to neighborhoods like La Condesa or Roma Norte and Sur will cost around 400 MXN (around 20 USD).
The travel time will take around half an hour to an hour, depending on the route and traffic. 
Riding a Taxi from the Airport to City Center
Grabbing a taxi from the airport of Mexico City to the city center is easy since you can find them available 24 hours a day. You can find these cabs outside airport terminals one and two.
It is easy to recognize these cabs since they come in gold and red or white and pink colors. However, only hop in if you see any cabs with these colors since they likely operate without a license.
To ride a taxi from the airport to the city center, you can get a taxi ticket from the airport kiosk called Transporte Terrestre. Once you get the ticket, you can hop in the vehicle, give it to the driver, and he'll know your destination.
If you want to know more about this mode of transport in the city, read our article about Taxis in Mexico City.
Other Options to Get from the Airport to City Center
Of course, you can find other methods to reach the city center from the airport. You can generally find cheaper ones than taxis, making them a much better option. Here are some of them:
Bus
From the airport's terminal one, you can find a bus system that you can use to get into the city's center. To do so, find the Line Four of the bus system. You can find these buses in both terminals one and two. 
Unlike taxis, buses aren't available 24 hours a day. Generally, they only run from around 4:30 AM until midnight, and one bus departs the airport with 15 minutes intervals.
To ride a bus, you'll need to buy a Metrobus smartcard. You can find one at the filling machines at the airport. 
A one-way bus fare is cheaper at around 30 MXN (around 2 USD). If you're not heading to the city center, you'll find buses at the airport heading to other parts of the city.
Bus transportation is generally ideal if you are on a budget and only have a little luggage. However, you'll find it better to hail a cab if you have several pieces of luggage.
Subway or Metro
The subway or metro is another affordable option if you go to the city properly from the airport.
You can take Metro Line Five into the city from the Aérea station, next to Terminal One. 
A single 50-minute journey costs less than fifty cents, making it a highly economical mode of transportation. As such, it's cheaper than a bus and way cheaper than a taxi.
You'll find a specialized Metro carriage and women-only cabs in the city if you're a solo female traveler. You can use this to ensure safer travel and exploring in the city.
Keep an eye on your valuables when you use public transportation so you won't be caught off guard.
Car Rental
Now, if you're driving a rental car, you'll find it easy to go to the city center from the airport. 
On your way out of the airport, follow the signs pointing to Route 1. Upon reaching Parque Aguascalientes, take Route 3 left until you reach Héroe de Nacozari, then turn right. Once you reach the Republic of Venezuela, you'll be in Mexico City's Centro Historico. 
While we don't recommend renting a car if you're only exploring Mexico City, you'll find plenty of car rental companies in the airport if you'd like a car to explore. Some of them are:
Europcar
Hertz
Alamo
Sixt
Avis
With these companies, you can book a car rental and pick up the car upon arriving at the airport.
If you're wondering about the cost of car rental, it will be around 3500 MXN (around 200 USD) a week for a sedan that can fit five persons.
One thing to note when renting a car and driving through Mexico City is to prepare for the heavy traffic and limited parking. Also, you'll have to prepare spare cash since most parking requires payment on an hourly basis.
Uber or DiDi
If you want to hail a taxi but can't afford one, you can always book ridesharing services like Uber or DiDi. The cost is usually 200 to 300 MXN (around 10 to 15 USD) for Uber rides into the city's center. Further, you can even enjoy drivers often offering local advice.
To do so, download the Uber or DiDi app to your smartphone. Then, you can select your pickup and dropoff locations and prepay through the app. In general, you can do so at spots outside the airport.
The Uber app will notify you whenever a driver approaches your pickup point, along with the driver's name, the car's make, brand, hue, and license or plate number. 
Since you prepaid for the trip online, there won't be any surprises once you arrive at your destination, and the Uber or DiDi drivers are familiar with all the shortcuts. So you'll get there quickly and fast. 
If you're a first-time user, search the internet for discount vouchers to make your trip even more affordable! Additionally, while you can tip Uber drivers in some locations, it's prohibited in Mexico City, and most drivers won't take any cash from you. 
To know more about using ridesharing apps, read: Mexico City Goes Uber: Is it Available?
Conclusion
In a nutshell, taxis at the airport are available every time, and it's one of the best options to go to the city center from the airport. However, if you're on a budget, you can enjoy plenty of other modes of transportation to get you to the city's center.
Once you reach the center, you'll then need to find a way to explore the city. The good thing is that Mexico City has plenty of public transportation options. To learn more, read: Mexico City: Best Transport Options Revealed.