The city of Barcelona is an exciting tourist destination. However, using public transportation like buses is often a concern for tourists. After all, bus transportation is cheaper than private transportation, such as taxis and Uber. However, we have some answers if you are wondering how to pay for a bus ride in Barcelona.
If you plan on riding a bus in Barcelona, you can buy your ticket or get a travel card in advance. You can find these tickets and travel cards at ticket machines found at bus stops. Further, the bus accepts contactless bank cards, mobile phones, and smartwatches for purchase and validation. 
Barcelona has an excellent bus system, and it will easily take you to any famous attraction you want to visit. If you're on a budget, understanding how to pay on a bus in Barcelona will help you save money.
In this article, we'll walk you through everything you need to know about using the bus and the payment methods you can use. This way, you can easily use the bus in the city and won't worry about how the process goes.
Without further ado, let's get into it!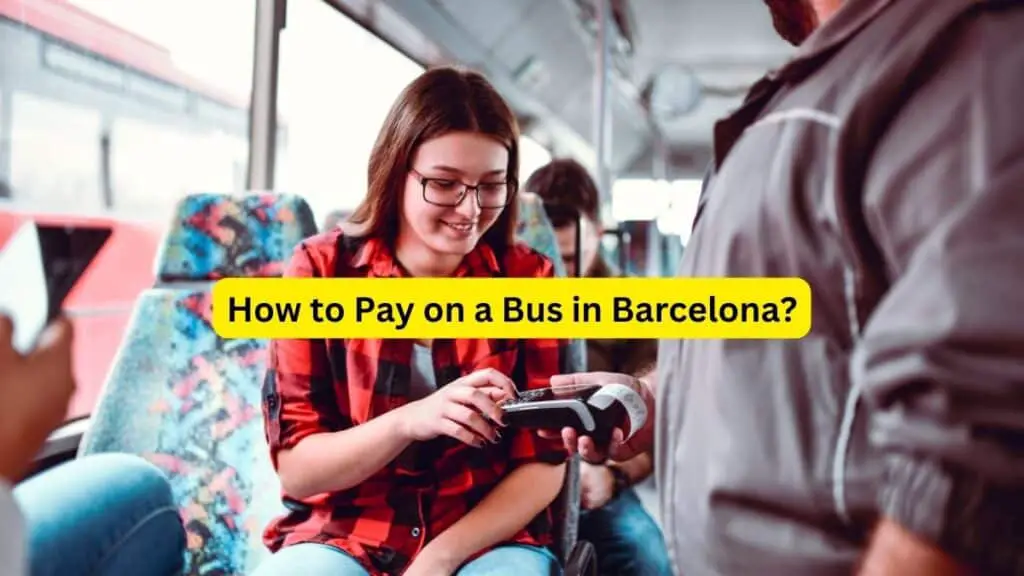 Public Transportation Overview: Costs and Contactless Payments
If it's your first time visiting Barcelona, or any other place, you'll usually find it overwhelming to understand public transportation. As such, we will give you an overview of the public bus transportation in Barcelona, including the costs and the contactless payment options.
About the Buses in Barcelona
Buses are one of the city's fastest and cheapest transportation modes. More than two hundred bus lines connect every part of the city.
The bus system is more complex than the metro one. However, once you understand these options, they can be easily accessible.
The regular operating hours of buses in the city start at 5:00 AM until 10:00 PM. However, the exact hours differ for every bus line. 
Barcelona's tram network would be your ideal option if you're only exploring the city. You'll find two tram networks in the city, each with six lines.
You can catch the tram when you want to explore a more peaceful area outside the city center, even though you won't see one there.
Regarding payments, you can buy a single-use ticket from the bus driver, which costs around 2.40 EUR or 2.64 USD. However, it's best to get one before hopping in, and you can find them at ticket machines at each bus stop.
Another thing to note is that contactless payments are popular, and you can do so using your phone, card, or smartwatch. You only need an app or a travel card, and you can buy any ticket that suits your needs.
Ticket and Travel Card Prices
Here's a quick overview of the tickets and travel cards, along with their prices:
| | | |
| --- | --- | --- |
| Ticket or Travel Card Type | Validity | Price |
| Single Ticket | One Ride | 2.40 EUR |
| Hola BCN Travel Card | Two to Five Days | 16.40 to 38.20 EUR |
| Barcelona Card | Two to Five Days | 48 to 63 EUR |
| T-Casual Card | Depends on the Zone | 11.35 to 47.90 EUR  |
To understand how the rest of the public transportation system works in the city, read: Navigate Barcelona Like a Local: Public Transport Explained.
Bus Fare Payment Process: Step-by-Step Guide
The bus fare payment process in Barcelona is simple. Here's a step-by-step guide to paying for and using a bus. 
Get your ticket or travel card.
Using a bus in Barcelona means you need a ticket or a travel card. As such, you can't pay in cash.
In general, each stop in Barcelona has a ticket machine where you can purchase public transport tickets. 
If you plan to use the metro frequently, you will save money by purchasing a travel card. You can avail of two types of travel cards: the T-Casual and the Barcelona Card. We'll cover every type of travel card and ticket later on.
Pay for tickets.
Once you know your preferred ticket, you can buy one at each bus station. You can pay in cash, or you can also pay through your card or online banking.
Ride the bus.
Once you have your tickets or travel cards, you can then hop on the bus and hop off once you reach your destination.
Ticket Types & Passes: Best Deals for Your Trip
Barcelona's bus system offers tickets and passes to suit each passenger's needs. As such, here are the common types of tickets and passes you can avail of to get the best deals for your trip:
Single Ticket
A single ticket is ideal for using the bus or public transport sparingly. For example, this ticket type allows you to use the metro or take a trip on the TMB city bus. Single tickets cost 2.40 EUR; you can find them in vending machines at each station.
One thing to note is that this ticket isn't usable for trips between the city and the airport. Such trips cost 4.60 EUR for a single trip and 10.30 EUR for a round trip.
Hola BCN Travel Card
The HOLA BCN! Travel Card is the type of travel card ideal for tourists since it's affordable and easy to use. This ticket allows you to enjoy unlimited bus and other public transportation trips. You can even use it to ride to and from the airport.
Also, there are no ticketing systems to worry about for the 5 Barcelona-based transportation companies when using this card.
As of the moment, here are the prices of the Hola BCN travel card:
16.40 EUR for two days
23.80 EUR for three days
31 EUR for four days
38.20 EUR for five days
If you want this card, you can buy it in advance here. This way, you can have the card upon arrival at the airport.
Barcelona Card
The Barcelona Card is the ideal ticket to use if you want to discover the city's main attractions. 
Using this card, you can enjoy many leisure and cultural activities in Barcelona for free or at a lower price. In addition, this card combines a one-day ticket for public transportation with an entrance fee discount card.
Using this card, you can use public transportation free of charge, including the airport metro. Besides saving money, you can save time at some attractions with skip-the-line entry.
Below is the price list for a Barcelona card for adults:
48 EUR for 72 hours
58 EUR for 96 hours
63 EUR for 120 hours
Below is the price list for a Barcelona card for children:
26 EUR for 72 hours
35 EUR for 96 hours
40 EUR for 120 hours
Please note that the Barcelona card is valid for three to five days only. The T-casual is a better option if you plan to use public transportation frequently.
T-Casual Card
The T-Casual is a personal transportation card available in Barcelona. You can activate the travel card for one to six zones and use it for ten trips. 
The T-Casual card is available from the TMB booth or a ticket machine at a metro station. In addition, online purchases of the T-Casual card are available if you prefer to have a card before arriving.
The price of the card varies depending on how many zones you want. Although the prices are fixed, you should always verify them on the official website.
As of the moment, here are the prices of T-Casual cards by zone:
For one zone: 11.35 EUR or 12.51 USD
For two zones: 22.40 EUR or 24.69 USD
For three zones: 30.50 EUR or 33.62 USD
For four zones: 39.20 EUR or 43.21 USD
For five zones: 45.05 EUR or 49.66 USD
For six zones: 47.90 EUR or 52.80 USD
One thing to note is that Zone 1 covers the entire central city. As such, if you're staying at a hotel in the center and you'll only visit nearby attractions, the T-Casual card for one zone will suffice. 
Group Tickets
If you're traveling as a group, you may wonder if you can avail of group tickets in Barcelona to save money and time. However, such a ticket doesn't exist. In most cases, group trips use the Hola BCN travel card.
This ticket gives you unlimited access to local transportation (including the metro transfer to the airport). In addition, members of the group receive their cards. As such, anyone from the group may also travel independently.
This ticket can also be ordered online without an extra charge before departure. This way, your group won't have to handle large amounts of money while they wait impatiently at the machine. In addition, invoices are generated when you buy online, making cashing up a group trip easier.
Barcelona Travel Card Benefits: Save Time and Money
The Barcelona Travel Card offers several benefits and advantages to save time and money. Here are some of them:
Discounted or free admission to museums, aquariums, and zoos
You can skip some queues at some attractions
Discounted or free admission to events or guided tours through the city
Free unlimited use of public transport
Discounted travel card for kids aged 4 to 12
Because the Barcelona Card offers several sightseeing advantages, it is more expensive than the Hola BCN travel card. As such, you can save money and time if you visit some sights with the Barcelona Travel Card.
Smart Fare Tips: Maximize Savings on Barcelona Buses
Here are some of the tips you can use to maximize savings when using buses in Barcelona:
Get the Hola BCN Travel Card to save fares on airport transfers. It's also a cheap way to navigate the city.
Use the T-Mobilitat app to buy and validate tickets through your phone. From there, you can collect your tickets at vending machines.
Get the Barcelona Travel Card to maximize your stay and visit the city's attractions at a discounted price.
Get the hop-on-hop-off tour if you want to explore the entire city. This tour lets you enjoy the top sights and attractions on a bus.
Note that group tickets don't exist, but if you travel in groups, it's best to use the Hola BCN card for easier management.
You can use online booking sites to book bus tickets and travel cards. Some of them will have discount coupons that can make your fares cheaper.
Conclusion
Overall, the bus system in Barcelona is excellent, and you can access most of the area and the attractions with this transport method. With this guide, we hope you enjoy your stay in the city and use the transportation to reach one attraction to the other.