One of the most common problems when visiting a tropical area or region is mosquitoes and other bugs. As such, it may be one of your concerns when visiting Cabo San Lucas. If so, then this article is for you. 
Here, we'll cover everything you need about mosquitoes and other bugs in Cabo San Lucas. After reading, you'll know what to expect and learn how to enjoy the city while dealing with bug problems.
Without further ado, let's get into it!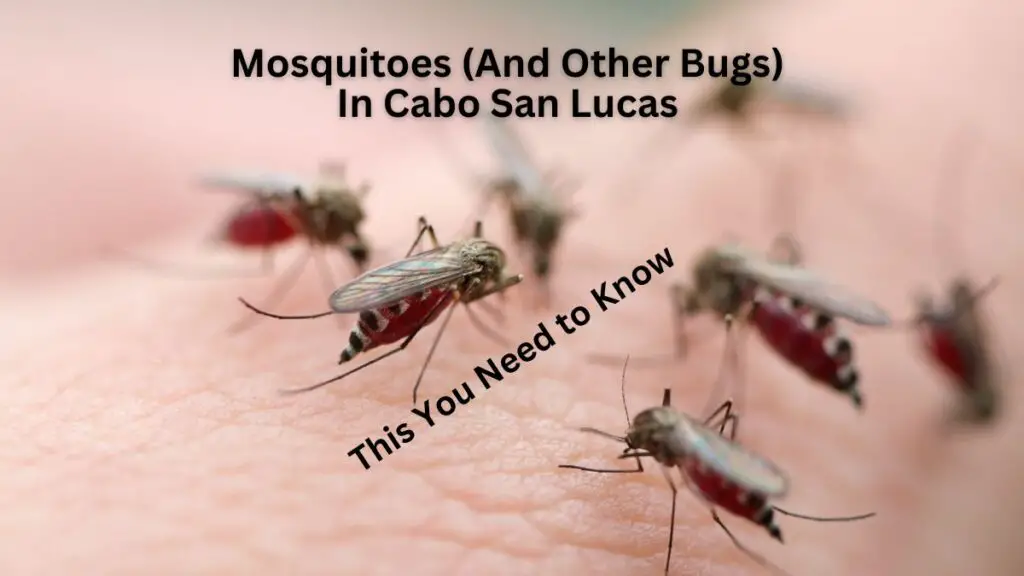 Are There Mosquitoes in Cabo San Lucas?
Cabo San Lucas isn't known for mosquitoes, so it's rare to find them here. Unlike other humid regions of Mexico, this city does not have a lot of bugs for tourists to worry about. 
Therefore, when tourists visit this city, they do not have to worry about these bugs as much as they do when they visit other Mexican cities, towns, or regions.
Even so, it is essential to remember that these mosquitoes can appear out of nowhere whenever the weather becomes more humid. 
For this reason, if you want to avoid the hassle of mosquito bites, it is essential to be prepared in case other bugs or mosquitoes bite you as well.
Are Mosquitoes Bad in Cabo San Lucas?
The climate of Cabo San Lucas is less humid than other areas of Mexico. Therefore, tourists in the city don't need to worry too much when it comes to mosquitoes. 
However, when humidity rises, these insects may still appear during your time in Cabo San Lucas. For this reason, carrying a mosquito repellant with you during your stay is always recommended.
If you want to know more, read: Are Mosquitoes Bad in Cabo San Lucas?
Are the Bugs Bad in Cabo San Lucas?
The mosquitoes and other bugs found in humid parts of Mexico are less prevalent in Baja than in more humid areas. 
However, some parts of the coastline can still be affected by bug pests in the early morning or late afternoon. So if you're visiting coasts by sunrise or sunset, expect some bugs or mosquitoes from time to time.
Those prone to bites should carry an insect repellent containing the active ingredient DEET or consult a pharmacist about insect repellents.
Are There Bed Bugs in Cabo San Lucas?
Bed bugs aren't common in Cabo San Lucas, so it's not something you should worry about. Also, almost every hotel and resort in the city has excellent amenities and service, which means the least you'll worry about is having bed bugs around, especially in your room.
When Is the Mosquito Season in Cabo San Lucas?
Since Cabo San Lucas isn't prone to mosquitoes, you won't find a mosquito season around. However, they mostly appear during summer or hurricane season when the humidity arises.
There is also a chance that mosquitoes will appear at Cabo San Lucas at night since the weather tends to get colder at this time of the year.
As a result, mosquito repellant is always a good idea whenever you go outside. Alternatively, you can apply repellant before going out if you want to avoid carrying one all the time. 
If you're heading out to a party at night or to the beach in the evening, a mosquito repellent will help you avoid bites. If mosquitoes occur, you can get extra protection without worrying about them. 
Do I Need Bug Spray in Cabo San Lucas?
Cabo San Lucas has fewer mosquitoes than other parts of the country. However, they are still capable of appearing out of nowhere. 
Therefore, it is always a good idea to keep some bug spray on hand or apply it wherever you go to protect yourself.
In Cabo San Lucas, several stores sell mosquito and bug repellents. However, we recommend wearing mosquito-repellant lotion for better protection, especially in summer.
How to Deal With Bug Bites in Cabo San Lucas? 
While bugs aren't as common as you may think in Cabo San Lucas, there is still a possibility that you may get bitten. Therefore, it is best to assume this case to prepare yourself if you are in this situation in the future.
If a bug has bitten you, you need to know the best remedy for dealing with the problem. Unfortunately, the only thing you can do to treat bug bites is to apply an effective lotion. As a result, you should always carry some form of this topical treatment around with you at all times. 
Furthermore, if you have an allergy to biting, you should be cautious if you suffer from a biting allergy. Consequently, antihistamines and antiallergic medications can be used to treat allergies. However, if the reaction is severe, you should go to the hospital as soon as possible.
Conclusion
Overall, mosquitoes are less likely to be a problem in Cabo San Lucas. Nevertheless, that doesn't mean you can relax when the humidity rises, as mosquitoes can appear unexpectedly. Therefore, it's always best to be prepared and make it a concern to settle when traveling, regardless of the destination. 
Therefore, it's best always to use mosquito repellent outside. If you get bitten, it's also best to have some remedy on hand. Don't let mosquitoes ruin your Cabo San Lucas vacation, so enjoy your time there while watching out for them.
In the meantime, if you're planning your trip, you'll need guidance to make the right choices. Read An Insider's Guide to Visiting Cabo San Lucas.