Mexico City boasts plenty of spots to visit, and most are stunning at night. As such, night walks are one of the best things to do in the city. However, many people are adamant about doing the such activity at night, primarily since Mexico is known for its dangers at night. So, if you're wondering if night walks in Mexico's capital is safe or not, here's our answer:
It is safe to explore Mexico City at night. It depends, however, on where you plan to walk. You can check out popular tourist areas like Roma and Condesa at night since they are well-lit and crowded. Only walk on narrow streets with lights. If you're alone, take a cab to your hotel after dark.
Like all other cities, towns, and areas worldwide, Mexico City has dangerous areas you should avoid, especially at night. As always, as a tourist, it's your responsibility to beware of such areas and ensure you keep yourself safe, especially when alone. 
For this reason, we made this article to guide you as you explore Mexico City. Here, you can know the safe neighborhoods and areas in the city that you can explore even at night. We'll also include some common scams for you to be aware of when you visit the city.
Without further ado, let's get into it!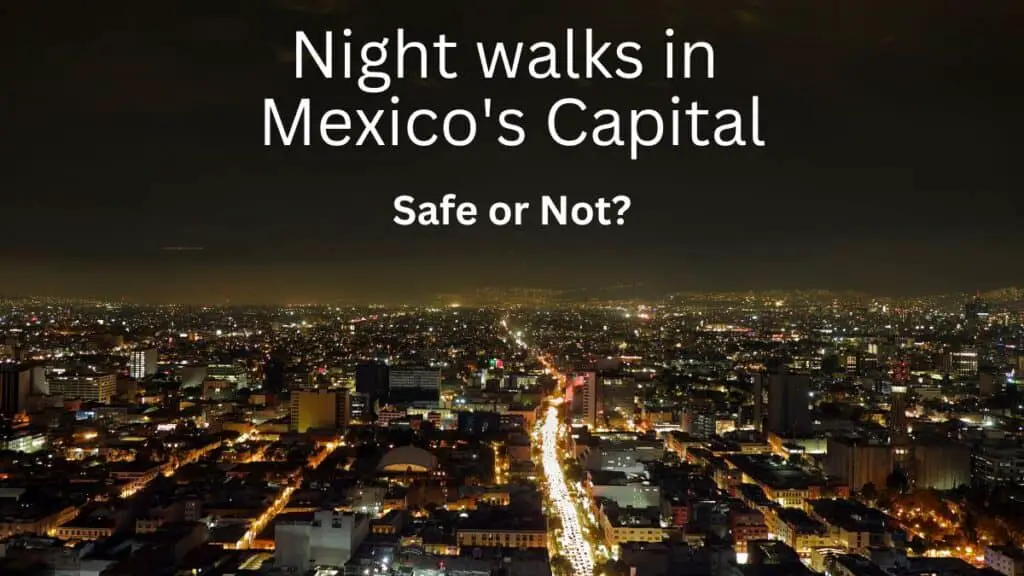 Can You Walk in Mexico City at Night?
Nighttime in Mexico City has stunning views, especially with all the lights on. Nonetheless, Mexico is known for being a dangerous place at night. As such, when visiting the capital, you may find it scary to walk at night.
Contrary to popular belief, you can walk in Mexico City at night without worries. However, it only applies to popular touristy areas like Roma and Condesa. 
The good thing about this city is that the narrow, unlit streets and familiar places for crimes are far from the center. You'll notice these streets yourself when you visit the city, and it will be a red flag.
If you plan to enjoy the city at night, knowing where you're headed and how to get there is best. If you're using a map, stick to the main streets, and you'll be safe to walk around.
Also, it's best to always walk with a group or stick to large groups when you're alone. This way, you won't catch the eyes of scammers and won't be a subject of petty crimes.
Is It Safe to Walk in Mexico City Alone?
Walking in Mexico City is safe, but doing so with a group and alone are different. During the day, walking is safe, even if you're alone or a woman.
However, it's best to avoid walking alone when night comes, especially on narrow streets and less crowded areas.
If you're staying in touristy areas, it's safe even for solo travelers. However, it's best to stick to a group when walking to be sure you don't catch the eyes of scammers.
Also, it's best to hail a cab or book an Uber if you're out at night and a long way from your hotel. This way, you can avoid walking on narrow routes and unfamiliar areas.
Simply put, Mexico City is a safe place to walk alone, but it only applies in touristy and crowded areas. As such, when traveling alone, you should be responsible enough to know the places to explore and the ones to avoid.
This way, you can plan your trip and enjoy the best spots without entering unfamiliar and risky areas.
Now, besides the common scams, another common safety risk that travelers think about in this city is mosquitoes. If you also think the same, read our article: Mexico's Capital: Are Mosquitoes a Concern?
Safe Areas in Mexico City for Night Walks
As mentioned earlier, when walking alone or at night in Mexico City, you should only stick to some safe neighborhoods and areas. If you're wondering about these places, here are a few examples:
Popular Tourist Spots
If you're checking out some areas in Mexico City at night, you'll find sticking with famous tourist spots safer. Here are some you can check out:
Zocalo Square
Alameda Central Park
Palacio de Bellas Artes
El Angel de La Independencia
Madero Avenue
Safe Neighborhoods
It's not advisable to check out neighborhoods in Mexico City after dark. However, if you wish to do so, here are some of the safest neighborhoods in the city:
Roma Norte
Roma Sur
Condesa
Centro Historico
Zona Rosa
Generally, travelers feel most at ease around these areas since they are tourist-friendly. Nonetheless, scams can still occur in these areas, so be cautious.
If you want to check out a safe neighborhood with fewer crowds, you can head to the following:
Juarez
Escandón
San Rafael
Coyoacan
Polanco
As you can see, Mexico City offers many safe, incredible, and safe places to explore. Nonetheless, you'll find it best to enjoy these areas and more during the day. If you want more options, read our article about the Best Things to See and Do in Mexico City. 
Dangerous Areas to Avoid in Mexico City
On the other hand, you should be aware of some areas you should stay away from when in Mexico City. Among these areas are:
Tepito
Ciudad Neza
Iztapalapa
Doctores
The chaotic and shady bazaar of Tepito is a frequent spot for scams and robberies. Despite Ciudad Neza's evolution, it was once a poor neighborhood with a high crime rate that visitors were advised to avoid.
Iztapalapa has the highest proportion of violent crimes against women. Furthermore, while Doctores usually is an excellent place to watch Lucha libre wrestling during the day, it becomes significantly more dangerous at night.
Common Scams You Should Know in Mexico City
Like all other central and large cities, Mexico City is notorious for scammers and petty crimes. As such, when visiting the city, it's best to be aware of the following scams to prepare yourself and know what to do when it happens to you:
Taxi Scams
In the city, taxi scams come in many forms. An example is when a driver raises the price for a tourist. A filled express abduction, for example, is one of the bigger ones. Kidnapping by express is when a driver forces a passenger to withdraw money from an ATM. So it's wise to be aware of the possibility of express kidnapping, regardless of how rare it is nowadays.
Mustard Scam
In this con, an individual sprays mustard or another disgusting substance on you and then offers to clean it up. If you have a wallet, cellphone, or anything else they can quickly grab while cleaning, the spectator or helper will take it.
Fake ATM Scam
If you come across an ATM while walking down the street and need to withdraw cash, you might consider it a terrific convenience. Unfortunately, in most cases, these are fraudulent cash registers that will take or copy your credit card. Whenever possible, only use ATMs located inside banks.
Safety Tips When Walking in Mexico City at Night
If you want to enjoy nighttime in Mexico City walking, it's completely alright and safe. However, it would be best if you still were responsible for keeping yourself safe and away from common safety risks. For this reason, be sure to remember the following tips:
Stay in Main Streets and Areas
Always stay in the main streets and areas whenever you walk in Mexico City at night. This way, you'll be in well-lit areas with many people. These areas are also well-patrolled, which means you'll find someone to ask for help whenever you feel in danger.
Walk in Groups
Walking with groups whenever you're exploring Mexico City at night is always best. Of course, it's given when you're traveling with someone. However, if you're alone, you can always walk behind or in front of big groups. This way, you won't be a target for scammers.
Only Bring the Essentials
When you're going out at night, it's best to bring only some of your valuables. For instance, you can plan a budget and only bring enough to get you through the evening. This way, you will only have a little to lose if anything terrible happens.
Secure your Valuables
When you're out in the streets of Mexico City, you should always be wary of pickpockets and thieves. As such, always secure your bags, and make sure your pockets have a manageable sum of money.
Don't Wear Fancy Clothing
Fancy clothing is a must when traveling. However, it's best to stick with a casual outfit. This way, you won't be seen as a target for common scammers.
Negotiate with Taxi Drivers
Mexico City has the highest amount of taxis in operation. As such, you will always find one available. However, the driver might exploit you if he sees you as a tourist. Therefore, if you need to take a taxi, you should negotiate with the driver about the fare to ensure you will get safe.
Conclusion
At night, Mexico City is a safe place to explore. However, it will depend on where you intend to walk. The well-lit and crowded Roma and Condesa tourist areas are great places to explore at night. However, it is dangerous to walk on narrow streets without lights. Therefore, if you are alone in the evening, you should take a cab to your hotel.
If you're still deciding whether the city is a safe travel destination, read our article: Mexico City: Safe Destination for Tourists.