If you're considering visiting Tulum, you've probably encountered Playa Paraiso as one of the top places to visit in town, which is not surprising. If you see some pictures of this beach, you'll know it's something you shouldn't miss when you're in Tulum.
Playa Paraiso is one of the best beach areas in Tulum. It's one of the three areas that make up Tulum's north beach, and it's famous for its fine white sand, clear blue waters, and Instagram-worthy furniture for rent. Playa Paraiso means Paradise Beach, and it lives up to its name.
Now, if you plan on spending some time or even an entire day on this beach, you'll want to know everything about it to make sure you enjoy your time. This article will cover everything you need to know about Playa Paraiso, from its location, how to reach it, and even the things you'll find and enjoy when you're around. 
Without further ado, let's get into it!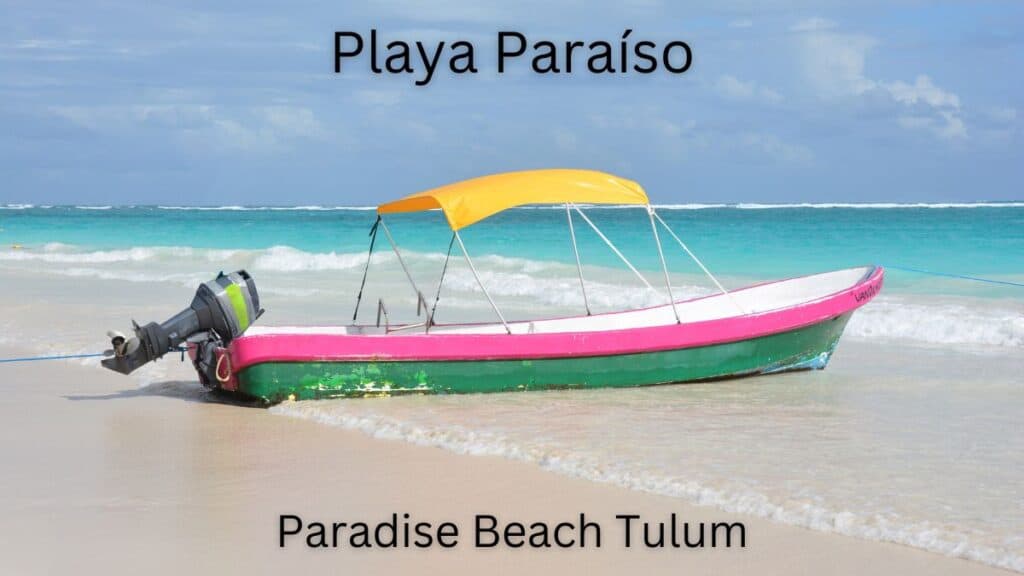 Location
Playa Paraíso is the center of Tulum's north beach, and it's one of the best beaches in Tulum that attracts visitors mainly because of the fine white sand and crystal clear waters.
In general, the north beach of Tulum is divided into three areas, Las Palmas Beach, Playa Paraiso, and Playa Ruinas. As mentioned, Playa Paraiso is in the center, but all three areas blend, making a long stretch of the beach.
How to get there
If you plan on checking out Playa Paraiso Beach in Tulum, you can get there in a few minutes. However, we recommend driving or renting a bike to reach the place.
From Tulum Pueblo
If you're coming from Tulum Pueblo or downtown, Playa Paraiso beach is 4.2 miles (6.8 kilometers) away. It will take around 15 minutes of driving to reach this beach. Or, if you rent a bike, it will take around 20 minutes.
From Hotel Zone
If you're coming from the center of the Hotel Zone near Kore Tulum, you're 1.4 miles (2.3 kilometers) away from Playa Paraiso. Thus, it will take around 5 minutes of driving or 7 minutes if you're riding a bike.
Parking
If you bring a car, you'll find parking easy since you can park beside the beach road. Parking is free of charge, but it can be limited during peak season. If you're bringing a bike, it's best to have a bike lock to keep it safe while you enjoy the beach.
Restaurants
A visit to Playa Paraiso will not be enjoyable if you don't have some good food to enjoy. Lucky for you, several restaurants near the area will ensure you enjoy some mouth-watering food while relaxing at the beach. If we are to recommend, the El Paraiso Restaurant and Beach Club is the best option around.
El Paraiso Restaurant and Beach Club offer International and Mexican Cuisine to enjoy. Here, you can also find a bar if you want some drinks. You'll enjoy some fresh seafood dishes here as well.
Hotels
If you want to stay in Playa Paraiso, you can find several nearby hotels. Many luxurious accommodations are available, some of which are all-inclusive, consistently well-rated, and in enjoyable locations. 
These accommodations can include single or double rooms and traditional suites near the beach, which are suitable for a king or a queen. However, the best option around is the El Paraiso Hotel Tulum.
This hotel lies amidst Playa Paraiso Beach, providing you with the best location as you'll get beachfront access.
Further, a stay in this hotel includes access to several amenities without paying extra. As such, if you plan on enjoying most of your time in Playa Paraiso, this hotel is the best one for you.
To learn more about beachfront options around town, you can check out the Best Beachfront Hotels in Tulum.
Beach Clubs
One of the things to note is that Playa Paraiso is an open beach, meaning you don't need to pay to walk and enjoy it. However, you may find it more enjoyable when you have some shade and amenities like umbrellas, sun beds, or even tables and chairs. 
For this concern, you can find several beach clubs that offer beach setup items like the ones we mentioned. For instance, our recommended El Paraiso Hotel Tulum includes a beach club with furniture on the beach for rent.
Here are some of the amenities you can rent at the beach club:
Oversized beach beds
Sunbeds
Beach umbrellas
Tables
Chairs
Now, if you're not staying at the hotel, you may rent these items or furniture for a day, and it's cheaper if you're staying at a budget hotel somewhere far from the beach.
Prices
Since Playa Paraiso is an open beach, the beach clubs won't charge any entrance fee to enjoy the shores. However, you'll likely have to rent the furniture if you want a relaxing time.
In most beach clubs, you can rent furniture on the beach for 100 pesos to 500 pesos each. Most beach clubs also accept foreign currency. However, paying in local currency is best to ensure you don't get slashed with high prices with their conversion rates.
It's also best to note that there might be a minimum consumption required for their restaurants during peak seasons. Such prices may range from 1000 to 3000 pesos per bed, but it still depends on the furniture you rent.
Most beach clubs accept payment in US dollars, but it's best to pay in local currency to avoid extra charges. If you want to know where to exchange your cash into local currency, find the Best Places to Exchange Money in Tulum.
However, if you're on a budget and want to save as much as possible, you can pack your towels, chairs, and snacks.
Activities
When it comes to activities, you'll never run out of options for things to do in Playa Paraiso. Since this one's a public beach, you may find it crowded with many people, and it's an opportunity for many locals to provide activities.
Among the activities you can enjoy here are:
Snorkeling
Boat ride activities
Scuba Diving
Beach Sports
Beach Massage
Further, if you want to relax, you'll find:
Lounge chairs
Umbrellas
Hammocks
Beach bars that serve refreshments
Nearby Attractions
While some tourists often spend an entire day by the beach of Playa Paraiso, some people visit it together with other nearby attractions. 
In general, some tourist spots are only a mile away from it. As such, whether you're driving a car or riding a bike, you can check out other spots without traveling far.
Some of the nearby attractions are:
Tulum Archaeological Zone – 0.9 miles
National Park of Tulum – 1.3 miles
If you want to know more things to do in this town, you can check our guide about the 24 Things to Do in Tulum.
Conclusion
Overall, Playa Paraiso is one of Tulum's best beaches. You can spend an entire day on this beach since you'll have everything you need around the area. With this information, you can plan the activities you want to do and the areas where you'll want to stay. 
Also, it will give you an idea about the nearby attractions if you prefer to have a side trip without going too far.