When visiting a place for a vacation, the last thing you'll want is to miss out on the things you should do around. So if you're visiting Tulum, you'll want to know the popular things to do in town to make the best of your vacation.
In general, you can do so many things in Tulum, and each one is something you'll want to experience during your stay. For this reason, we rounded up all the things you can do in town to guide you in making the most out of your stay in this town.
This article includes the must-try activities, the general things to do, some places to visit, and popular destinations to see.
Let's get started!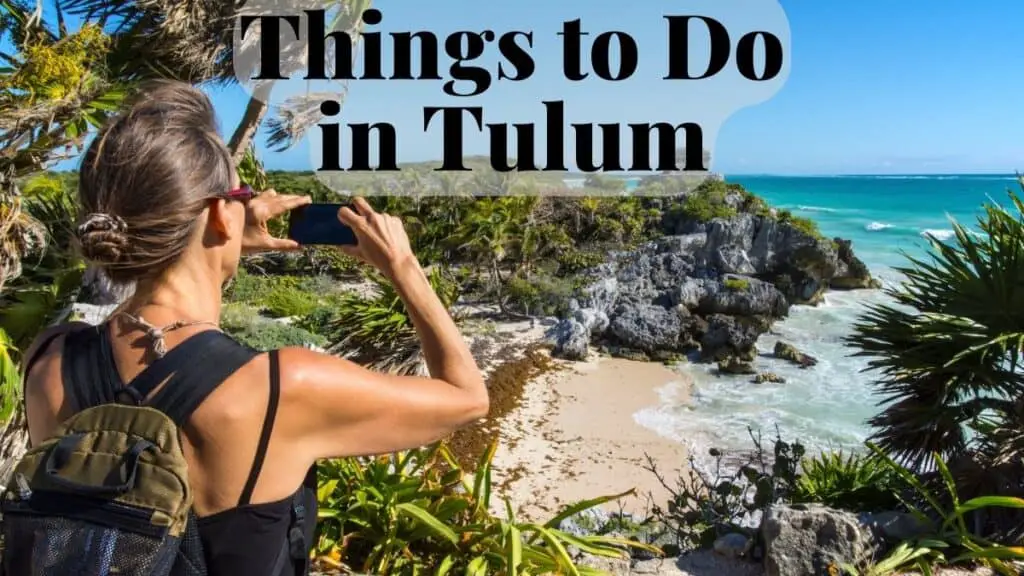 Things to Do in Downtown Tulum
The downtown area of Tulum is also known as Tulum Town, Tulum Pueblo, and El Centro. This area of town is where the locals live and do business. As such, it's the area where you'll find local restaurants, grocery shops, and other Mexican shops.
Since it's where locals live, this area also has affordable prices, especially when compared to the hotel zone. Here are some things you can do here:
Shop at Local Stores Around
As I mentioned, downtown Tulum has several shops, so you can enjoy shopping in this area. Here, you can shop for souvenirs, groceries, and other items you may need.
For instance, some shops sell traditional Mayan clothes and clothes with aesthetic and boho rustic Western designs. Thus, if you want to blend and go along with Tulum's vibe, you'll find some of the best clothes here.
You can also find plenty of bargains at the stalls in town. One thing to note is that most shops ask for local currency, so be sure to have some for your shopping.
Enjoy Food From Local Restaurants
Since locals spend most of their time in this area, so you'll know they have local restaurants that offer great food at affordable prices.
In this area, you'll find affordable restaurants in Tulum that will still give you a taste of Mexican delicacies. If you want to know which restaurants to try, check out: Best Restaurants in Tulum.
Must-Try Activities in Tulum
Tulum is a town where you can do a lot of activities. Below are some of the must-try activities that you should enjoy when you're visiting Tulum.
Do some wellness activities
The town is known for its hippie, bohemian, and alternative lifestyles. Thus, many establishments like resorts and hotels offer wellness activities like yoga classes and music therapies. When you're in Tulum, you should try these activities to relax.
Swim or snorkel in Tulum cenotes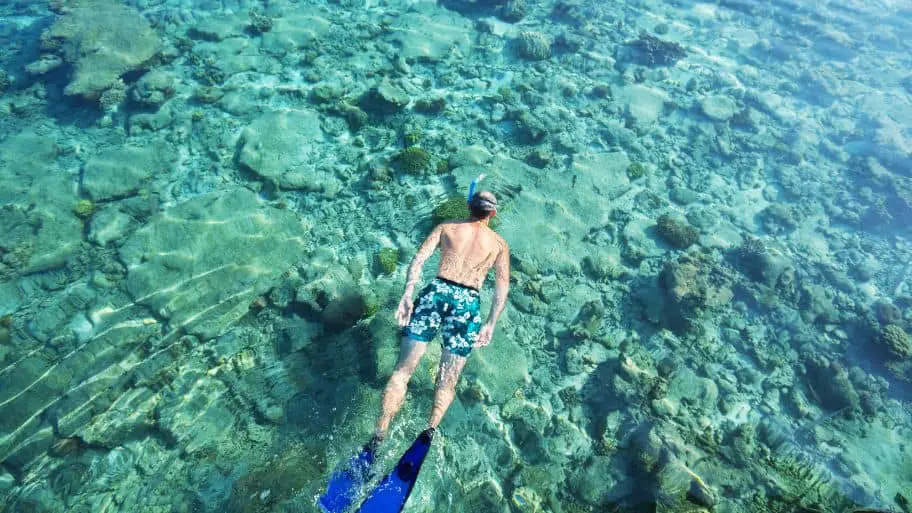 Cenotes are one of Tulum's best treasures, and you'll miss a lot if you don't visit at least one. The Tulum cenotes are natural limestone sinkholes that offer swimming access to Mexico's underground rivers.
In some cenotes, you can also see underwater archaeological sites that you'll witness through scuba diving or snorkeling.
Riviera Maya is home to one of the world's most extensive underground cave systems, connecting thousands of cenotes. Additionally, Tulum alone has hundreds of cenotes. If you want to know the most famous cenotes in town, check out: Best Cenotes in Tulum.
Witness Tulum's Nightlife
Although Tulum's a peaceful and laid-back town, it still boasts of its jungle parties and incredible nightlife in its bars. If you want to know more about the nightlife in Tulum and the best bars around, check out our article about Tulum Nightlife.
Engage in Land and Water Activities
With Tulum's crystal clear and turquoise-colored waters, you'll find several water activities to enjoy aside from swimming and looking at them.
In this town, you can enjoy water activities like kayaking, windsurfing, and paddle boarding. It is also possible to float down rivers, snorkel, and dive in cenotes. However, the wind on the coast makes kite boarding and kite surfing the most popular activities. 
Besides water activities, you can also enjoy some thrilling activities on land. Zip-lining, rappelling, and jungle tours are some of the best land activities. You can also ride an ATV if you're up for it.
Experience A Temazcal 
A Temazcal is one of the unique things you can do in Tulum while experiencing Mayan culture. Traditionally, Mayan purification ceremonies take place in tiny stone or wood huts.
Temazcal is a purification ceremony practiced during ancient times and is believed to cleanse the mind, body, and soul. The shamanic chanting enhances the meditation as you enter the tiny hut, and your body sweats.
Rent A Bicycle
A stroll around town can be a bit more convenient when riding a bike, which is common in town.
Rent a bike and paddle around Tulum alone. Besides visiting the beach and some restaurants, a bike is also helpful in getting around Tulum Centro.
Renting a bike for a day ranges from 5 to 10 USD. Some hotels may offer a complimentary bike, while others rent it with a discount if you're one of their guests.
In Tulum, you'll also find bike tours that will help you explore local culture, visit a few ruins, and dip into a particular cenote along an off-beaten track.
Best Places to Visit in Tulum
Tulum doesn't fall short when it comes to Instagram-worthy spots. As such, you can visit the following places known to be among the most beautiful and exciting in town. Here are a few spots you must visit (and take pictures) in Tulum.
Escultura Ven a la Luz at Ahau Resort
Escultura Ven a la Luz is an iconic wood and rope sculpture by South African sculptor Daniel Popper.
The archway created by Ven a la Luz's torso creates a dramatic and somewhat whimsical frame for an incredible shot day or night.
The Colorful Tulum Sign at Tulum Pueblo
The Colorful Tulum Sign stands along the side of the road, just before you reach Tulum Pueblo! Although it's a brand new place, it's a top place for taking photos in Tulum. If you stop for a picture, at least try to grab a bite or drink!
Crooked Palm Tree at Playa Paraiso Beach Club
On Tulum Beach, there is a massive sideways palm tree that has become a famous Instagram photo spot. You'll find it near the Playa Paraiso Beach Club.
Whether on vacation or capturing a picturesque Caribbean sea view, this simple yet stylish backdrop will surely level up your Instagram.
The Aesthetic Beach Swings at Coco Tulum
Coco Tulum features the iconic beach swings surrounded by rustic boho decor. Take a dip in Tulum's crystal clear turquoise waters before enjoying a beverage on its beach. 
Matcha Mama
Located on south beach road, Matcha Mama houses another Instagram-worthy spot you'll love. Here, you can enjoy a smoothie bowl while snapping some pictures alongside the "I Love Tulum So Matcha" surfboard.
With the healthy options on its menu, this small but mighty food shack will give your body the nutrients it needs and leave you smiling.
The famous "Follow That Dream" sign at Lolita Lolita Tulum
On Tulum's south beach road, you'll find this famous street sign outside Lolita Lolita Tulum. There are food shacks and boutique shops along this cute little sign. With a sign like this, it will be saddening not to take some shots.
The Azulik Resort
Tulum's Azulik hotel offers some of the best photo opportunities in the Mexican Caribbean. Besides the aesthetically pleasing vibe, the sanctuary has Mayan jungle finishes, pretty art, and a stress-calming vibe.
Tourist Spots in Tulum
Of course, a vacation in Tulum will never be complete without a visit to the most popular tourist spots. After all, these are Tulum's treasures that attract tourists in the first place.
Playa Paraiso
Playa Paraiso is among the best beaches in Mexico, and it's a must-visit tourist spot in Tulum.
Due to its popularity, this beach commonly attracts large crowds. As such, it would be ideal for visiting this beach early in the morning. This way, you can enjoy the beach without many people around while avoiding the heat during noon.
Playa Paraiso, with its clear and turquoise waters, is a picturesque beach on the Caribbean Sea. Thus, it's easy to spend the whole day sitting and relaxing in this place.
The beach is free of access, meaning you don't have to pay to walk around. However, if you want to stick around, you can rent some umbrellas, chairs, and tables for around 200 pesos.
Laguna de Kaan Luum
Laguna de Kaan Luum is one of Tulum's hidden treasures, and it's located a few kilometers south of Tulum Pueblo.
What makes this tourist spot a must-visit is its color. It starts with turquoise green in the shallow waters and becomes deep blue towards the center.
There is a deep cenote in the center of the lake, estimated to be 80 meters deep. You can lay your stuff down on the pier and jump into the gorgeous waters along the lagoon's grassy banks. 
There is also a wooden walkway leading to a palapa building where you can enjoy a picnic and shade. However, since there are no food stands around the lagoon, it is recommended that you bring your food and drink.
Gran Cenote
Tourists tend to gravitate towards Gran Cenote because it is just a few kilometers away from Tulum.
This place consists not only of a single cenote but several interconnected cenotes tucked into an otherwise verdant jungle floor. You can experience some truly magical moments in the cenote if you come early in the morning before the crowds arrive.
For a reason, Gran Cenote is one of the most famous cenotes – the waters are so clear you can see marine life from afar.
You can explore the cenotes in all their glory if you bring your snorkeling gear. However, you'll also find some gear for rent near the entrance.
There are food stalls if you want something to eat while enjoying this cenote. However, you must pay a 25 USD entrance fee before entering this cenote.
Sian Ka'an Biosphere
The Sian Ka'an Biosphere is another tourist spot, and it's something nature lovers will truly appreciate. Here, you can witness a picturesque view of nature and its wildlife.
Muyil Ruins, which depict Peten architecture, are located in the Sian Ka'an Biosphere. Near the Sian Ka'an Lagoon are the ruins of Chunyaxché, which were once on an old trade route to Coba.
You can see the surrounding countryside from an observation deck along with the main ruins like the 17-meter tall Castillo. 
Coba Ruins
The ruins of Coba are some of Yucatan's most impressive and well-preserved ancient Mayan ruins. According to archaeologists, the Mayans used them to build a series of giant causeways within the city (the largest of their kind).
The remoteness of these ruins prevents them from being well known and visited despite their grandeur. However, for around 45 pesos, you can rent a bike at the site's entrance to help you get through the jungle to the ruins.
Chichen Itza is more famous for its ruins, but visitors can climb the ruined structures at Tulum, making it a different experience altogether.
Whale Sharks at Mexican Riviera
The Mexican Riviera is a great place to dive with whale sharks. As such, it's one of the tourist spots that you shouldn't miss when you're in Tulum.
The warm waters of the Caribbean are the most conducive environment for hundreds of these gentle beauties to feast on the phytoplankton found here between May and September.
If you get the chance to swim with these colossal creatures, you will never forget the experience.
The many tour operators along the coastline can arrange day trips from Tulum due to their concentration along the coast further north.
Don't forget to bring an action camera or any underwater camera, as you'll want to capture the incredible moment.
Cenote Caracol
Cenote Caracol is located about a mile north of Tulum and contains a cenote and a cave complex.
The beauty of this natural attraction will make you feel like you've left Mexico and entered an alien landscape.
A striking feature of these caves is the jagged stalactites hanging from the cave ceilings, which reflect beautifully in the spring water pools below.
Although tourists less visit the caves due to their 500 peso entrance fee, the magical atmosphere makes them well worth the effort and the price.
Tulum Ruins
While Tulum Ruins aren't among the most impressive of their kind, their location makes them worthwhile. These buildings sit atop a cliff with a picturesque view of the beautiful Caribbean sea.
If you're a first-time visitor to the town, you must visit the 13th-century ruins, which are truly photogenic.
Hundreds of people visit the site daily, so beat the crowds and get there early to see the incredible views and swim freely on the beach below.
Watching iguanas among the ruins is a good idea – they like to bask in the sun. However, a fee of 65 pesos per person is charged for entry. 
If you want to know more about this destination, read our article about Tulum Ruins.
Cenote Choo-ha
There are over 400 cenotes around Tulum, so this isn't a unique claim when there are so few commercial cenotes around.
However, it feels like a place far from the beaten track, with such a peaceful atmosphere. You felt like you were in a little private paradise.
In the pools, the water shimmers in waves of green and blue, dotted with black rocks that only emphasize the water's purity.
The cenote features a narrow staircase leading down to the cool water of the cavern through a relatively small opening. It is one of three cenotes near Coba that include Tamcach-ha and Multum-ha.
Conclusion
Tulum is one of the places that never run out of things to offer its guests. With this article, you already know about the many things you can do. Thus, whether your Tulum vacation is coming near or you're just about to plan, this article can be your guide.
Overall, it's best to make a checklist of things you want. This way, you can prioritize them while you're in Tulum. Also, it works when you have limited time. If you want to try all of them, you may extend your stay or plan for a Tulum vacation that lasts for at least a few days or a whole week.