If you're interested in visiting Tulum, you probably have seen the famous Tulum Mayan Ruins in posts that say it's among the must-visit spots in town. If so, I'm here to tell you it's right, and it may make you wonder why.
The Tulum Ruins are one of Tulum's most iconic tourist spots and even the entire Yucatan Peninsula. These ruins are situated in scenic spots and tell a story of a rich culture that's always interesting to learn.
Of course, that short words don't explain anything about the ruins. For this reason, we made this complete guide to help you discover and explore the Tulum Ruins. Here, you'll find answers to frequently asked questions about this place. We also included some information to help you throughout your Tulum Ruins exploration.
Without further ado, let's get started!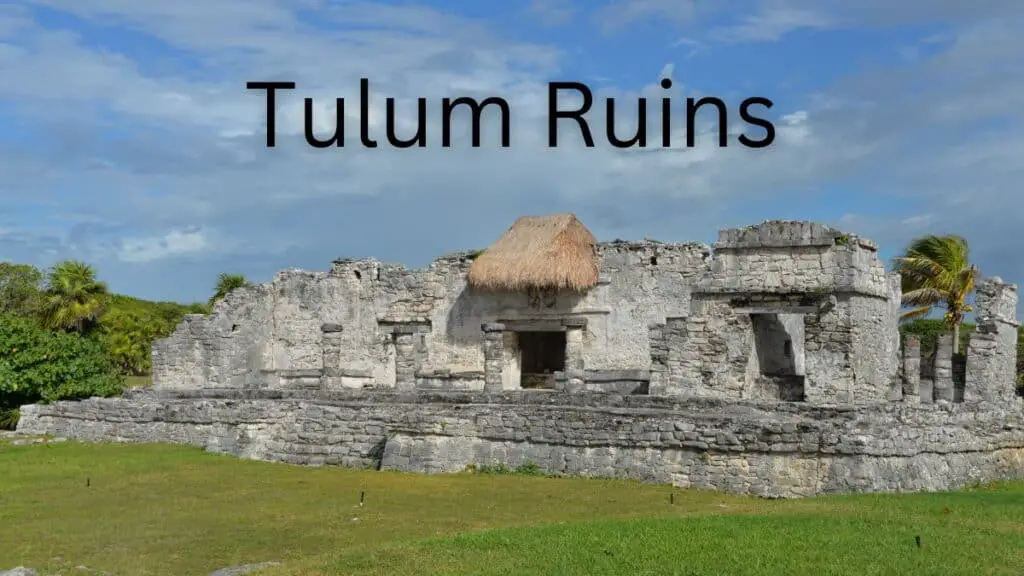 What Are the Tulum Ruins?
The Tulum Ruins are remnants of the once Mayan walled city. The ruins were once the walls of a pre-Columbian Mayan City, and it serves as the main port for Coba. 
As such, it tells a story of a prosperous ancient Mayan Civilization, making it more interesting besides its beauty and scenic location.
Who Built the Tulum Ruins?
In general, the town of Tulum is among the last cities that the Mayans built and inhabited. The ruins once stood as a wall during the 13th to 15 centuries. However, they were made into ruins during the 70 years of Spanish colonization in Mexico.
At the end of the 16th century, the people who inhabited the once-walled city abandoned the ruins. Now, these ruins serve as a tourist destination that attracts visitors from all over the world.
Where Are the Ruins of Tulum Located?
The Tulum Ruins are located along the east coast of the Yucatán Peninsula, facing the Caribbean sea on a 39-foot tall cliff.
The Tulum Ruins are located at the start of the long narrow beach road, also known as Tulum Beach Road. This long road starts at the ruins, passes through Tulum Beach and Hotel Zone, and ends at the Sian Ka'an Biosphere.
With these roads, the Tulum Ruins are easy to access, and it's a must-visit tourist destination for every visitor in Tulum.
How Old Are Tulum Ruins?
The Tulum Ruins have been sitting on Tulum's shores for around 570 or 820 years. Some say the Mayans built the ruins (formerly a walled city) around 1200 to 1450 AD.
How Much Does It Cost to Get Into Tulum Ruins?
The cost of getting into Tulum ruins depends on whether you'll take a guided tour or not. 
If you prefer visiting the ruins without a guide, you only need to pay the entrance fee of 85 pesos which is around 3 or 4 USD. 
You also need to pay an extra 45 pesos or around 2 USD if you bring a professional camera. The entrance to the ruins is free for Mexican residents, but only on Sundays.
Now, if you want to visit Tulum Ruins and explore them with a knowledgeable guide, there are tour packages for the Tulum Ruins. These tours can cost 50 to 250 USD, depending on the inclusions. 
Most tour packages are availed by people whose starting points are in Cancun, Playa del Carmen, or any place in Riviera Maya.
How to Visit Tulum Ruins?
The Tulum Ruins are just 3 kilometers away from Tulum Pueblo (or Tulum Town). As such, most visitors from this area have several options to reach the ruins. However, if you're also starting from Tulum Pueblo, here are your options:
Through a colectivo
A colectivo is a shared mini-van that offers affordable transportation in Tulum. It's not the most convenient option around. Still, with only three kilometers of travel, you'll be sure to reach the ruins in no time.
From the main street, hop on a colectivo and tell your driver you want to go to the ruins. Since the mini-van departs regularly, you'll find lots of them around.
Through a bike rental
If you're up for some pedaling, a bike is also a convenient way to visit the ruins. Since it's only three kilometers away, you can reach the ruins within 10 minutes. 
The ruins have bike racks outside where you can leave your bike. Just make sure you have a bike lock to secure it while you tour the ruins. 
A bike rental starts at around 12 or 13 USD, and you can ride it for 8 hours, making it an excellent option to use when visiting the ruins.
Through a taxi
A taxi is also another option to visit Tulum Ruins. However, it can be a bit pricey compared to renting a bike or taking a colectivo. 
When riding a taxi, make sure to negotiate a firm price with the driver, as most of them can blow you off with a high fare if you don't know what you're doing.
To learn more about the taxi rates and fares in Tulum, read: How Much are Taxis in Tulum?
Through a car
Tulum Ruins is just a short drive away from Tulum Pueblo. As such, it can be an option for you if it's too hot to ride a colectivo or a bike or if it's too expensive to ride a taxi.
The ruins have a parking area nearby, and you can park there for a fee. However, parking beside the Carretera Tulum Boca Paila street can save money. This street is situated alongside the public beach.
What to Wear to Tulum Ruins?
There's no dress code required when visiting the Tulum Ruins, meaning you can wear anything you like. Still, we suggest you wear something comfortable when you tour the ruins, as it can make your tour more accessible and convenient.
Here are some things we suggest you wear:
Lightweight and breathable fabric clothing – Tulum Ruins can be hot, especially if you visit on a sunny day. You should wear something comfy to ensure you won't sweat much.
Comfortable shoes – it would be best to steer clear of wearing heels and choose walking shoes for more effortless movement while in ruins.
Mosquito repellent – mosquitoes are a common concern in Tulum, including touring the ruins. Please make sure you apply repellent to prevent mosquito bites, as they can cause real problems. Here are some you can use: Travel Size Mosquito Repellent Spray.
If you want to know more about mosquitoes in Tulum, read: Does Tulum Have Mosquitoes?
Hats and sunglasses – as I mentioned, Tulum Ruins can be a bit hot, especially during the day. As such, we suggest you wear some hats to prevent too much heat and sunglasses to protect your eyes from the bright sun.
Conclusion
Tulum Ruins is a fantastic tourist spot you shouldn't miss while in Tulum, and there's a reason for it. The ruins not only offer a scenic view of the sea and the ruined structure of an ancient civilization. Further, it also tells a rich culture that once existed. 
With this information, you now know what to expect and what to prepare when visiting the Tulum Ruins. The rest of the concern lies in discovering the place and exploring the ruins of the ancient Mayan civilization that once lived in this simple yet fascinating town of Tulum.